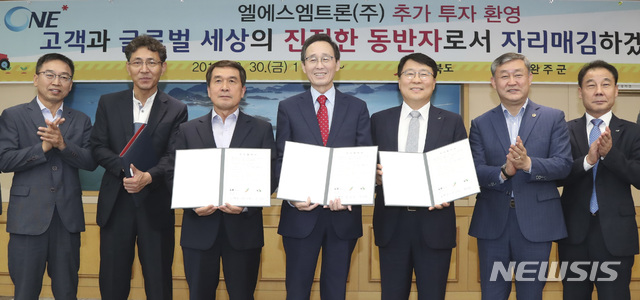 LSMtron, a leading company in industrial machinery and high-tech parts, located in Jeonbuk, is to make a large-scale investment for expansion in Wanju.

It is expected to boost Jeonbuk's policy to foster intelligent agriculture machine industry, aiming the localization of agricultural machine parts and advanced quality.

On September 1, Jeonbuk-do and Wanju-gun signed MOU with LSMtron to make additional investment worth KRW 75 billion on the site of 165,289 sq. meters at the 2nd Industrial Complex in Wanju Techno Valley.

It plans to build three facilities including tractor testing ground, research center (performance test), and tractor production plant, expected to create 80 new jobs.

With additional investment, it is expected to improve quality and produce high-quality tractors. The construction is set to commence in 2020, with the target of completion in 2023.

In addition, as LSMtron is said to be conducting further investment for 100 hp or more large-scale tractor production facility with an aim to dominate the global tractor market, Jeonbuk expects to see the development of agricultural machine industry.

The MOU contains that LSMtron makes utmost efforts in investment and job creation, while Jeonbuk-do and Wanju-gun cooperate in administrative and financial support including provision of incentives in accordance with the ordinance on investment promotion.

With the launch of LS Group Holding Company in July 2008, LSMtron was established, being separated from LS CNS. As LS CNS became separated into LS, LS CNS, and LSMtron, LS Mtron was reborn as a new corporation responsible for machine (electronic parts).

In particular, Jeonju business (Wanju factory) has been producing various types of agricultural machines related with agricultural management including small (LS Mini), medium, and large tractors, combines, fork lifts, and transplanters, among others.


Source: Newsis (September 1, 2019)
** This article was translated from Korean.