Hankook Tire builds Asia's largest proving ground for future car tires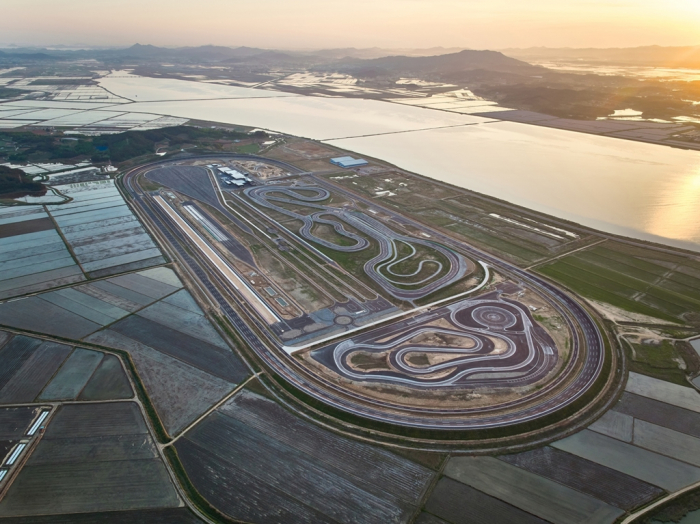 A bird's-eye view of Hankook Technoring, Hankook Tire's new proving ground in Taean, Korea
According to The Korea Economic Daily Global Edition,

Hankook Tire & Technology Co., South Korea's top tire maker, said on Wednesday it has opened Asia's largest proving ground to test the new tires it will build for electric, autonomous vehicles and supercars.

Hankook Technoring, the vehicle proving ground, is as large as 125 soccer fields combined and equipped with 13 testing tracks, including one that enables driving tests at up to 250 km an hour.

The company has spent about 230 billion won ($182 million) on building the facility in Taean, South Chungcheong Province, officials said.

Hankook Tire, the world's sixth-largest tire maker, said the proving ground will serve as the company's state-of-the-art R&D facility for its most advanced products, including tires for EVs and supercars.

"As the mecca for breakthrough innovations, Hankook Technoring will play a pivotal role in providing optimal solutions for the upcoming e-mobility and autonomous driving era, meeting premium carmakers' stringent and diversified demands," Chairman Cho Hyun-bum said at its opening ceremony.

Results of its rigorous testing will become part of its database, with which the company plans to build a big data analysis platform and a digital twin to provide optimal solutions for future mobility vehicles, according to the company.

TO JOIN GLOBAL TIRE LEADERS

At the ceremony, President and Chief Executive Lee Soo-il said the company plans to drastically raise its annual tire production to 150 million units by 2030 from the current 100 million tires.

"Global tire makers such as Michelin, Bridgestone and Goodyear are producing about 200 million tires a year. We are going to take our production capacity to that level," he said.

To achieve the goal, the company will spend 300 billion won on upgrading its plants in Daejeon and Geumsan by 2025.

He said the company aims to raise its sales and operating profit by at least 10% this year compared with last year, but rising seaborne freight rates could hurt its profitability.

Shipping costs, which stood at around 200 billion won in 2020, are expected to rise close to 1 trillion won this year, he said.

The CEO said Hankook Tire hopes to resume the supply of its premium tires to Hyundai Motor Co. for use in high-end Genesis cars.

Currently, Genesis uses foreign-made tires for its vehicles.

"We're in close talks with Hyundai Motor. We expect to hear from them soon," said Lee.



Copyrights The Korea Economic Daily Global Edition. All Rights Reserved.
Reprint or redistribution without permission is prohibited.


Hyung-Kyu Kim at khk@hankyung.com
In-Soo Nam edited this article.






Source: The Korea Economic Daily Global Edition (May 25, 2022)