Home
M&A Investment
Future Unicorn
Lab to Market Inc. An innovative intralogistics solution provider
Introduction to Lab to Market Inc.
Lab to Market Inc., is an intralogistics automation solution provider and was founded in 2015, but came out of stealth mode in 2019. Lab to Market started its business using Professor Yoon Seok Chang's IP who is the director of Ubiquitous Technology Application Research Center in Korea Aerospace University, Republic of Korea.
Lab to Market is not a just a HW/SW company but a smart solution provider with numerous IP and years of experience in factory and warehouse automation. It has 12 full-time employees, including three Ph.D and three Masters degree holders, along with other staff members with years of experience working in global enterprises. The company's mission is to improve customers' operational efficiency in factory and warehouse with innovative ideas, services and smart solutions.
Lab to Market aims to serve two major business areas: Intralogistics and restaurant automation. Lab to market develops cutting-edge automation technologies: multi-shuttles, mini-load stacker cranes and warehouse execution systems.
Multi-shuttles and mini-load stacker cranes can pick up and store goods in racks, and can handle containers, cartons, tote bags and boxes. In 2016, Lab to Market exhibited its first multi-shuttle in Hannover Messe, Germany (Figure 1) which has been adopted by a global semiconductor enterprise. In 2020, Lab to Market announced a new multi- shuttle system called, i-shuttle TM series, which is able to change various functional modules considering the operational environment. Lab to Market also provides adoptable application technologies using conventional rollers, AMR, and collaborative robots.
Motivation/Background for Investment
From the end of 2016, we first launched our overseas business in Malaysia. Then we expanded our business to Thailand, mostly in regional factories of global companies. We have A/S partners in Thailand and Malaysia but due to the lack of resources, there have been limitations to expand despite the many opportunities. We realize that we need to have regional offices and expand partnerships to serve our both our current and future customers.
For the past three years, we have researched and developed new types of intralogistics automation solutions in the university laboratory and a small facility near a university. Due to the growth of the company and new solutions which have been developed, we believe that we need to scale far and wide as fast as possible and need genuine advice from experienced investors/VCs. Also, due to the nature of our technologies, we need resources and space for demonstration, testing and training.
Strengths of Attracting Investment
We are registered as a Foreign-Invested Enterprise by KOTRA (since Sept. 2016). All of our engineers are fluent in English and are ready to work in a global environment. E-commerce has seen significant global growth,with an anticipated 265% growth rate from USD 1.3 trillion in 2014 to USD 4.9 trillion in 2021 (beeketing. com/blog/future-ecommerce-2019). The pandemic has accelerated and triggered changes in shopping trends from offline to online. As a consumer society with an internet usage rate of close to 92 percent among the population, it is no surprise that e-commerce holds a strong position in South Korea. Industry figures suggest that the retail e-commerce volume in the country will grow to USD 90.5 billion by 2024, up from USD 41.9 billion in 2017. (https://www.statista.com/topics/2529/e-commerce-in-south-korea/).
As more and more retailers and buyers enter the online e-commerce platform to buy and sell products, retailers try to remain competitive by optimizing their supply chains and intralogistics. Intralogistics solutions need to integrate and optimize all the processes/information that occur within a company during product handling. With the growing challenge of fulfilment costs, it's vital for retailers to adopt some form of automation for intralogistics (e.g. warehouses) to improve the fulfillment process from receiving to delivery. The intralogistics market, and the warehouse automation market in particular, was valued at up to USD 15 billion in 2019 and post Covid-19 opportunities are expected to be worth up to USD 30 billion by 2026, at a CAGR of up to 14 percent during the forecast period (https://www.thelogisticsiq.com/ research/warehouse-automation-market/).
Korea has an excellent position in the development and production of new-type concept and products driven by strong domestic demand. Team members of Lab to Market have years of experience in e-commerce base supply chain execution, warehouse management, automation, MES and WMS in global enterprises. On top of our past experiences, we develop and provide innovative solutions which flexibly adopt to the operation environment, reduce operation costs and improve operation efficiencies.
Lab to Market has at least three original technologies (multi-shuttle, management system, smart storage) and four application technologies (conveyor connection, analytics tool, picking robot and swarm AGV) among 10 prominent technologies that can remake warehouse operation reported by McKinsey.
10 Prominent Technologies that could Remake Warehouse Operations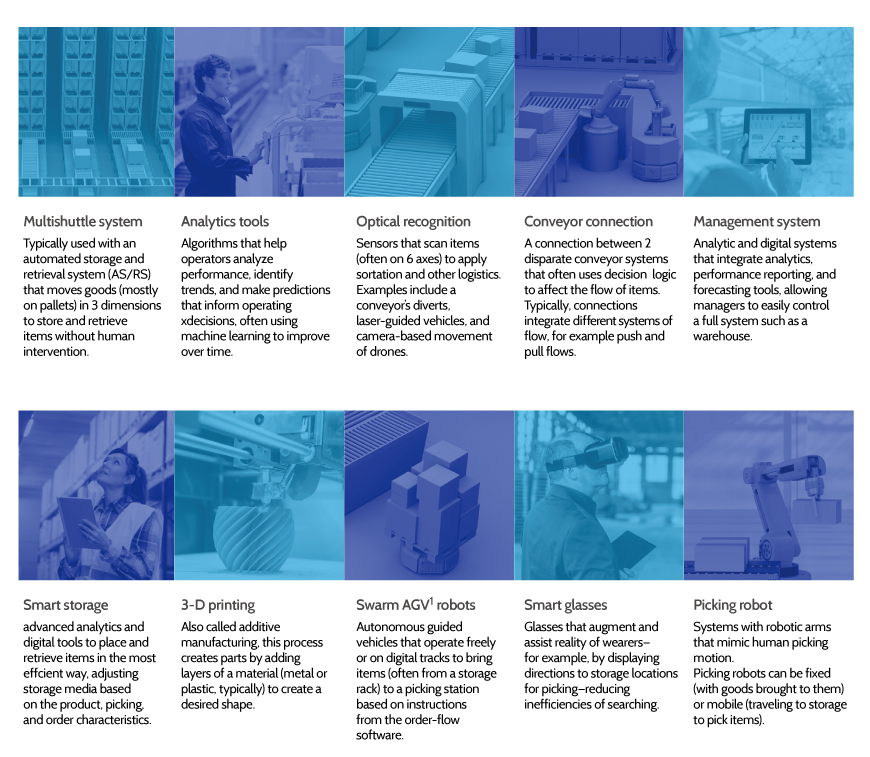 Key Strategies and Future Plan

We are not targeting the heavy duty industry or process industry but the discrete manufacturing industry and "multi-product small volume" business which is typical in the e-commerce business. We have two strategies for our business by building two types of partnership approaches: technology partnership and marketing & operation partnership. Typical processes in a warehouse consist of receiving, putaway, storaging, picking, inspection, packing and loading.

1. Technology partnership approach
We are developing a unique original technology for "putaway-storaging-picking" automation and developing application technology for an autonomous mobile robot and multi-axis robot by collaborating with innovative high-tech startups to provide the best of breed intralogistics automation solution to our customers.
2. Operation and marketing partnership
With our existing customers in micro-electronics industry, we are looking for partners who are specialized in operating fulfillment centers in general retailers and grocery stores (e.g. cold chain products). We aim to have partners with micro-fulfillment center operations (8,000-20,000 square feet with 10,000-20,000 SKU). We believe we can bring outstanding performance compared to other existing solution providers in terms of net-profit, order/labor cost, throughput rate, savings in space, etc.
Future plans
In 2021, we aim to open our demonstration site and small assembly and test factory for our multi-shuttle and drive roller-based conveyer near Seoul. With our demonstration center, we will show a kind of industry solution template for our solution. We are also trying to participate in various exhibitions held in Asia, Middle East, the U.S. and Europe. Currently, we are looking to establish our regional office either in Singapore and Malaysia to serve our customers and expand our business in this region.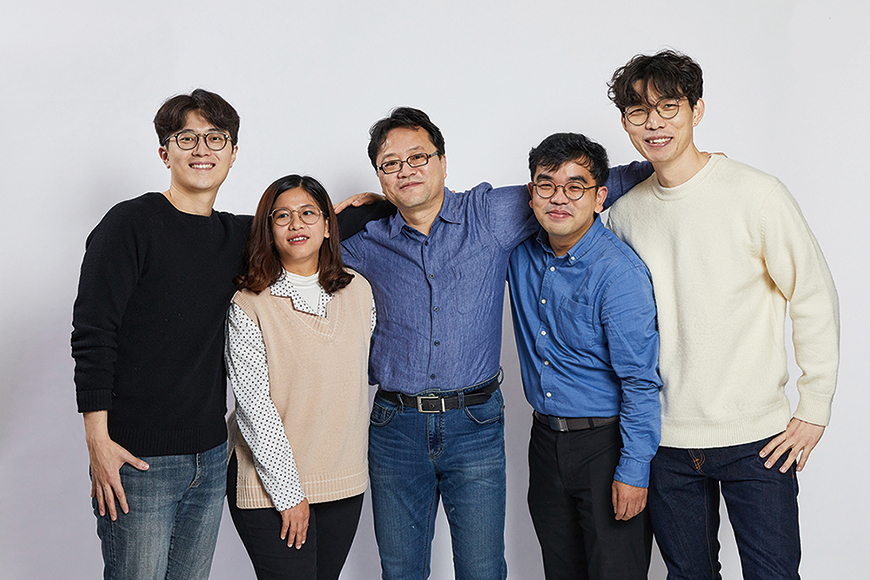 By Dr. Chang, Yoon Seok
CEO
Lab to Market Inc.
yoonchang@lab2m.com