Home
Information Center
Future Unicorns
Tiny but Mighty! EdTech Leader, GeniRobot
About the company
Since its establishment in 2019 as a preliminary startup package by the Korea Institute of Startup and Entrepreneurship Development and its selection in the Tech Incubator Program for Startup (TIPS) of the Ministry of SMEs and Startups in the same year, GeniRobot has been recognized for its various technologies and capabilities, centering on 'Genibot', an all-in-one educational robot. This year, GeniRobot was selected as a Blue 100 Promising Young Startup, attended the K-Solution Fair hosted by the National IT Industry Promotion Agency, and participated in various projects including the DNA Fusion Product and Service Overseas Expansion Project of the Ministry of Science and ICT, the K-Startup Center (KSC) Overseas Expansion Project of the Ministry of SMEs and Startup and the ICT R&D Innovation Project of the Ministry of Science and ICT. It is also strengthening its presence on the global stage by showcasing products at MWC Barcelona 2021 and being featured on the BBC.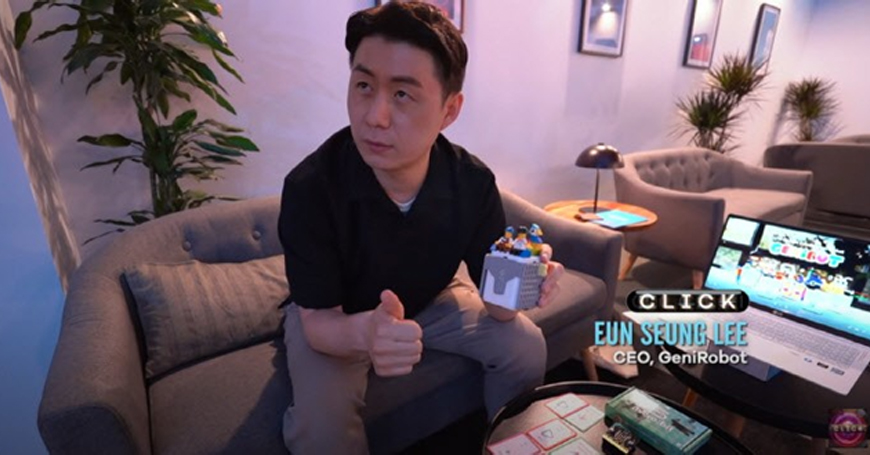 ⓒ Screenshot from BBC's "CLICK" (Photo provided by company)
Background
In the era of the Fourth Industrial Revolution, the demand for contactless platforms has increased significantly due to the COVID-19 pandemic. Existing non-face-to-face classes, which were unilateral and offered merely as learning aids, are now evolving into video face-to-face or character face-to-face formats to meet the demands for interactive learning. However, the overall process still relies heavily on the student's willingness to learn. Moreover, existing robot coding education is unable to provide real-time feedback or allow evaluation between teachers and students due to communication constraints. However, Genibot allows evaluation and a wide range of services via two-way communication supported by its unique Bluetooth 5.0 Star Network.
About the product and/or technology
Genibot is an educational robot developed to fulfill GeniRobot's mission of creating robots that can satisfy all children's learning needs, just like the Genie in Aladdin. By using multitasking technology, the structure was simplified and made to be interoperable with everything ranging from unplugged coding, apps, Scratch, Python, Arduino to BBC Microbit while responding to diverse areas of coding, STEAM, artificial intelligence (AI), and information and communication technology (ICT) training. Using the 'Star Network' technology applied in Bluetooth 5.0 and cloud, it has two-way interoperability, and the design compatible with Lego allows it to actively draw interest and motivation, which is essential for learning. It may not make sense to claim that you can become a world-class ICT talent just by learning with Genibot. Still, Genibot carries significance in that it has broadened the value scope enabling ICT education that students, teachers, and parents all need and enjoy.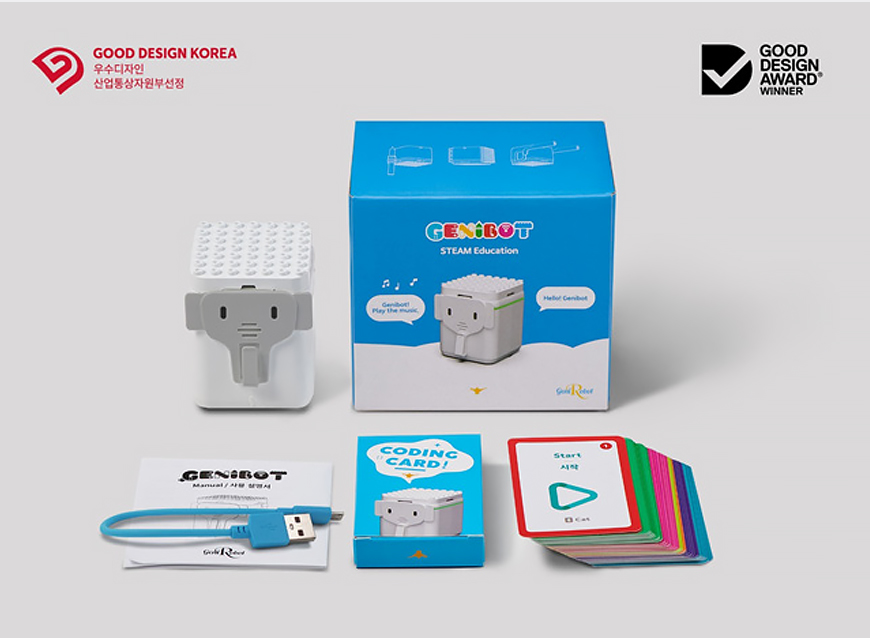 Furthermore, GeniRobot's 'GeniClass,' which is a real-time interactive platform based on the Learning Interactive Multiple Service (LIMS), uses WebRTC interaction-based technology applied with end-to-end encryption of TLS 1.2 or higher and WSS HTTPS encryption protocol to offer features for checking the student's concentration level and conducting Q&A sessions in real-time, as well as the UI to facilitate teachers and students to readily interact with each other just like during on-site classes. As in the case of the interoperable Genibot, GeniClass is expected to offer a learning platform that transcends time and space by moving one step forward from existing platforms compatible with video conferencing.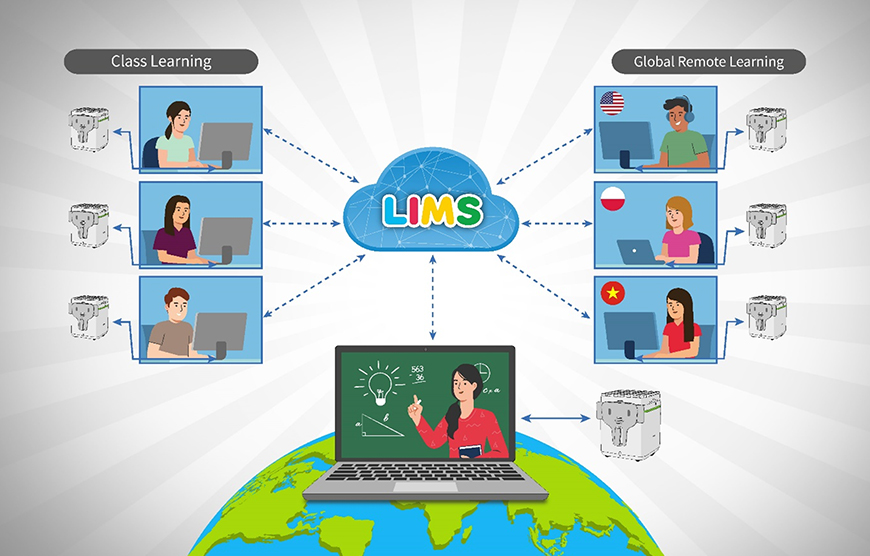 Competitive edge and business strategy
GeniRobot's constant development activities since its establishment in 2019 are being acknowledged at home and abroad. GeniRobot's developers are working on various fields such as interactive real-time video education system using Web RTC, web socket-based data synchronization interface standard, model analysis for designing a voice quality deep learning model, and integrated application of parts through multi-tasking technology. As a result, GeniRobot achieved seven domestic and international certifications, including the Bluetooth 5 certification, and seven patent registrations and three applications, which is unprecedented for an educational model. Immediately after its launch in May 2020, GeniRobot was awarded with contracts with a cumulative worth of USD 840,000 and recorded exports valued at USD 590,000. In addition, GeniRobot established a joint venture in Thailand this year, and the establishment of an overseas joint venture and an assembly plant in Poland are also under progress..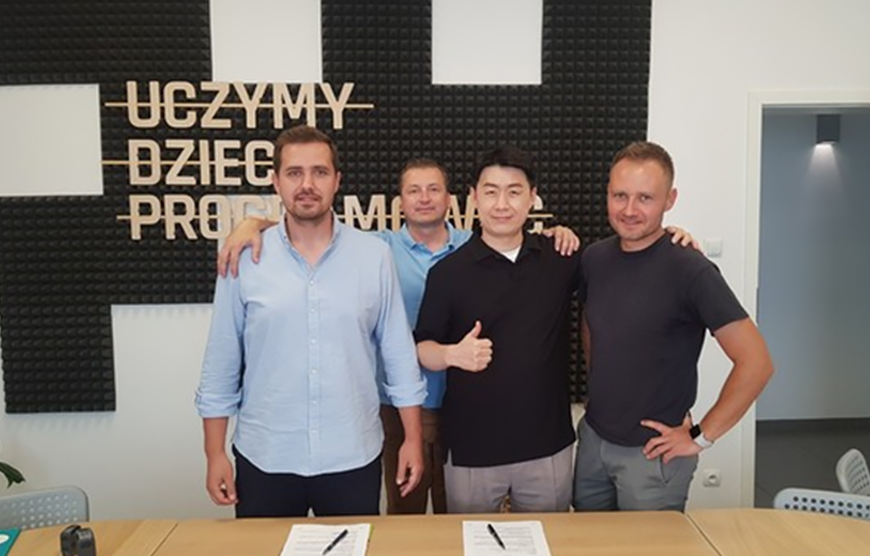 ⓒOn July 7, 2021, GeniRobot signed a contract with Edus Sp.zo.o—a subsidiary of Polish edtech company EduSense S.A.—for the establishment of an overseas joint venture and an assembly plant. (Photo provided by company)
Future plans
The precondition for the Fourth Industrial Revolution is to allow people to transcend time and space, and interaction is essential in such an environment. In the contactless learning environment, the key lies in successfully facilitating interaction. GeniRobot believes that it is best to support these demands by focusing more on development to refine the LIMS-based GeniClass platform currently under beta testing, as well as the main product Genibot. In addition, collaboration with the domestic and foreign education markets will also be considered. GeniRobot hopes the world will look forward to the synergy that its front-line experience and technology will generate. In addition to 288 educational contents, GeniRobot aims to take active steps to meet the demands that arise in the education field directly through strategic partnerships with its industry peers such as Chunjae Education and Globe Point. GeniRobot expects to meet customers by interfacing its products with various existing learning software while also seeking opportunities in new fields like virtual reality (VR) and metaverse. At the same time, GeniRobot plans to find more opportunities in the overseas market to ultimately widen the scope of its interaction with those inside and outside the edtech industry. Lastly, GeniRobot's CEO Eunseung Lee stressed his hope that GeniClass and Genibot could contribute to narrowing the gaps in the education field through ICT learning. "Edtech's role is to close the gaps in education with ICT," Lee said. "GeniRobot's ambition is to grow as a company that contributes to providing equal learning opportunities to disabled and non-disabled students alike, ultimately to improve the overall level of education," he added.