Home
Information Center
Future Unicorn
KB ELEMENT, No.1 for Graphene
About the company
As a leading startup specializing in materials and parts, KB Element, with its pioneering non-oxidized graphene manufacturing and research technology, was selected in 2021 as one of the "100 Materials, Parts and Equipment Startups" by the Ministry of SMES and Startups.

KB Element has set the benchmark for graphene commercialization and entered into a supply agreement with Samsung Display and LG Display..
Background
"Why is graphene, touted as a wonder material, difficult to commercialize?" is the question that led to KB Element's product development. Graphene's high price is the greatest obstacle in commercializing this high-quality material, but KB Element succeeded in bringing down the sales price to one tenth of the existing price based on its simplified processing and innovative manufacturing technology.
About the product and/or technology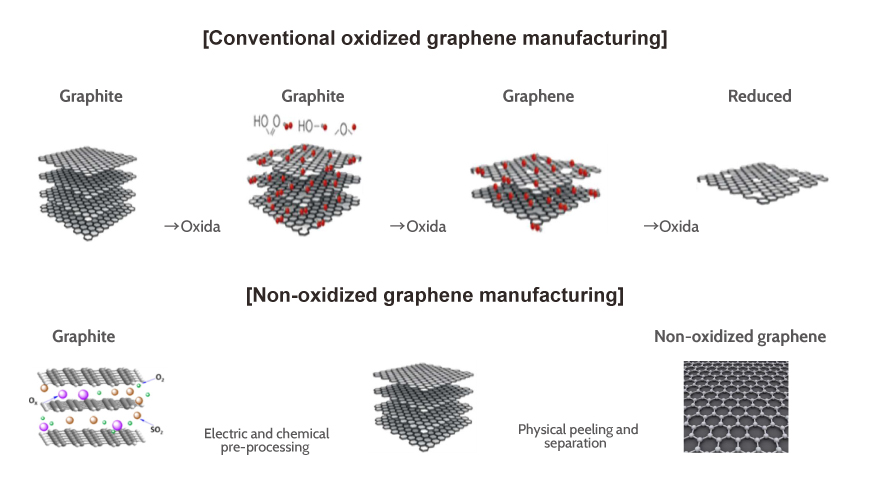 [existing "graphene"manufacturing processes]
Graphite -> Oxida
Graphite -> Oxida
Graphene -> Oxida
Reduced
[non-oxidized graphene manufacturing]
electric and chemical pre-processing
physical peeling and separation
non-oxidized graphene
Generating highly-toxic heavy metals and acid fumes (which cause air pollution) are the biggest problems in existing graphene manufacturing processes. KB Element produces high-purity graphene in a non-oxidized manner for application in heat-dissipating materials and anti-static materials. KB Element offers purity-controlled graphene to meet the needs of customers.

The main advantage of non-oxidized graphene manufacturing—which is the world's first plasma emission technology—is that it produces defect-free graphene without generating heavy metals or wastewater.
Competitive edge and business strategy
Researchers represent eighty percent of KB Element's employees. Based on the highly-skilled manpower and technological competence specializing in graphene, KB Element developed technologies key to producing graphene materials and is working on various product development and commercialization projects.

In a technology valuation project, the Korea Invention Promotion Association assessed KB Element as possessing a business value of KRW 23.1 billion and a technology value of KRW 7.1 billion, leading numerous agencies and businesses to take note of KB Element's technological competence.
Future plans
KB Element is currently relocating and expanding its production facility to upscale its graphene production and succeeded in attracting a Series A funding worth KRW 7 billion. Based on the recent investment, KB Element aims to grow as a global material producer. It plans to accelerate innovative growth based on its initial objective of tech IPO.

KB Element has the vision to revitalize the local industry, create jobs driven by its rapid growth, and emerge as a leader in the materials, parts and equipment industry.