Home
Information Center
Future Unicorn
Willog, a Cold Chain Data Management Solution Provider
About the Company
Willog is a cold chain management solution provider that develops and services cold chain data management solutions ensuring seamless management of the entire cold chain transportation process. Willog started developing cold chain solutions under its former name Seohyun, and is expanding its business by establishing an overseas office in the United States (Jan. 2021) and founding Willog in Korea (May 2021)
Established in May 2021
Number of employees: 27
Participated in CES 2021 in Jan. 2021 for its launch in the global market
Established in May
Secured investment in first series A round in Aug. (IGIS Investment Partners, Shinhan Capital, Aju IB Investment)
Selected in 'TIPS', a technology start-up support program operated by the Ministry of SMEs and Startups, in Oct.
Secured investment in second series A round in Jan. 2022 (Hanwha Investment & Securities)
Background
Businesses until now have considered cold chain management as additional costs. The perception limited them to merely "maintaining" permissible temperature ranges with minimal devices. Providers of cold chain facilities and devices also focused solely on reducing unit costs to stay price-competitive. They mostly resort to OEM in China and are reluctant to invest in software development.

Willog representatives Sunghoon Bae and Jihyun Yun have business experience in the food industry. Such experience has enabled them to notice that the temperature of finished products is not properly managed as they are delivered to consumers. Since products are mostly shipped by delivery service providers, they are often transported without maintaining the temperature or have the temperature manipulated. Having witnessed this reality, Willog representatives acknowledged the importance of properly "managing," rather than merely "maintaining" a cold chain and decided to develop solutions together.
About the Product and Technology
OTQ (One Time Qr-code), the cold chain monitoring device developed by Willog, is capable of generating and storing QR codes capturing the product condition in a pre-defined timeframe. Just by scanning the QR code with a smartphone camera, users can monitor the condition and history of transported products from the smartphone and the control software.
Willog OTQ Device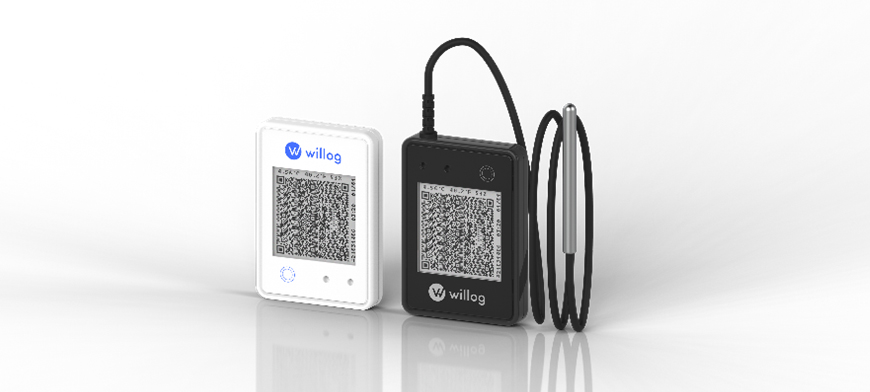 In addition to providing visualized data on the transportation route and product condition of each product, Willog's control software is the only "cold chain data management solution" allowing users to manage the entire process including return handling and the issuance and storage of proof of delivery reports. The cloud-based solution ensures easy data access to all stakeholders including shippers, deliverers, and receivers. As the data is easy for anyone to understand, the solution helps users to tackle and prevent the recurrence of issues.
Willog control software dashboard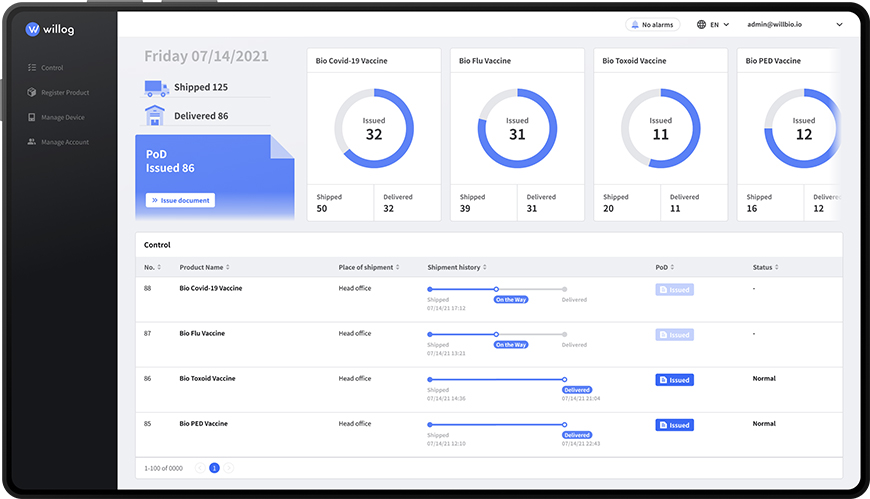 The QR code-based logistics status monitoring solution, which is central to OTQ's technology, is patent-registered, and Willog owns a total of 17 intellectual property rights including design patents, technology patents, PCTs and copyrights.

Businesses can properly "manage" their cold chains with Willog's "cold chain data management solution," thereby detecting and tackling issues more effectively and efficiently while preventing their recurrence. Furthermore, the solution guarantees business continuity and growth by reducing inventory and preventing costs associated with disposal and return.
Competitive Edge and Business Strategy
Existing temperature recording devices known as data loggers or temperature recorders are mostly focused on collecting temperature data and hardware performance. In the temperature collection process, the devices often experience disruption in data transmission or data loss due to device malfunctioning or loss as they are vulnerable to the network environment. Since the device operation and data monitoring processes require human intervention, the devices are much prone to human errors. These less-than-perfect factors inevitably deteriorate the quality of cold chain management.

The proper management of a cold chain requires more than mere devices. Users should be able to seamlessly monitor the entire cold chain process and swiftly respond to temperature deviation or return requests based on the collected data. Anyone should access data and easily use the system without a separate training or a program. Unless these conditions are met, a solution cannot be called a cold chain management solution. That is why Willog prides itself as the provider of the only "cold chain data management solution." Willog's cold chain data management solution enables businesses to go beyond simply collecting and monitoring data so they can swiftly tackle issues, identify the process or environment with repetitive issues and devise preventive measures for saving time and money.
Willog control software – response to temperature deviation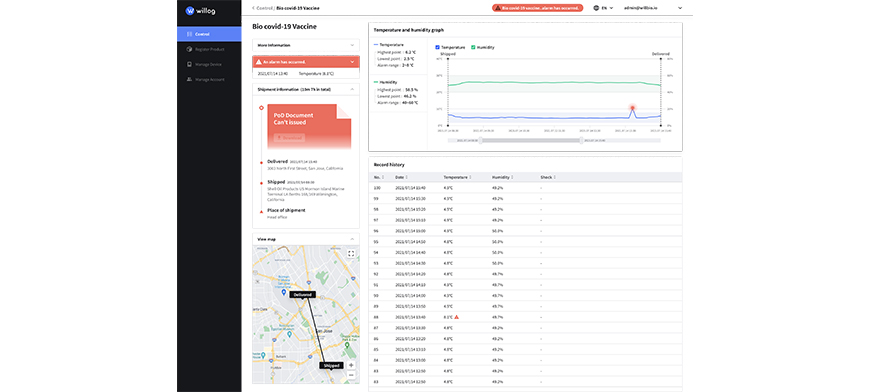 Willog's key competitive lies in the fact that its solution provides the perfect solution to the "regulation on the transportation of biological products" that applies the highest standards of cold chain management. Currently, Willog is focused on providing diagnoses and optimization options that will help businesses in the pharmaceutical industry abide by regulations, reduce business risks and appropriately respond to the revised regulations.
Future Plans
Willog is currently concentrating in building a cold chain management solution to help pharmaceutical businesses cope with the "regulation on biological products," but it plans to expand business to marine container transportation and food industries. Willog is also committed to finding business opportunities around the world based on its US office. At the moment, it is actively communicating with numerous potential business partners.

In addition to business expansion, Willog plans to constantly invest in R&D to refine its solution. It is impossible to manage cold chains without collecting and using data across all domains. To that end, the solution must interface with related systems including ERP and WMS. While Willog's solution is interfaced with the systems of some businesses, Willog is preparing to provide interface services to more partners by refining the solution. Moreover, Willog aims to provide insight based on its extensive data and further refine the solution by investing in big data and machine learning for process automation.

Willog's short-term goal is to provide a new direction for cold chain management so that businesses can minimize cold chain-related risks and build a virtuous business cycle. In the long-term, Willog based on its slogan "the Standard of Trust" envisions a future where the name Willog serves as a "certificate" that guarantees safety. To that end, it is working towards applying advanced technologies such as block chain.