Home
Information Center
Future Unicorn
For Green Innovation, ECOPEACE Co., Ltd.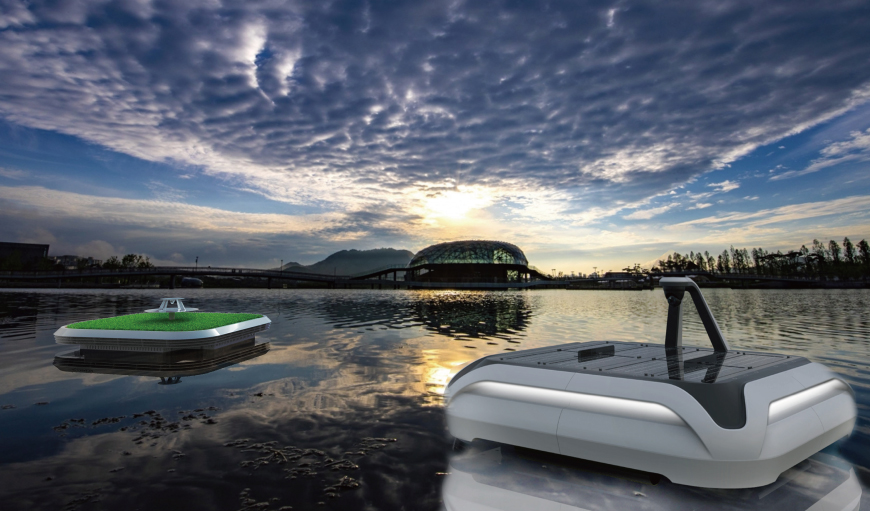 About the company
ECOPEACE is a smart water quality management solution provider that manages and purifies freshwater (i.e., lakes, water supply sources, and reservoirs) at home and abroad using advanced technologies including robotics, AI, and big data. Committed to pioneering new technologies and surmounting limitations, ECOPEACE's young employees work as equal members to develop and produce innovative solutions. ECOPEACE is devoted to improving water quality and purifying water by deploying AI water purifying robots to the world's freshwater rapidly being contaminated due to the water temperature rise triggered by climate change.
Mission, Vision, Strategy
Mission
Vision
Strategy
Business for water benefiting people, and the planet
No. 1 company in water SMART-quality management
1_Specific 2_Measurable
3_Attainable 4_Result-oriented
5_Time bound
Sustainable
Innovation
Solution Development
Background
Rising water temperature and water contamination are the anticipated consequences of accelerating climate change caused by increased carbon emissions. Faced with these challenges, ECOPEACE started studying innovative technologies that use water purifying robots and developed AI water purifying robots. ECOPEACE's main technology used in its AI water purifying robots were born from the combination of a wide-ranging needs analyses and the innovative ideas of its young members. In order to develop technologies that help those managing water resources—water supply sources, lakes and reservoirs—safely and efficiently, ECOPEACE combined different technologies such as AI and robotics and was able to develop new technologies by conducting countless field tests.
About the product and/or technology
Whereas it is difficult to manually measure water quality and manage the contamination level of freshwater, ECOPEACE's ECOBOT makes the tasks much easier. ECOBOT is a platform-based solution that roams around contaminated areas and collects in real-time eight types of water quality data, which is then analyzed with AI algorithms in a cloud environment and used again in controlling the robot. Measuring five meters in length and width, the robot is designed to safely operate in all types of environments. ECOBOT's sustainable operation is ensured as it is powered by solar panels and free from the restraints of battery capacity. Water purifying robots can swiftly detect contaminations in freshwater and resolve problems by slowing the contamination process with its automated emergency purification mechanism.
Floating water purifying systems
Floating water purifying systems

| ECO-BEE 100 | ECO-BEE 500 |
| --- | --- |
| | |
| Good design water purification system | Modular mounted equipment |
| Physical green algae removal technology | Green algae prevention technology |
| Eco-friendly water treatment technology | Eco-friendly water treatment |
| Green algae and phosphorus reduction | Water purification (NP reduction) |
| [Specifications] · Length: 1,380 mm · Height: 800 mm · Width: 1,380 mm · Processing capacity: Over 100 tons/day | [Specifications] Length: 2,200 mm · Height: 1,000 mm · Width: 2,200 mm · Processing capacity: Over 550 tons/day |
Other systems
Other systems
AI water purifying robot
ECO-BOT 500
Water circulation system: Sediment flotation type
ECO-WING

Driverless green algae removal system
Sediment floatation effect
Green algae prediction
Water circulation maximization
Eco-friendly water treatment
Water pollution prevention
Green algae filtering removal technology
Biofilter-linked water purification
[Specifications]] · Length: 4,500 mm · Height: 1,000 mm · Width: 2,200 mm · Processing capacity: Over 230 tons/day
[Specifications]] Length: 2,400 mm · Height: 1,000 mm · Motor: 1(hp) · Processing capacity: 200 m radius
WHY ECOPEACE?
Efficient water quality management enabled with ECOPEACE's AI water purification solutions
Mission, Vision, Strategy

| Advanced water purifying technologies | Economical water quality management technologies | Eco-friendly green algae removal features |
| --- | --- | --- |
| A provider of data-based integrated water purifying solutions that intelligently manage water with AI, big data, and robotics | More efficient and affordable than existing water purifying and management technologies | Biological treatment and physical filtering for eco-friendly green algae removal. Minimizes landscape alteration with eco-friendly design. |
Competitive edge and business strategy
Starting from freshwater management robots, ECOPEACE is working to expand the business to robots that remove waste oil in seas, water recreation robots and military surveillance robots. ECOPEACE envisions to grow as a global company solving water pollution with its smart water treatment technology and to develop innovative technologies tackling environmental issues arising from climate change. ECOPEACE is gradually increasing its market share in the domestic market and aims to expand business to Europe and America with the goal of winning a global market share of over ten percent in the next ten years. By collecting the water quality data of freshwater around the world, ECOPEACE will provide services to facilitate easy water quality management.
Future plan
ECOPEACE plans to develop a smart water quality management system by operating multiple robots in groups for freshwater purification. ECOPEACE is upgrading the robots to also provide efficient water quality management and purification services in large-sized areas. Through performance upgrades, the robots will also be able to easily operate in rivers and seas. ECOPEACE also plans to develop technologies that provide high-value data by refining, learning and processing data using the rich information (e.g., water quality, water level, and weather) collection by robots.
Integrated ecosystem management and water purification platform
Integrated ecosystem management and water purification platform
ECO-STATION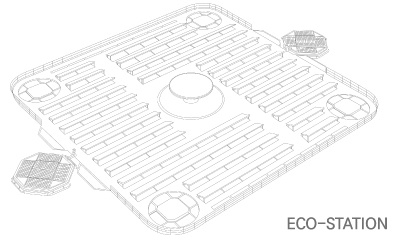 Integrated smart water quality management solution
Green & Data New Deal convergence technology
100% powered by renewable energy
Digitalized based on a remote management system
[Specifications]· Length: 2,500 mm · Height: 1,200 mm · Width: 2,500 mm · Processing capacity: 2,500 tons/day