Home
Information Center
Future Unicorns
Creation through Innovation, TCMS Co., Ltd.
About the Company
TCMS specializes in manufacturing tenter clips and tenter frame rails that are used for producing lithium-ion battery separation films. For the first time in Korea (and fourth in the world), TCMS successfully developed tenter clips, which are used for producing separation films essential for lithium-ion battery production, and developed simultaneous biaxial clips and a system of producing high-performance separation films. Furthermore, TCMS based on its separation film technology (material, parts and equipment) is in the process of developing next-generation separation films that are used in areas that require the highly efficient and heat resistant characteristics of lithium-ion batteries.
Background
As Korea has relied 100% on import for the equipment used in producing lithium-ion battery separation films, there was a need to domestically develop the production equipment and overcome technological limitations. In order to address these problems, TCMS successfully developed key technologies through consistent R&D. The conventional manufacturing process of lithium-ion batteries is prone to fire due to thermal stability issues. TCSM aims to emerge as a game changer in the materials pars and equipment area of the lithium-ion battery market by offering solutions capable of preventing fire with its next-generation separation films that have addressed thermal stability issues.
About the Product
High-efficiency separation film manufacturing technology
TCMS's key technology SBO stands for simulatneous biaxial orientation, which enables stretching both in the machine direction orientation (MBO) and transverse direction orientation (TDO). The production of separation films with a thickness of 7㎛ requires the technology of simultaneously releasing grips that uniformly maintain the clamping deviation and the grip strength on top and bottom and on left and right while minimizing deviation, controlling the clamping location, and reducing pin abrasion, and TCMS has these advanced technologies needed for the drawing of separation films.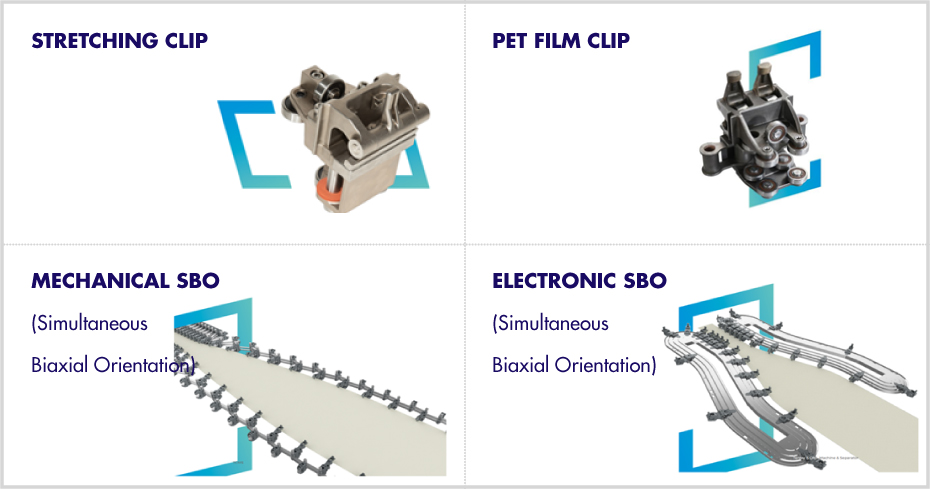 Mixture and high-temperature drawing technologies for the production of next-generation separation films
Unlike conventional manufacturing facilities, the facility structure and the processing conditions of next-generation heat-resistant separation films require the development of cooling systems and parts that are suitable for high-temperature conditions. Separation films are manufactured through the casting and drawing of materials and these next-generation films are heat-resistant high-molecular materials with a melting point surpassing 300℃. As the overall facilities must withstand high heat of at least 300℃, TCMS is developing the technology of manufacturing heat-resistant separation films with the government's support. TCMS aims to succeed at mass production with its technologies of drawing materials at high temperature, mixing the materials, and optimizing porogen.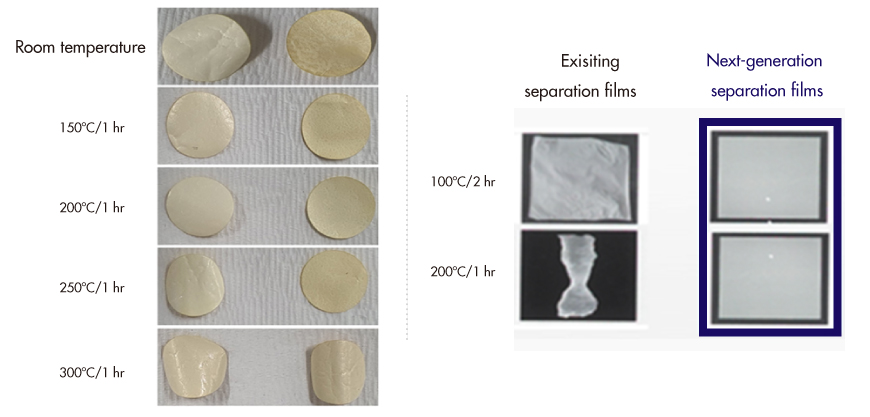 Competitive Edge and Business Strategy
Intellectual property rights: 6six patents registered, 5 patents registered in China: proprietary technology
TIPS (Tech Incubator Program for Startup) selection/ Ministry of SMEs and Startups (government subsidy of KRW 370 million): Project leader
R&D of materials and parts/Korea Evaluation Institute of Industrial Technology (government subsidy of KRW 2.6 billion): Project leader
Owns 3D programs and 3D measuring devices: Product verification
Successfully raised Series A funding of KRW 3.5 billion: Feasibility validated
Future Plans
Consistent generation of cash cow through the sales of tenter clips that are consumable parts crucial in the drawing process of separation film production.
The replacement of separation films enables the production of lithium-ion batteries displaying the advantages of all-solid batteries.
Based on the world's best high-temperature drawing technology and the simultaneous biaxial drawing technology, TCMS aims to expand the business area and tap into the market of drawing high value-added polymers used in medical and optical devices.
The prototype of heat-resistant and highly-efficient next-generation separation films being developed in a government project will be released in 2024, and production will begin from 2025. The objective is to start mass production in 2027 and win a market share of 0.2% (KRW 200 billion) in the overall lithium-ion battery market.
TCMS will open its office in China in the second half of 2022, followed by the opening of offices in Europe and the United States for the production of products tailored to each region and growing as a global top-tier manufacturer.
By Taeyong Shin
CEO
(tcms@tcms.co.kr)
TCMS Co., Ltd(www.tcms.co.kr)