Home
Information Center
Future Unicorns
Tionlab Therapeutics, Leading the Technological Innovation of the Pharmaceutical Industry to Improve the Quality of Life of Patients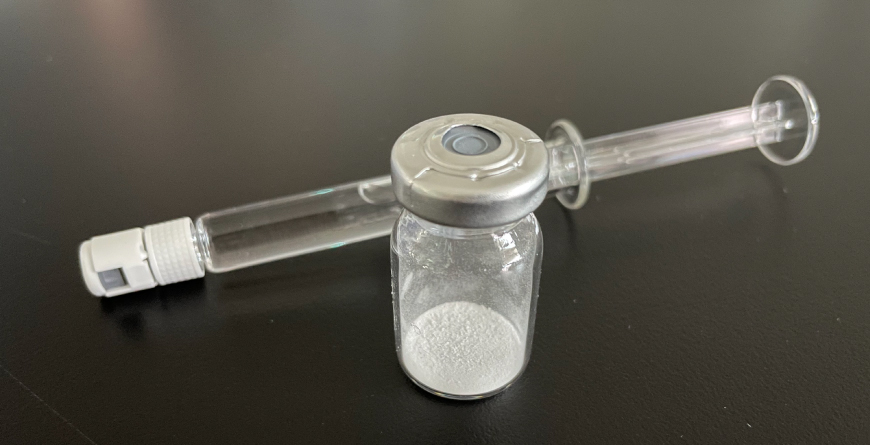 About the Company
Tionlab Therpeutics was named as a lab focused on technology and innovation for studying on-demand drugs tailored to each patient. It specializes in developing long-acting injection and innovative lipid nanoparticle-based drug delivery systems that will improve the quality of life of patients.
Background
A long-acting injection and drug delivery system is a new type of drug developed to maintain the effects of drugs for several weeks and even months with a single injection, and it is expected to replace the daily oral administration of drugs or shots.

Patients with chronic diseases must control their diseases with the constant injection of drugs, and the situation of having to take medicine or shots day after day worsen their quality of life as well as the effectiveness of treatment as patients often become reluctant to receive treatment, which reduces medication adherence.

Developed to make taking medication easier and improve the effectiveness of treatment, Tionlab's medicine that is based on a drug delivery system helps maintain the density of active drug substances in the body to a constant level with a single shot, thereby making lives easier for patients with chronic diseases, improving drug efficacy and reducing side effects.
About the Product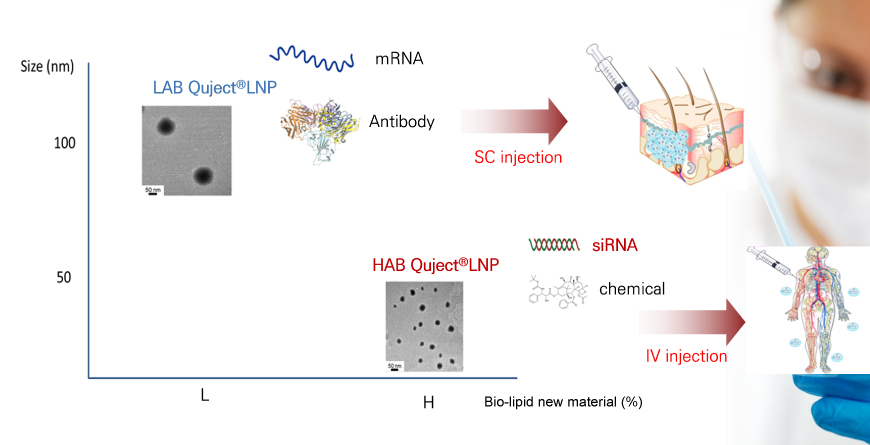 Quject®sphere
The long-acting injection system based on high molecules, which uses an FDA-approved substance, can control the initial release by double coating the surface of the microsphere while maintaining the drug density to a constant level for one to six months. Thus, side effects caused by rapid initial release are reduced, and the efficacy is also dramatically improved. Tionlab also possesses the technologies for mass-producing super-homogeneous particles, which will expedite mass production and commercialization.

Based on the technology, Tionlab is developing a system for injecting Semaglutide for one month to treat diabetes and obesity, which will reduce the possibility of side effects by reducing rapid release by less than 5% compared to conventional drugs. Based on the results, the system's effectiveness is being evaluated using animals with diabetes or obesity. Tionlab aims to complete the first phase of clinical trial by 2024 and to launch products by 2027 as the world's first developer of Semaglutide Biobetter. It envisions to be a game changer that will transform the GLP-1 series diabetes/obesity treatment market currently worth USD 19.2 billion.
Quject®LNP
Quject®LNP is a highly competitive next-generation lipid nanoparticle (LNP) platform technology that is improved in terms of durability, stability and safety compared to the conventional PEG-LNP used in coronavirus vaccines. The bio fusion platform developed by Tionlab has overcome the limitations of existing LNP drug delivery systems, and Tionlab is currently using the technology in developing a new RNA drug that targets KRAS mutated lung cancer. Animal tests using mice have confirmed that the new RNA drug only targets mutated cancer cells and has excellent durability and anti-cancer effects. Tionlab plans to also develop an RNA anti-cancer vaccine delivery system using the drug delivery technology. Based on these efforts, Tionlab plans to enter the "new RNA and therapeutic drug delivery system market worth KRW 25 trillion" using the world's first bio fusion LNP technology.
Competitive Edge and Business Strategy
Intellectual property rights
Application of ten patents at home and abroad/Registration of two patents in Korea
Selected by the Ministry of Trade, Industry and Energy as a developer of an upgraded drug targeting the global market (KRW 1.8 billion for four years)
Selected in the TIPS Project of the Ministry of SMEs and Startups (KRW 0.5 billion for two years)
Selected in the MSS Network R&D Project of the Ministry of SMEs and Startups (KRW 0.6 billion for two years)
Selected as a First Penguin Startup (by the Korea Credit Guarantee Fund)
Currently developing a new drug with Korea's major pharmaceutical company (LNP delivery system)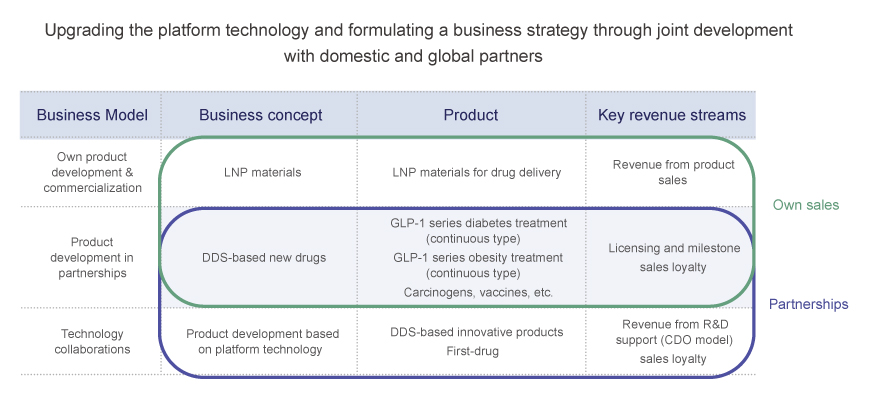 Future Plans
Tionlab's goal is to successfully complete the series A round this year. After completing the series A round, Tionlab plans to accelerate the R&D of a diabetes treatment drug lasting for one month, followed by the phase 1 of a global clinical trial in 2024. With regard to an obesity treatment drug lasting for one month, Tionlab aims to complete the efficacy evaluation and launch a non-clinical trial.

Secondly, Tionlab plans to upgrade the platform technology through the joint research of vaccines, carcinogens and drugs for ocular diseases that use the Quject®LNP technology. The effort will enable Tionlab to develop pipelines and expedite the product development for exporting the technologies to global pharmaceutical companies.

By licensing out its differentiated drug delivery technology to pharmaceutical companies at home and abroad or conducting joint studies, Tionlab plans to commercialize innovative products ultimately to grow as the world's leading developer of new drugs based on drug delivery systems.