Home
Information Center
Future Unicorns
RNR CINEMATIC UNIVERSE A VALUE-CHAIN INTEGRATED CONTENTS PLATFORM
About RNR
RNR Cinematic Universe is a value-chain integrated contents platform provider. Founded by Ray Seok in 2014, the company secured a cinema system integration business in five countries at the early stage of its foundation, then expanded to a multiplex business in the forms of both direct and consigned operations.

Throughout the years in its business, RNR saw some issues and challenges of the cinema industry.

First, cinema requires big investment, resulting in a long term payback period and uncertainty.

Second, the operation cost is too high. Real-estate rent and labor costs take up 25 percent of total revenues..

Third, cinema platforms are heavily under-utilized. They are always busy deleting just two-week old movies in their systems and do not proactively develop businesses utilizing the vast library of second-run or other alternative contents such as TV shows, live events, UCC or OTT.

Fourth, cinema is totally disconnected with other contents value chains. Cinemas have millions of memberships, but they only visit the Cinema App a few times a year just for the purpose of ticket reservations.
Product and Solution
RNR has been developing a new sustainable business model. Those efforts have been realized by a MONOPLEX network eco-system with three S/W solutions – RTMS, CineInsight and CineMarketplace.
MONOPLEX network ECO-SYSTEM
PLATFORM

USERS

SOLUTION

DESCRIPTION

CINEMA AIRBNB

CUSTOMERS

RTMS

ㆍAsset light cinema exhibition outlet/network
ㆍCinema+OTT

B2B NETFLIX

PARTNERS

Cine-Insight

ㆍSecure content distribution/delivery network
ㆍEfficient remote cinema operations
ㆍCompliant with Hollywood standards

CINEMA IP MARKET-PLACE

CONTENT CREATORS /ADVERTISERS

Cine- Marketplace

ㆍOnline global cinema rights licensing
ㆍIP marketplace for content creators

Business Model
Simply said, they create a new eco-system by integrating value chains of the contents industry.

RNR equips partners with Hardware and Software for them to show first run movies without any upfront fees.

By doing so, they build their own cinema distribution network named MONOPLEX. Then, they charges fees to platform users.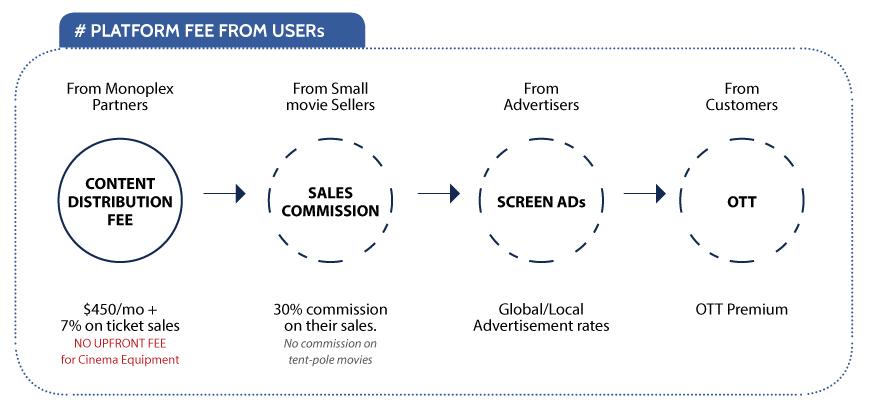 Competition and Competitive Advantages
Competition : RNR compete with existing the multiplex, OTT and distribution companies, but its business model has five competitive advantages
TPLEX CINEMA

Direct Operation
Asset Heavy

VS

Partner Network
Asset Light

TT

Online Only

6" screen only

Offline + Online

Cinematic Outlet + OTT

BUTION COMPANY

Manual

Taking months

Hard to check license
No screening outlet

Online

Within 24 hours

Open copyright data

Global sales outlet
FAST EXPANSION

ㆍNon-multiplex (Small & Private) + Partner network enables fast expansion thanks to no initial investment.

Win-Win ECOSYSTEM

ㆍCinema Partners make additional revenue
ㆍSmall movie creators have global sales channels

WIDE RANGE OF CHOICES

ㆍNo stereotype cinemas with same price per movie coming with only popcorn/sodas
ㆍHalf priced to hundreds of dollars worth of luxurious cinemas available upon value proposition and customer choice.

PERSONALIZED CONTENTS LIBRARY

ㆍMovie-goers create their own library from Cinema to OTT
ㆍShot on MZ preferences

UNTACT/Privacy

ㆍEasy rental of small sized/affordable cinemas
ㆍNo need to watch with others @ premium
Future Plan
RNR is implementing the world's first biz model which integrates content copyright owners with their own contents distribution network and exhibition outlet. They generate revenue stream from both contents copyright owners and exhibition partners unlike the current multiplex who only pays for content sourcing. Working as a debut platform for small movies utilizing their exhibition outlet, its collects content IP. The IP generates revenues during the creator's life +70 years, which is the best part of its business model.

In addition to a well-organized business model, it has a rapid expansion model as mentioned above. It is a future unicorn who targets a minimum 10% corporate value of the current contents platform king, Netflix, within next five years. If you are interested in this business, please feel free to reach out to ray@rnrvh.comfor more details. Thank you.