Home
Information Center
Korean Economy
[Economic Outlook]

Economic Outlook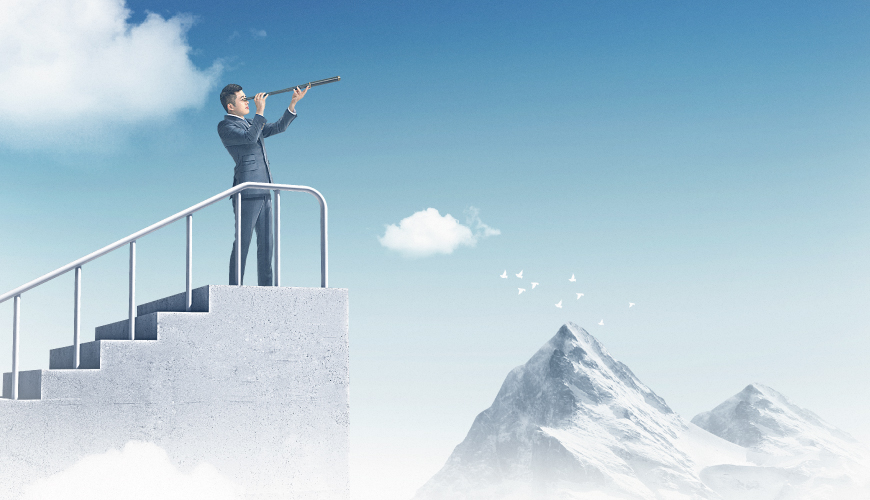 Economic Outlook is an overview the prospects for the Korean economy on a quarterly basis (in January, April, July, and October) based on sources published by the Bank of Korea.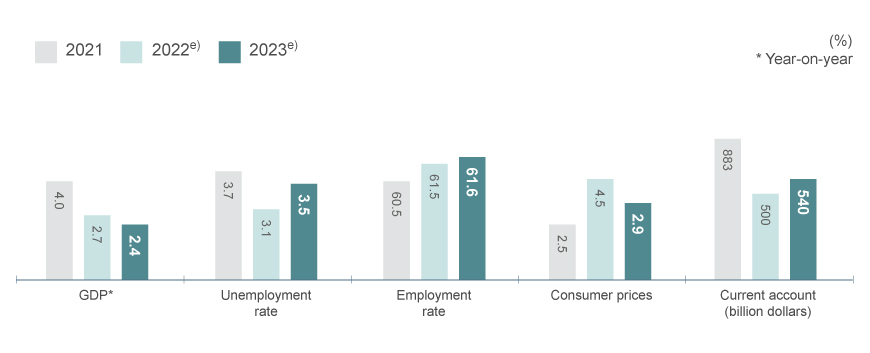 Summary
In light of changes in internal and external conditions, Korea's real GDP is projected to grow by 2.7 percent in 2022 and 2.4 percent in 2023.
The number of persons employed is expected to increase by 580,000 this year and by 120,000 in 2023.
CPI inflation is forecast to record 4.5 percent and 2.9 percent in 2022 and 2023, respectively.
The current account is forecast to record a surplus of 50 billion dollars in 2022 and 54 billion dollars in 2023.
Macroeconomic Outlook
Economic Growth
Private consumption
Private consumption is expected to grow by 3.7 percent and 2.7 percent in 2022 and 2023, respectively. Consumption of face-to-face services and overseas consumption that had been significantly impacted by social distancing measures are projected to rebound quickly. Consumption of goods is also projected to continue growth, with Koreans purchasing more cars and goods for external activities.
Facilities investment
Facilities investment is projected to decrease by 1.5 percent in 2022 but will increase by 2.1 percent in 2023. Continuously adjusted in the fourth quarter due to disruptions in the global supply chain, facilities investment is expected to recover modestly, mainly led by semiconductors. While non-IT manufacturing sector investment will mostly be slowed down by increased raw material prices and China's sluggish demand, IT sector investment is expected to improve.
Intellectual property products investment
Intellectual property products investment is expected to grow by 4.0 percent and 3.7 percent in 2022 and 2023, respectively. R&D investment is projected to expand, thanks to continuing favorable corporate earnings and reinforced government support. Other intellectual property products investment will also maintain its upward trend, led by software related investment, as digital transformation continues.
Construction investment
Construction investment will decrease by 0.5 percent in 2022, followed by an increase of 2.6 percent in 2023. Construction investment will remain sluggish in the fourth quarter because of rising raw material prices triggered by disruptions in the global supply chain, but residential construction is forecast to recover, as postponed sales of new building lots become gradually implemented after the second half of 2022.
Exports of goods*
Exports of goods are expected to grow by 3.3 percent in 2022 and by 2.1 percent in 2023. The increasing trend of goods exports is projected to slow down due to sluggish demands driven by China's lockdowns, while structural demand expansion in the IT sector is expected to partly offset the slowing trend of exports.
Economic growth
The Korean economy is expected to grow by 2.7 percent and 2.4 percent in 2022 and 2023, respectively. There are still potential uncertainties surrounding the growth outlook influenced by the combination of upside risks to growth (e.g., strengthening of the consumption recovery, expansion of investment in new economy industries, and expansion of China's economic stimulus measures) and downside risks (e.g., sustained lockdowns in China, a prolonged Ukraine crisis, and deterioration of global financial conditions).
Employment
After the fourth quarter, the number of persons employed (year-on-year) is maintaining a rapid growth centered around service industries, and the trend is expected to continue. In the manufacturing sector, the increase in employment is expected to be reduced due to slowing export growth. The number of persons employed in the construction sector will grow more slowly compared to 2021 due to disruptions in the supply of construction materials.
Prices
Consumer prices are expected to rise sharply this year. However, uncertainties surrounding the outlook of consumer prices remain due to upside risks including rising raw material prices (crude oil, grain, and natural gas), deepening supply disruptions, strong recovery of consumptions buoyed by the lift in social distancing measures, and the strong dollar as well as downside risks including the slow recovery of domestic and global economies, improvements in the raw material supply chain, and the suppressed increase of public utility charges.
Current Account Balance
The current account surplus is projected to narrow for this year as both the goods and service account balances decrease. The goods account surplus is projected to decline as a sustained rise in commodity prices drives a surge in import and the slow recovery of the global economy reduces investment proceedings. While the transport service account continues its robust trend, the total deficit in the service account will increase as Koreans' international tourism spending is buoyed by the relaxation of travel restrictions.