Home
Jeju Life
Local Businesses
[Promotional material (printed material)]

A future built with drones and a digital twin metaverse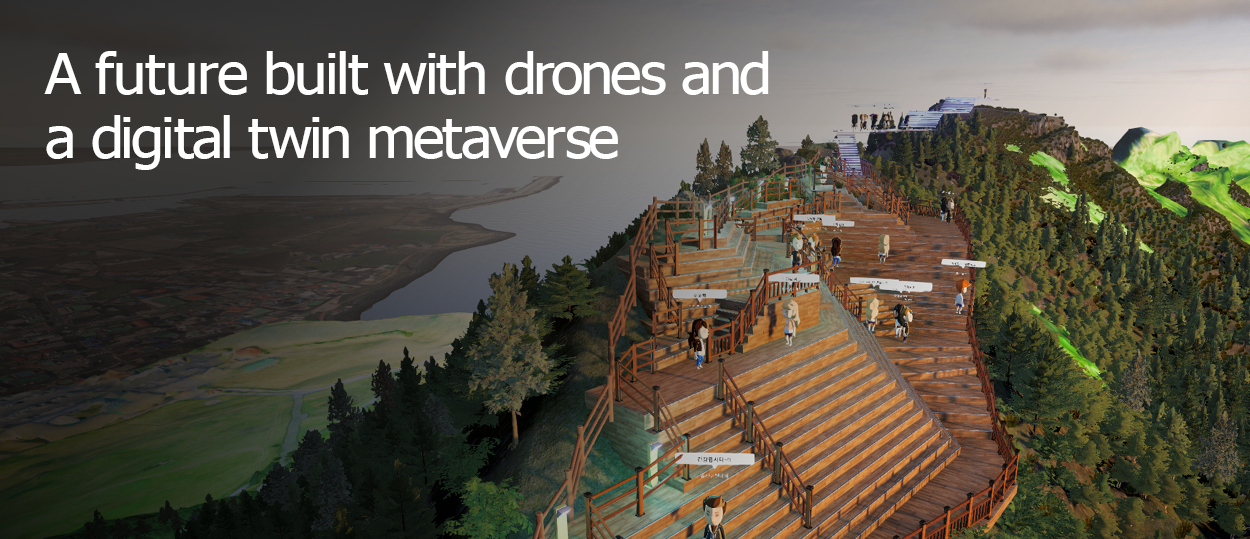 The world called metaverse is approaching us. This world is where agricultural products farmed in the virtual world are delivered to our physical homes, and allows people in wheelchairs to climb Hallasan Mountain. The following shows the future Drone Orange draws with its DIXBA technology as it builds an infinity metaverse platform.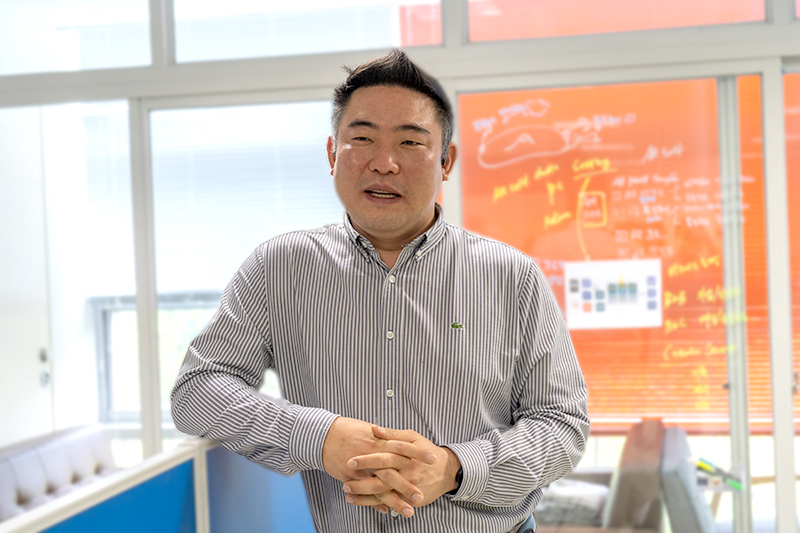 Jung Nyum, CEO of Drone Orange
Finding the Potential of Drones and the Data Industry
The CEO of Drone Orange, Jung Nyum, says that drones collect more than just images and videos. "We can obtain information with unlimited use cases once drones collect data on the building's location, size, and volume. Unlike drones, it takes a lot of time for a person to measure and capture the equivalent amount of data set by themselves."
Drone Orange is preparing for drone recording. Lots of information can be gathered in a short time with drones.
Drones proved their effectiveness once again through the case of the pinewood nematode in Seogwipo. The pine tree forest was segmented and analyzed every 10cm through drone video recordings to provide relevant pest control information. It would take a week for 50 workers to gather the information, but two workers could finish the work in only three days with drones. The DIXBA technology starts by accumulating and studying data collected by drones with AI.
The DIXBA model is a service that integrates various services and know-how cumulated through several years of experience. Drone Orange uses the service to model a digital-twin infinity metaverse platform that covers all parts of Jeju. DIXBA is an acronym for Drone, Information, XR, Big Data, and AI. The information collected through drones is built as 3D spatial information, and the data is reflected to form the digital landscape in a metaverse. This project is a representative case of technologies being incorporated into a single platform.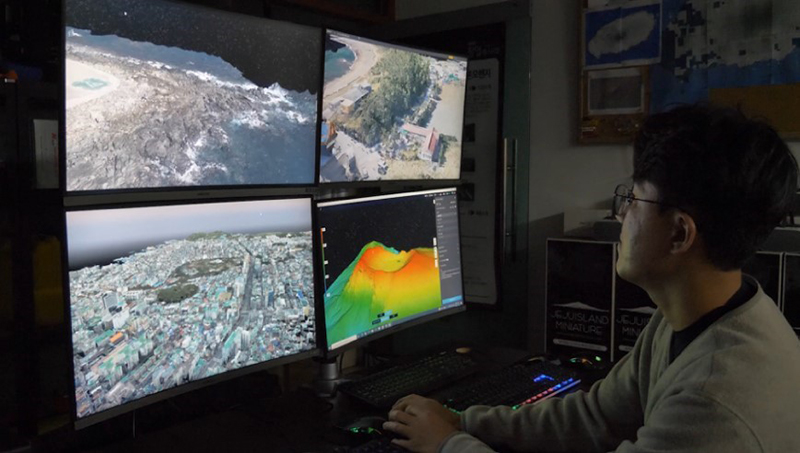 The drone images are extracted as data points to build spatial information.
Though there were neither drone-related certificates nor airspace authorization in 2015, Mr. Jung searched for drone experts who joined the 1st Drone Tour event to ask if they wanted to join forces with him to build the future together. He understood what data meant and what value it delivered to users by analyzing people's reactions to its virtual reality experience zone, PlayBox, built based on images, videos, and data collected with drones. Whenever asked, he also actively played diverse advisory council roles to change people's perceptions of drones.
The Dream of a Startup Grown in Jeju
The company got support from the Jeju Special Self-Governing government and the Jeju Regional Office of Aviation for data collection and processing. In addition, Jeju and its subsidiaries (Jeju Technopark, Jeju Tourism Organization, Jeju Contents Agency) and Jeju Free International City Development Center helped lift bars on policies and regulations that limit relevant activities. Also, the company concluded an MOU with institutions, like the Korea Association of Property Appraisers and Cheju Halla University, to build the ecosystem for the infinity metaverse.
Being recognized for its technological prowess, Drone Orange was nominated as a participant in the TIPS program of the Ministry of SMEs and Startups, which finances up to KRW 1 billion to a company for R&D investment and overseas business expansion for two years from 2020. Additionally, the company was chosen as a participant in Korea Credit Guarantee Fund's First Penguin* program in 2021.
*First Penguin: A system that assures or provides financial support to companies found and selected as creative entities with high future growth potential, which are promising for their innovative ideas and technology
"Jeju is the best place to expand the drone business as startups can get a great deal of support for their growth and opportunities to demo drone operations. Drone Orange is one example that testifies to Jeju's support. However, one should remember that it does not mean all startups can succeed even if the ground is better for them. Jeju can help build a solid foundation, but the company itself has to grow as a business to succeed."
Drone Orange's technology was first recognized from overseas. Pix4D, a global swiss company leading drone-based spatial information building solutions, proposed building the International R&D Center with Drone Orange in Jeju. Pix4D CEO Christoph Stretcha came to Jeju to visit Drone Orange and was impressed by how public the Internet infrastructure and smart devices were in Jeju.
"The speed startups create services from the new technology is critical to its success. I believe collaboration with Pix4D will provide an excellent opportunity to expand the business overseas. As part of an effort to prove the hypothesis of infinity metaverse, we held an event celebrating the new year's sunrise. I was able to see the business model's possibility myself because there were more visitors than expected."
Udo island in the infinity metaverse is an image built with digital twin technology, which analyzed an aerial image dataset, not video footage. The technology enabled us to calculate expected traffic volume and logistics costs with an AI learning model without building an actual building. The data collected in the real world create a virtual reality, and data collected in the alternative reality gets materialized in the real world. The data gathered from the physical world gets reflected into a virtual world back again. This cycle is the future Drone Orange visualizes. Drone Orange is leading the world to a new one with its DIXBA technology by expanding how people look at the real world.

Digital twins of Seongsan Ilchulbong and Baengnokdam on Hallasan

The captured image of infinity metaverse built by Drone Orange