Home
Jeju Life
Industry News
Use Renewable Energy as Much as You Want, and Get Local Currency as a Bonus!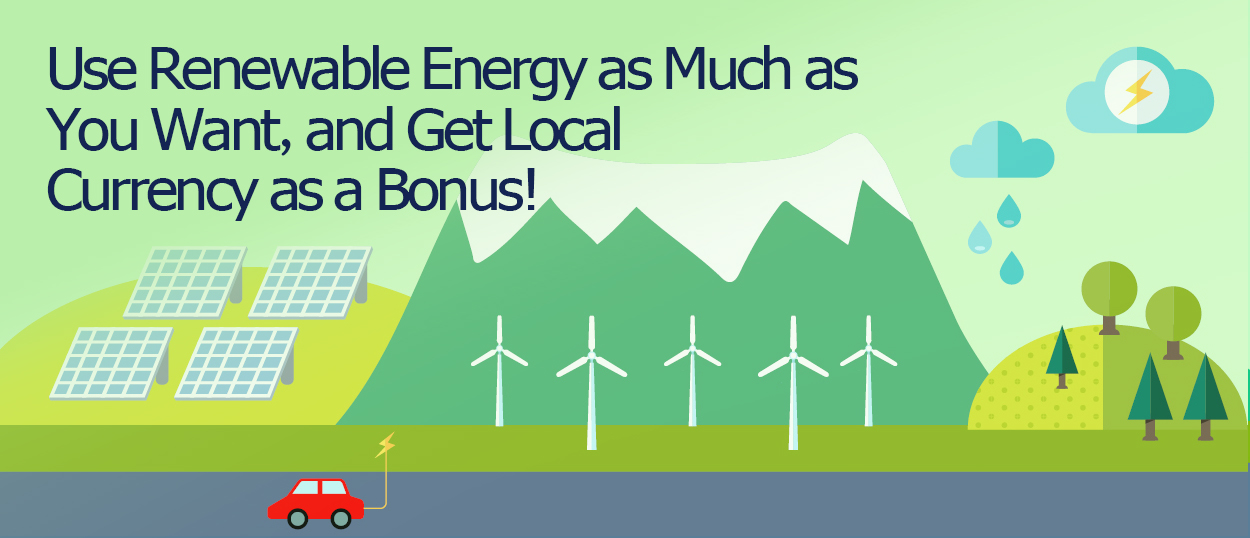 Since renewable energy based on solar power and wind energy is volatile in production, there are times when too much electricity is produced. In this case, an arbitrary measure called "curtailment" is performed to control the amount generated. However, curtailment leads to energy loss and a drop in profitability. Therefore, Jeju island decided to respond to such a curtailment issue of renewable energy by participating in the Demand Response (DR) Resource Market using EV chargers for the first time in the world.
*Demand Response Resource Market: A system designed by Korea Power Exchange to maintain a stable electricity supply, providing compensation for increased or reduced electricity consumption of registered resources.
Jeju island signed an MOU with Korea Electric Power Corporation (KEPCO) and GridWiz Inc. on September 30th for the "Plus DR Pilot Project Utilizing EV Chargers in Jeju."
In general, "DR" refers to the reduction of electricity consumption as a preventive measure to excess energy demand. However, "Plus DR" is a system that provides compensation for increased electricity consumption during periods when an excessive supply of renewable energy is expected to occur. It has been piloted in Jeju since March.
Based on the MOU, Jeju Island and KEPCO will participate in the Plus DR Project utilizing EV chargers in each institution and work on driving greater outcomes from the project by increasing participation of private EV charger companies and improving systems in relevant fields. Furthermore, GridWiz will join as a demand manager, registering EV chargers of Jeju Island and KEPCO as a demand response resource. In addition, it will provide local currency incentives for participants through the smartphone app.
Currently, a total of 521 public chargers (282 fast chargers, 239 standard chargers) in Jeju Island are registered in the Plus DR Pilot Project. Everyone can join the project by downloading the "Sky Blue" app developed by GridWiz and signing up. GridWiz gives points to users who have increased their electricity usage through the app, which they can trade for the local currency to use.
This pilot project will likely allow more than 167% of residents and tourists to charge EVs at a lower price while also reducing carbon emissions by 924 tons a year with increased use of renewable energy.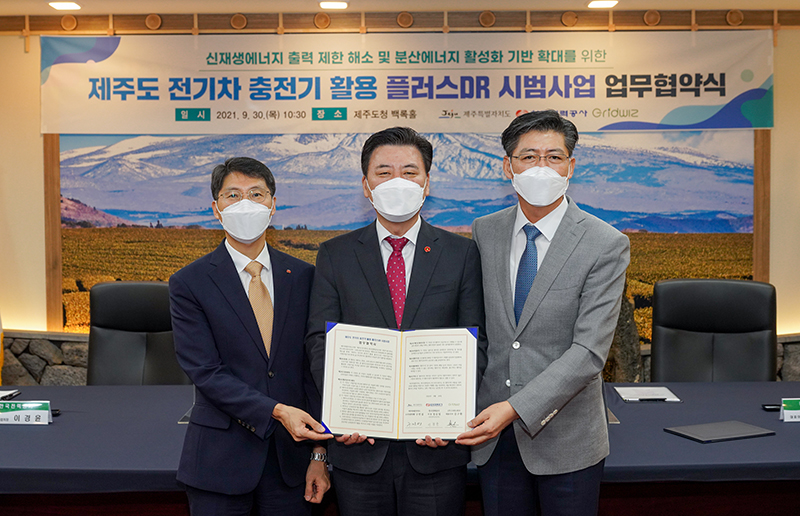 MOU for "Plus DR Pilot Project Utilizing EV Chargers in Jeju"