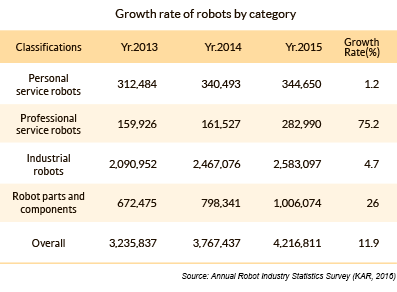 The market share of manufacturing robots amounted to 61 percent, with service robots standing at 15 percent and robot parts making up 24 percent of market share. In regards to growth rates, manufacturing robots grew 3.3 percent while service robots grew by 23 percent. More notably, professional service robots such as medical robots and robots for military use grew by an astonishing 78 percent. What is also notable is that robot parts such as reducers, motion controllers, sensors and cables grew by 43.6 percent. In 2015, the Korean robot market (production basis) increased by 17 percent to KRW 4 trillion (USD 3.52 billion) from the previous year (KRW 3.4 trillion in 2014). As for industrial robots, production increased 4.7 percent from the previous year to KRW 2.58 trillion.
A recent report by the Ministry of Science and ICT shows that Korea lags slightly behind in robot technology compared to developed countries like the United States and Japan. According to the report, Korea is 4.2 years behind the United States and 1.2 years behind Japan. The country is, however, three years ahead of China.


Korean Government Policies to Promote Robotics Industry
In a bid to support the growth of robotics companies here in Korea, the Ministry of Trade, Industry and Energy (MOTIE) announced its '5-Year Plan of Robot Industry Development' in November 2016, which seeks to invest KRW 500 billion (USD 440 million) to 2022. The main policy directions are to expand public demand and strengthen the suppliers' capacity. The ministry plans to increase demand through the use of more service robots in the public sector and the development of smart factories.

The ministry plans to build state-of-the–art manufacturing robots in connection with smart factories. To expand the service robot market, it aims to start 80 pilot projects in the fields of medicine, rehabilitation and social safety.
As for strengthening the capacity of robot suppliers, the government will build 10 to 15 advanced robot commercialization research centers nationwide, as well as AI/ICT convergence centers and humanoid robot research centers.
MOTIE aims to build up high-quality components of reducers, sensors, controllers and motors by reducing reliance on global robot parts suppliers. The budget for this project amounts to KRW 350 billion (USD 310 million).

The ministry will also strengthen overseas marketing bases, which will promote welding robots, rehabilitation robots, robots for road cleaning and so on. For overseas