"Make Cheongju City an ideal filming location" - Cheongju Film Commission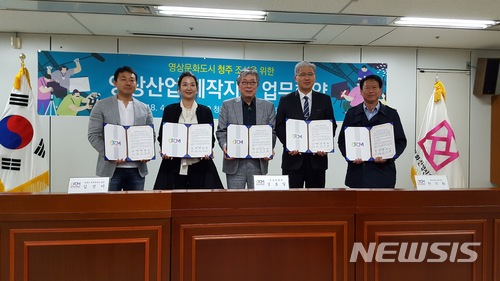 Cheongju City, Chungcheongbuk-do is building infrastructure to make the city an ideal filming location.
On April 4, the Cheongju Cultural Industry Promotion Foundation's film commission announced it will strengthen cooperation with regional companies and organizations to efficiently meet the needs of filmmakers working on-site in the region.
On the same day, the commission entered into business agreements with La Pomme Museum, Hotel Lacky, Attirance and Airmade to support video production crews.
As a result of the agreement, the companies and organizations will provide filming locations for production crews working in Cheongju. The city will also work to encourage information sharing among the parties and provide administrative and staff support.
La Pomme Museum is an artistic space that can be used for exhibitions as well as hands-on learning. Attirance is the largest complex in the area.
Airmade is fully equipped for filming and editing with drones, and will take part in selecting film locations and creating promotional materials.
Lacky Hotel is the closest business hotel to West Cheongju Interchange and other commercial areas, making it a convenient location for film crews.
Kim Ho-il, chairman of Cheongju Film Commission, stated, "The companies we have chosen to work with all have qualities that make them ideal for filming." He added, "We will continue to establish additional infrastructure to make the city an ideal filming location."
Last year, the commission entered business agreements with 30 of the region's institutions and businesses including universities, the Office of Education, the Fire Department, hospitals, hotels, religious organizations, shopping malls and more.
yjc@newsis.com
Source: Newsis (Apr. 04, 2018)
** This article was translated from Korean.