Station Influence Area Industry
Home
Business Opportunities
Station Influence Area Industry
Launch of the Construction of the Chuncheon-Sokcho Express Railway
Gangwon-do launched the construction of a railway traversing Korea, which will allow passengers to travel from Yongsan Station in Seoul to Chuncheon in ninety minutes


A Long-Cherished Wish of Gangwon Residents Finally Materialized
The construction of Chuncheon-Sokcho Express Railway, which has long been a wish of Gangwon residents for the last thirty years, was designated as a government-financed project in 2016 but suffered a setback in the environmental impact assessment process due to concerns over the environmental preservation of Seoraksan National Park. Afterwards, the project successfully passed the environmental impact assessment by revising the route go pass underneath Misiryeong Tunnel, and the designing of the entire planned route (93.74km) has finally been launched in 2020. Of the entire route, the section passing the underground of Chuncheon and the Misiryeong section were commissioned in a turn-key project in June 2020 for the launch of construction in 2021.
Development of Areas Around the Train Stations
Cities and counties of Gangwon-do are preparing detailed development plans based on the Regional Specialization Strategy aimed at developing the areas around the train stations of Chuncheon, Yanggu, Inje, Baekdam, and Sokcho as well as the nearby regions of Goseong and Yangyang. The area around Chuncheon Station will be developed as a commercial and tourism center by linking with Legoland and Camp Page, and the area around Hwacheon Station will focus on smart farming, farming startups, and sports facilities. A special-themed commercial area and residential complexes will be built in the area around Inje Station, and facilities for temple visit and cultural experience spaces will be built in the area around Baekdam Station. The final destination of Sokcho Station will be developed as a hub of fishing industry along with the construction of a multi-purpose transfer center. The nearby regions of Goseong and Yangyang will be developed as areas specializing in marine tourism and eco-friendly self-sufficient cities. In the future, Gangwon-do through close cooperation with the Ministry of Land, Infrastructure and Transport and the Korea National Railway will ensure the successful opening of the railway while developing the areas around train stations to ensure the balanced development of railway cities and counties as well as the nearby regions.
Project status and expected benefits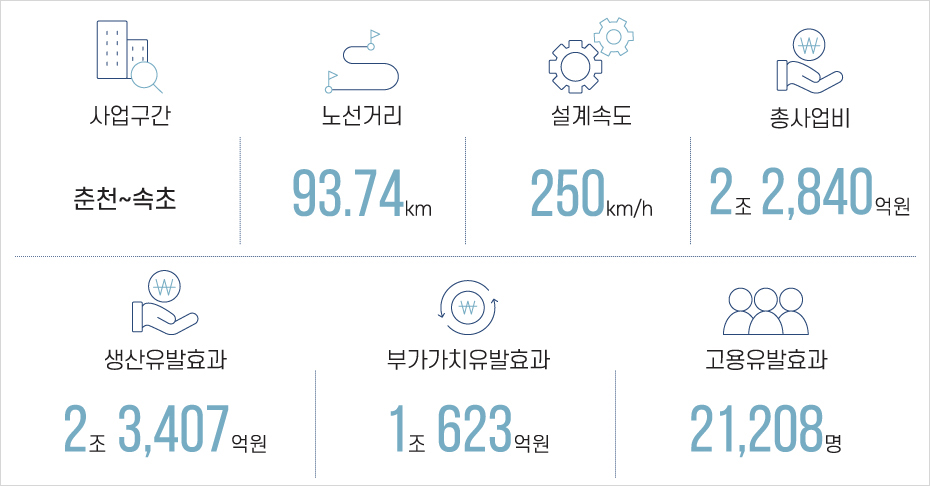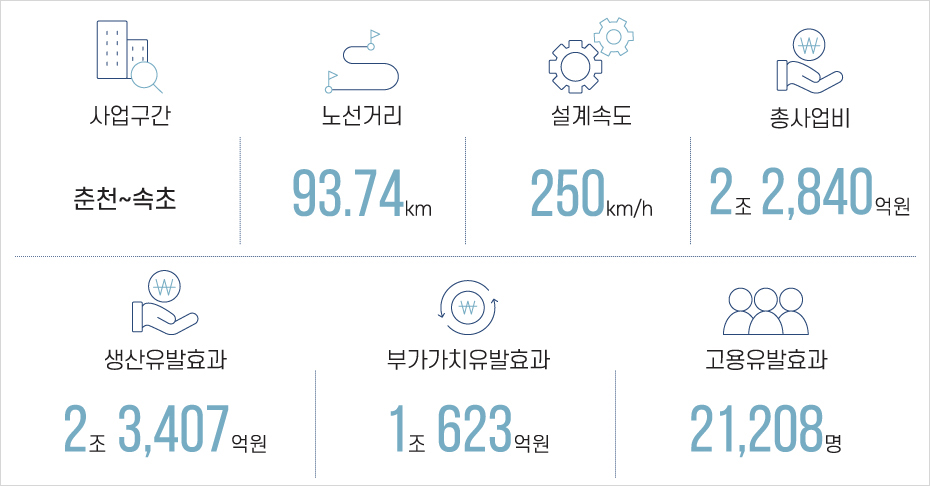 ※ Source: Policy Memo No. 558 of the Research Institute for Gangwon (July 11, 2016). The Three-Decade-Long Wish Finally Comes True: The Significance and Challenges of Seoul-Sokcho Express Railway.