Home
Industries and Sites
Site Info
Location Report
Yongin Semiconductor Cluster, the Key Pillar of South Korea's Semiconductor Industry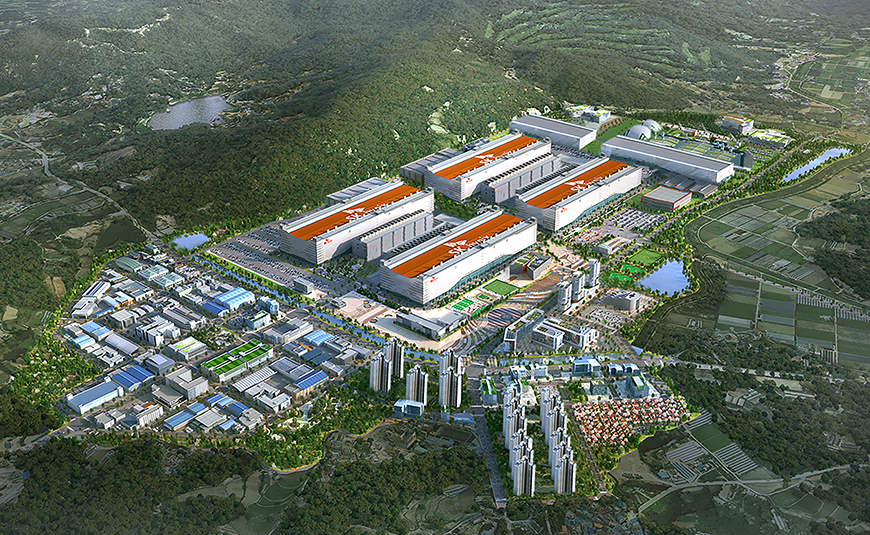 With the approval of the General Industry Complex Plan for Yongin Semiconductor Cluster in March 2021, Yongin Semiconductor Cluster, which is the nation's first cluster of semiconductor businesses, is rising as the pillar of the nation's semiconductor industry.

Yongin General Industrial Complex will establish the site by investing around KRW 1.7903 trillion, and SK Hynics plans to build four semiconductor fabs by 2036 with KRW 122 trillion. The Ministry of Trade, Industry and Energy plans to designate Yongin Semiconductor Cluster as an industrial complex specializing in materials, parts, and equipment in order to provide support in areas including establishing common facilities, granting exemption from regulations, and building the network of overseas specialists.

Global semiconductor company Lam Research and the world's No. 1 pre-owned semiconductor equipment solution provider Surplus Global decided to invest in Yongin in November 2019 and June 2020 respective, which were followed by around ten global players in the semiconductor industry.

The establishment of Yongin Semiconductor Cluster is expected to enhance the production capability of the nation's semiconductor industry, which is vital to South Korea's economy and export, and to bring positive effects in stabilizing the global supply network.
About the industrial complex
Location

Around Jungneung-ri, Dokseong-ri, and Godang-ri of Wonsam-myeon, Cheoin-gu, Yongin-si, Gyeonggi-do

Area
Construction plan

Industrial complex: '19~'24
Four semiconductor fabs: '23~'36

Expected benefits

Creation of about 30,000 new jobs (18,000 in industrial facilities and 12,000 in other facilities)
Added value of KRW 47 trillion per fab
※ Contact: Semiconductor Industrial Complex Team, Future Industry Promotion Group, Yongin City (+82-31-324-2802, toy889@korea.kr)
Industrial Complex Development Plan
산업단지 개발계획을 나타내는 표

| Type | Area(㎡) |
| --- | --- |
| Industrial facilities | 2,446,554 |
| Multi-use site | 22,131 |
| Residential facilities | 111,433 |
| Site for commercial facilities | 31,364 |
| Site for supporting facilities | 61,700 |
| Public facilities | 1,474,686 |
| Other facilities | 5634 |
| Total | 4,153,502 |

Location information
Yongin has geographic advantages that appeal to businesses: the city is highly accessible from Seoul and the Seoul Metropolitan Area, and it is where Gyeongbu Expressway and Yeongdong Expressway intersect. Being home to 242 research centers including that of Hyundai Mobis as well as nine universities including Kyung Hee University, Yongin has rich human resources for R&D and an organic collaborative system. The construction of the R&D center of global semiconductor company Ram Research and a five-story cluster building of Surplus Global are expected to further promote the local economy.
Key Highlight
Seize opportunity in the future market and strengthen global competitiveness by making preemptive and aggressive investments aimed at embracing seismic changes in the semiconductor industry vital to the national economy.
Establish domestic manufacturing facilities for a timely response to spikes in semiconductor demand triggered by the fourth industrial revolution.
Lay foundation for the domestic development of materials, parts, and equipment based on a stable growth achieved through the joint prosperity of businesses of all sizes and a continuous technology development, and maximize joint growth and synergistic effect through technological cooperation.