Home
Industries and Sites
Site Information
Location Report
Asan, where Samsung Display invested KRW 13 trillion won!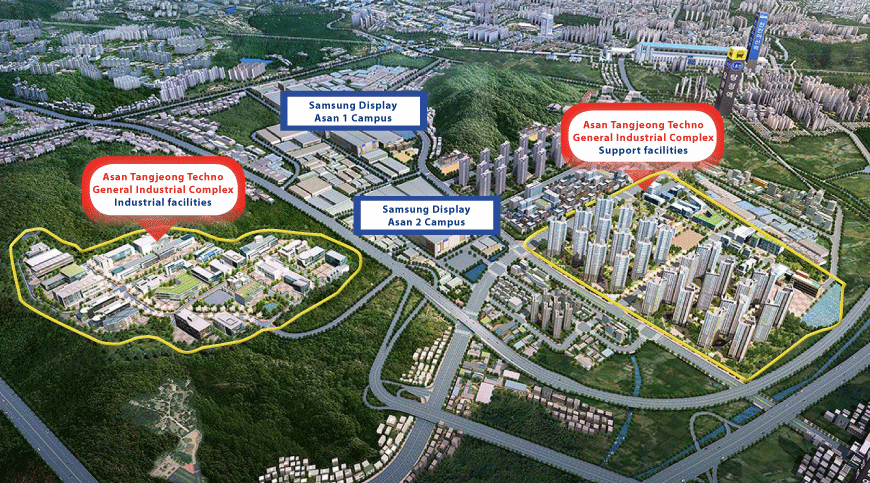 Asan is a city located behind the administrative complex, and a city specialized for display-related companies. Following the expansion of Samsung Display's premium TV panel (QD-OLED) plant, various investments are being made,, such as such as the start of the East-West railway in the central region. Asan Tangjeong Techno General Industrial Complex, adjacent to Samsung Display City 1 and 2 Industrial Complex, along with Daedeok R&D Special Zone and Ochang Science Industrial Complex, will become the core axis of the triangle of the future high-tech industry belt in the central region..
Industrial complex overview
Location: All aroundEncompassing Galsan-ri, Yongdu-ri, Tangjeong-myeon, Asan-si
Area : 686,528㎡
Project cost: KRW 186.5 billion
Project period: 2013 to ~ 2022
Industrial complex development plan
산업단지 개발계획을 나타내는 표

| Division | Industrial complex area (㎡) | Support complex area (㎡) |
| --- | --- | --- |
| Industrial facilities | 201,954 | 29,360 |
| Support facility site/residential facility | 2,468 | 142,043 |
| Public facility | 166,547 | 144,156 |
| Total | 370,969 | 315,559 |
※ Management Aagency/ Department in charge: Business Support Team, Business Economics Division, Asan City (+82-41-536-8792, verdure8@korea.kr)
Location conditions

입지 조건 나타내는 표
Highway
National and local roads
Railroad
Port
- Tangjeong IC (4 km/expected to open in 2022)
-Gyeongbu Expressway (Namcheonan IC)
- Pyeongtaek Jecheon Expressway (Dangjin IC)
- Seohaean Expressway (Seo Pyeongtaek IC)
- Cheonan-Nonsan Expressway (Namcheonan IC)
- Onyang Express Bus Terminal (4 km)
- National Road 43 in front of the industrial complex (Sejong-Cheonan-Pyeongtaek connection)
- Local road No. 624 (Yi Sun-sin-daero) Industrial Complex-Complex center connection
- KTX Cheonan-Asan Station (3.5 km) SRT, KTX line connection
- Subway Line 1 Baebang Station (1.5 km)<
-Tangjeong Station (2 km/planned for the end of December 2021)
-Started construction of the East-West Railway in the central region (2019)
- Pyeongtaek Dangjin Port (20 km)
Plan for attracting business
Asan Tangjeong Techno General Industrial Complex plans to attract eco-friendly companies equipped with cutting-edge technology including the fast growing OLED (Organic Light Emitting Diodes) industry, as well as the non-metallic mineral products, electronic parts, computers, images, sound and communication equipment, medical, precision, optical equipment and watch manufacturing, automobiles, trailers, and other machinery and equipment industries.
Key Highlight
Industrial complex behind Samsung Display Asan factory
-Invest KRW 13 trillion won in plant expansion for mass production of premium TV panels (QD-OLED)
Active business support of Asan City
- Samsung Display and Asan City are organically connected to create an IT cluster and maximize the synergy effects in the display industry
The best transportation hub in the central region
- Use Tangjeong IC & KTX Cheonan Asan Station (about 3.5 km) to pass through thepass east and west by SRT and KTX
Green Eco Industrial Complex
- Developed based onby eco-friendly design utilizingusing the surrounding forest