Home
Industries and Sites
Site Info
Location Report
Ochang Scientific Industrial Complex: Emerging as a Specialized Complex for the Materials, Components and Equipment of Secondary Cells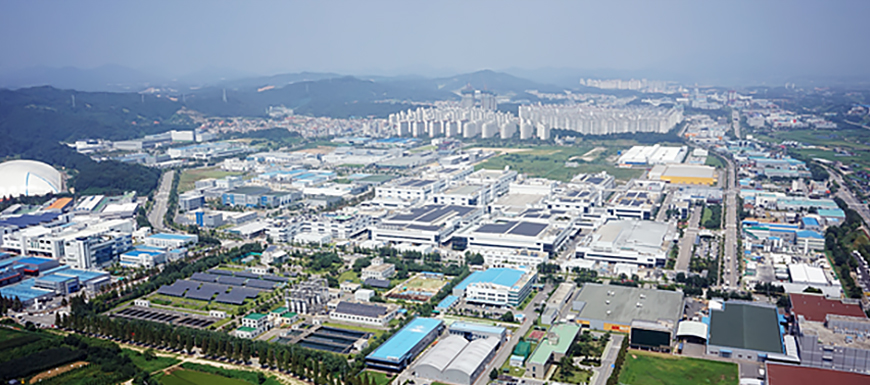 Chungcheongbuk-do is emerging as the world's hub of secondary cells and related materials, components and equipment (MCE), which are key to sustainable growth.

Chungcheongbuk-do has put forth the vision of building the world's leading industrial complex for MCE used in the next-generation secondary cell industry based on the Ochang Scientific Industrial Complex, Ochang Industrial Complex 2, and Cheongju Ochang Technopolis. Once the specialized complex is up and running, Chungcheongbuk-do will offer the ecosystem for the MCE industry and rise as the nation's center for secondary cell MCE and an export hub.

The Ministry of Trade, Industry and Energy is sparing no effort in supporting the industry alongside local governments by designating the nation's five MCE specialized complexes, including the one in Cheongju, Chungcheongbuk-do, in January 2021.
* Five MCE specialized complexes: Jeonju, Jeonbuk (carbon materials), Changwon, Gyeongnam (precision machinery), Yongin, Gyeonggi (semiconductor), Cheongju, Chungbuk (secondary cells), and Cheonan, Chungnam (display)
About the Specialized Complex
The Ochang Scientific Industrial Complex and the Ochang Industrial Complex 2: The foundation for developing the secondary cell industry is being established with secondary cell producers including LG Chem and agencies leading innovation including the Techno Park.
Cheongju Ochang Technopolis: The newly-established industrial complex (completed in Nov. 2021) will house a synchrotron radiation accelerator for R&D and offer sites to leaders in MCE.

Area: approx. 12,330,000 ㎡
※ Contact: Energy Division, Chungcheongbuk-do Office (043-220-3282, gogn8@korea.kr)
About the location
The area has 25 universities including Chungbuk National University and Cheongju University capable of working with industries. It is also connected to Gyeongbu Expressway linking the nation from the southern to northern regions, Jungbu Expressway and KTX railway (Cheongju Station, Jochiwon Station, and Osong Station), and Cheongju International Airport is also in the area. The area is known for its excellent transport infrastructure including Pyeongtaek Port, the nation's hub of marine logistics, located 50 minutes away.
Offered benefits
In accordance with Article 48 of the Act on Special Measures for Strengthening the Competitiveness of the Materials, Components and Equipment Industry, the authorities are establishing sites for businesses and research centers, offering rent discount, procuring the budget for building medical, education and housing facilities and strengthening the basis for R&D, technology transfer and demonstration.
Key Highlight
Responding to the global realignment of supply chains with the designation of the secondary cell specialized complex
- Closely coordinating suppliers and buyers
- Adding production facilities to enhance the stability of the domestic supply network
Strengthening the industrial competitiveness of Chungcheongbuk-do's secondary cell industry
- No. 1 in Korea in terms of production, No. 2 in the number of employees, No. 3 in generated added values, and No. 5 in the number of businesses
- The center of the four major economic leaders of the central region (Cheonan Sejong, Cheongju, and Chungbuk Innovation City)
The ecosystem for the secondary cell industry established surrounding the Ochang Scientific Industrial Complex
Expected economic spillover effect of the secondary cell specialized complex
- Expected to generate more than 6,800 jobs by 2025
- Added production of KRW 6 trillion and additional export of USD 3.7 billion