Home
Industries and Sites
Site Information
Location Report
Incheon Robot Land, the Center of Korea's Robot Industry
Incheon Robot Land is Incheon Metropolitan City's large-scale project aimed at supporting the innovative growth of the robot industry by bringing together robot-related businesses, research centers and service facilities for systematically developing the robot industry. The city government plans to build Korea's largest "robot industry cluster" encompassing all types of robots ranging from industrial robots, service robots, and intelligent robots operated with cutting-edge technologies of the Fourth Industrial Revolution including artificial intelligence, internet of things and 5G.

Based on an organic layout of a theme park and industrial facilities as well as facilities for the robot industry, Incheon Robot Land will be established as an environmentally-friendly cultural space for people and robots. Furthermore, it will contribute to innovating the robot industry and promoting related industrial complexes with the creation of a space that links R&D, production and robot-related experiences.

Incheon Robot Land is expected to serve a crucial role in driving the growth of the robot industry amidst the rising demand for contactless technologies in the post-coronavirus era and the changes in the working environment triggered by population aging.
About the Industrial Complex
Location: Area around 155-11 Robotland-ro (Cheongna-dong), Seo-gu, Incheon
Area: 769,279 ㎡
Project budget: Approx. KRW 710 billion (USD 599.1 million)
Project period: 2009-2024
Land use plan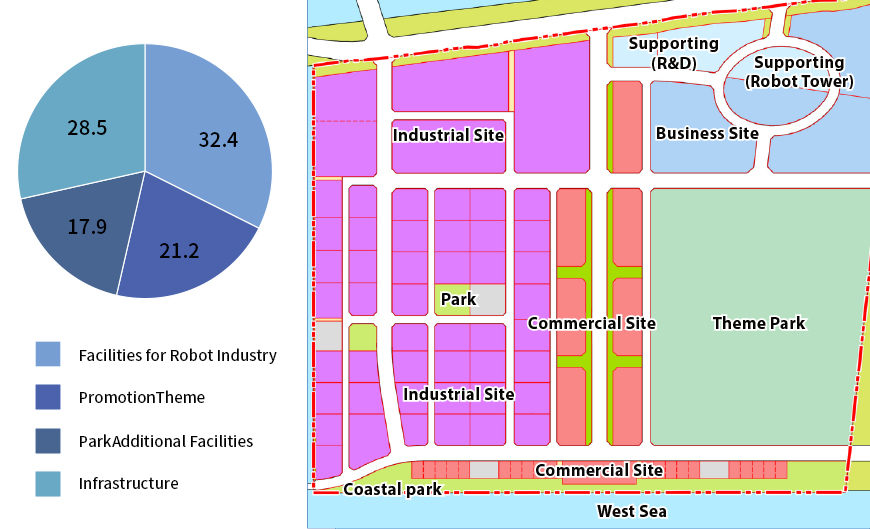 ※ Contact: Future Industry Division, Incheon Metropolitan City (Construction: Incheon Robot Land Co. 032-715-6000)
About the Location
Robot Land has excellent transportation infrastructure as it is located in an area designated as an international logistics city and international exchange city where Incheon International Airport, Incheon International Port and Incheon New Port are based. Robot Land is directly connected with 1st Gyeongin Expressway, and there are plans for building the 3rd Landing Bridge connecting Yeongjong and Cheongna and connecting the subway line with Seoul. It can also tap into the rich human resources of the Seoul Metropolitan Area with a population of 26 million. Various benefits are offered to investors in accordance with the Foreign Investment Promotion Act, the Special Act on Designation and Management of Free Economic Zones, and the Intelligent Robots Development and Distribution Promotion Act.
Project and Investment Procedure
Project and Investment Procedure
1. Registration of Project Proposal
2. Submission of Project Proposal
3. Proposal Review
4. Proposal Selection
1. Proposal of Investment Intent
2. Submission of Investment Proposal
Notes for investors

The investment attraction process is carried out based on the Special Act on Designation and Management of Free Economic Zones, the Foreign Investment Promotion Act, etc.
A domestic company (including a consortium), a foreign-invested company, a foreign corporation or a consortium involving one or more foreign corporation is qualified to invest.
Incentives and other benefits may be negotiated in the investment attraction process.
Key Highlight
Industrial site
-Construction of a robot industry cluster
- Reinforcing the function of supporting the robot industry and other industries
- Creating a synergy effect by building Korea's largest robot land
Theme park
- Construction of a robot theme park
- Composed of a robot exhibition center, an experience center, a learning center, a stadium, etc.
-Content for virtual experience offered with VR, AR and other cutting-edge information technologies
-Construction of a testbed theme park linked with the robot industry
Business site
- Construction of the system for supporting industrial functions
-The site for financial infrastructure, local government agencies, law firms and accounting firms that will support the businesses
- Spaces for R&D, startups and facilities for one-stop service
Commercial site
- Differentiation with a specialized industrial plan
- urther differentiation with a specialized commercial area housing waterfront commercial facilities facing the great view of the West Sea and other landmarks