Home
Industries and Sites
Site Info
Location Report
BitGreen Industrial Complex, the Center of the Future Automotive Industry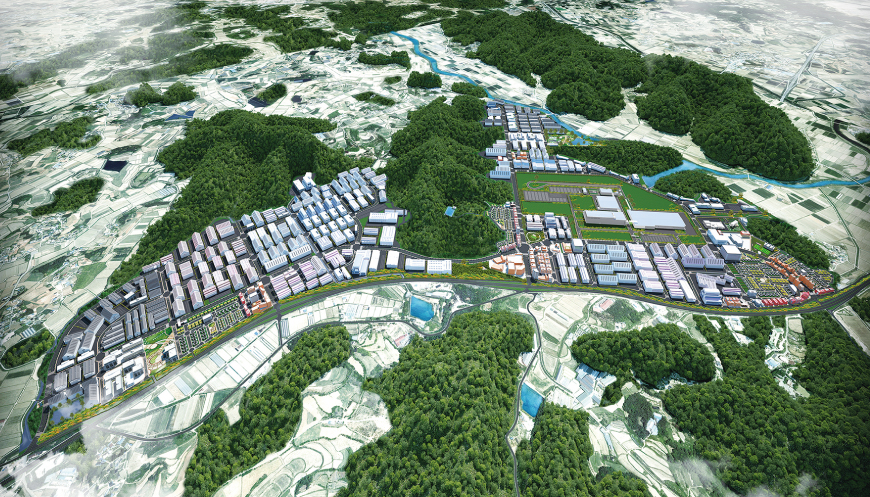 Established to advance the technologies of autonomous vehicles and electronic automotive parts, BitGreen Industrial Complex in Gwangju is emerging as the center of future automotive industry.

Gwangju Global Motors (GGM) in BitGreen Industrial Complex was created based on the letter of intent of Gwangju Metropolitan City and Hyundai Motors and the labor-management-civil administration agreement for joint prosperity. Currently, the production line for 1,000cc SUVs is under construction. Notably, the production line is designed to allow the production of eco-friendly autonomous vehicles when the need arises in the future to flexibly cope with changes in the global automotive market.

Moreover, Gwangju Metropolitan City plans to build an eco-friendly automotive parts cluster by investing a total of KRW 303 billion (USD 257 million) and work with the Korea Automobile Testing & Research Institute (KATRI) for establishing and operating by 2022 the nation's first center for certification of eco-friendly car parts, which will specialize in certifying and evaluating the safety of eco-friendly automotives.

Having attracted key agencies specializing in eco-friendly autonomous vehicles and a leading automotive manufacturer, BitGreen Industrial Complex is emerging as a new hub that will drive regional economic growth.
About the Industrial Complex
Location : Around Deongnim, Samgeo and Dongho-dong in Gwangsan-gu, Gwangju Around Yeongwol, Oechi and Worya-ri in Worya-myeon, Hampyeong-gun, Jeollanam-do
Area : 4,073,831.7㎡
Project budget: KRW 652 billion (USD 554.3 million)
Project period: 2009-2023
Layout plan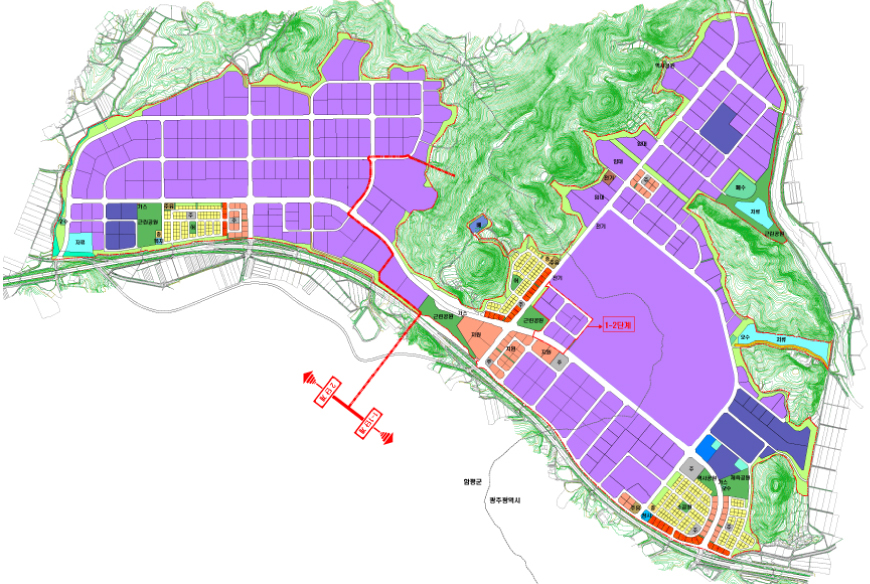 산업단지 이용계획을 나타내는 표

| Type | Area(㎡) |
| --- | --- |
| Industrial facilities | 2,691,979.6 |
| Residential facilities | 133,903.0 |
| Site for supporting facilities | 115,109.2 |
| Public facilities | 1,132,839.9 |
| Total | 4,073,831.7 |
※ Contact: Investment Attraction Bureau, Gwangju Free Economic Zone Authority (+82-62-613-6061~4)
About the Location
Gwangju Metropolitan City is known for its excellent transportation infrastructure. The city is less than 100 minutes away from the Seoul Metropolitan Area by high-speed trains (i.e., KTX and SRT), and it is also only an hour's drive from Muan International Airport, Mokpo Port and Gwangyang Port.

Moreover, Gwangu has eleven universities including Jeonnam National University and Chosun University, six colleges and ten specialized high schools. Businesses can recruit from more than 50,000 highly-trained specialists produced annually and benefit from the successful partnership of industries, universities and numerous research institutes operating in Gwangju.
Preferred Industries
Businesses operating in mining, digital home appliances, automotive, and state-of-the-art materials industries.
Incentives for Investors
Various incentives are offered based on relevant ordinances and regulations and the criteria for eligibility determination and evaluation.
투자인센티브

| | | | | | | |
| --- | --- | --- | --- | --- | --- | --- |
| Cash grant | Special Support for Large-Scale Investment | Subsidy for Promoting Investment | Regional Investment Promotion Subsidy | Support for Tenant Companies in the Investment Promotion Districts | Financial Support | Tax Reduction and Exemption System |
※ For more details, please visit the website of Gwangju Free Economic Zone Authority (gjfez.go.kr)
Key Highlight
Gwangju Global Motors (GGM) automotive manufacturing plant
- Composed of a vehicle body plant, a painting plant and an assembly plant built in an area of 600,000 ㎡
- Production plan established to produce 12,000 Casper by the end of 2021 and to start manufacturing 70,000 cars annually from 2022
-Can be converted to a production line for eco-friendly automotives as all facilities are designed for eco-friendly, digital and flexible production
- Expected to create 1,000 jobs directly and 11,000 jobs indirectly
Eco-friendly automotive parts cluster
- Cluster built by investing KRW 303 billion (USD 257 million) by 2022
- Established for the development of promising leading eco-friendly automotive technologies and laying the foundation
-Construction of the Leading Technology Support Center and the Global Business Center (Area: 32,989 ㎡)
- Development of future leading technologies and installation of equipment for business support (179 types)
- Supporting businesses for improving technologies, quality and price competitiveness and training customized specialists
-Development of technologies in four leading areas of EV, electronic automotive parts, size reduction and special-purpose vehicles

Infrastructure for the Eco-friendly automotive parts cluster

Center for certification of eco-friendly car parts

Center for certification of eco-friendly car parts (operated by KATRI)
-Built by investing KRW 39 billion (USD 33.22 million) by 2022
- Composed of an impact test unit, a battery test unit, etc.
- Certification and evaluation of the batteries, impact, and impact safety of eco-friendly automotives and investigation of production defects
Establishment of a clean air industry cluster as a part of the Korean Green New Deal
- Established by investing KRW 45 billion (USD 38.3 million) by 2023
- Composed of a facility for demonstrating the feasibility of emission reduction technologies and measuring systems
- Supporting the domestic production of materials, parts, and equipment and the commercialization of innovative technologies
- Expected to generate a synergistic effect with BitGreen Industrial Complex's main focus of automotive industry
- Expected to generate 2,807 jobs and create a production value of KRW 309.8 billion