Home
Industries and Sites
Site Info
Location Report
Yeosu National Industrial Complex-Korea's largest petrochemical complex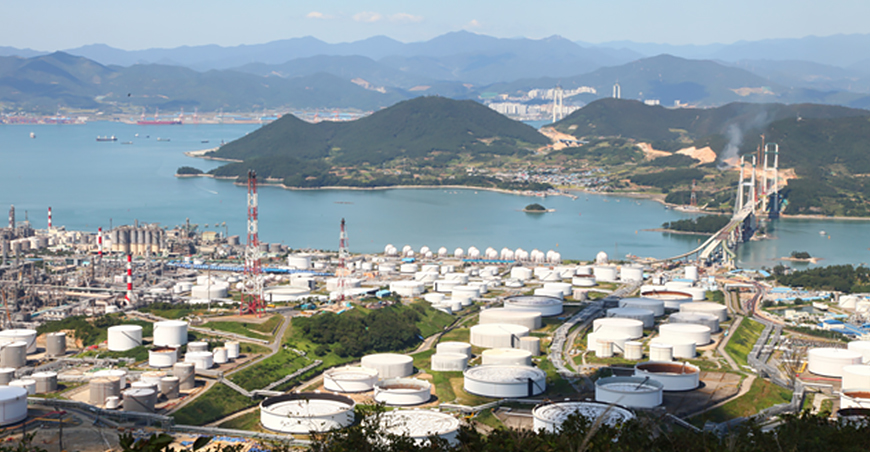 Yeosu National Industrial Complex has served as the engine of Korea's petrochemical industry and made it globally competitive. More specifically, the petrochemical complex is Korea's biggest in terms of ethylene production. It plays a crucial role in the nation's chemical industry by covering 46-49 percent of production capacity in all areas of the petrochemical industry.

In addition to the petrochemical infrastructure, Yeosu National Industrial Complex also has excellent logistics infrastructure for import and export. It has a total of thirty-two berths in ports including the U-1 Cargo Port accommodating up to 300,000 ton-class ships, the Petrochemical Port, the Crude Oil Port, and the Cosmos Port.

A total of 294 companies are operating in Yeosu National Industrial Complex by employing some 24,390 workers. It plays a pivotal role as the growth engine of the regional economy by producing KRW 48.86 trillion (USD 4.04 billion) and exporting USD 17.6 billion.
About the Industrial Complex
Location: Around Jungheung-dong, Hwachi-dong and Nakpo-dong in Yeosu, Jeonnam
Objective: Developing an all-round petrochemical industrial complex by tapping into the excellent location of the Southeastern Maritime Industrial Region.
Establishment: Designation of the Yeocheon Chemical Base Development Zone (Apr. 1974)
- Expansion (established by reclaiming the adjacent sea) (Completed in Dec. 2015 in an area of 7,306,000 m2)
- Connection of industrial complexes (by incorporating nearby industrial complexes) (in an area of 1,288,000 m2)
Area

(Unit:1,000m2)
산업단지 단지규모를 나타내는 표

| Total area | Industrial facility zone | Supporting facility zone | Public facility zone | Green area |
| --- | --- | --- | --- | --- |
| 32,550 | 23,502 | 1,851 | 4,256 | 2,941 |
※ Contact :Korea Industrial Complex Corporation (+82-070-8895-7997)
About the Location
Excellent transportation network
Expressway


347 km from Seoul to Yeosu (Gyeongbu, Honam and Wanju Expressways)

178 km from Busan to Yeosu (Namhae Expressway)

Railway (KTX)


Three-hour travel time from Seoul Station to Yeosu Expo Station

Airport


One-hour flight from Yeosu Airport to Gimpo and Jeju Airports

Marine transportation


International cruise terminal: Capable of accommodating 150,000 ton-class international cruise ships
Optimal logistics infrastructure
Yeosu Port: Environmentally-friendly port dynamically serving as a port and an urban facility.

Berthing capacity: Two ships, one berth for cruise ships
Unloading capacity: 95,000 tons/yr

Gwangyang Port: Logistics hub closely connecting the freight port with the nearby industrial complex

Berthing capacity: Twenty ports in the Yeocheon region with 45 berths, 15 ports in the Gwangyang area with 52 berths
Unloading capacity: General cargo (279.9 million tons/yr), container (4.6 million TEU/yr)
Anchor Companies in the Complex
Oil refining: 800,000 barrels/day (24% of national processing capacity (of 3,280,000 barrels/day)
- Major anchor company: GS Caltex
Petrochemical: 4,360,000 tons/yr of ethylene (46% of total national production (9,490,000 tons/yr))
- Major anchor companies: LG Chemical, Lotte Chemical, Yeochun NCC
Fertilizer: 480,000 tons/yr (49% of total national production (980,000 tons/yr))
- Major anchor company: Namhae Chemical
Incentives for Investors
Incentives for domestic companies: Subsidy support
Incentives for foreign-invested companies: 100% rent reduction for companies operating in an individual-type foreign-invested zone, cash grant, subsidy support
Special incentives for large-scale investors: Granted by the Mayor with the approval of the city council
Key Highlights
Launch of the 2021 Gwangyangman Area Industrial Complex Modification Project and the designation of the Jeonnam Yeosu Smart Green Industrial Complex Project
1) Industrial Complex Modification Project
- Boosting chemical and steel industries through the modification of industrial complexes in Gwangyangman area including Yeosu National Industrial Complex, which will be closely linked with Gwangyang National Industrial Complex and Yulchon 1 General Industrial Complex.
※ Developed as an innovative regional hub at the initiative of the local government (master plan established by the local government) → Support of the central government (across various ministries including the Ministry of Land, Infrastructure and Transport, the Ministry of Trade, Industry and Energy, the Ministry of SMEs and Startups, the Ministry of Culture, Sports and Tourism, the Ministry of Employment and Labor)
- The project is expected to generate 15,000 jobs over three years, add production worth KRW 35 trillion, reduce industrial accidents by 10 percent, reduce air pollution by 15 percent and save logistics costs of KRW 15 billion.

2)Jeonnam Yeosu Smart Green Industrial Complex Project
- Incorporating digital (development of materials and parts industry), Green New Deal (development of an eco-friendly industrial complex), and Human New Deal (training workers and improving living conditions) elements in order to develop a petrochemical-based low-carbon smart industrial complex specializing in materials and parts.
- The Industrial Complex is expected to allow the use of additional 300,000 tons of greenhouse gas, reduce industrial accidents by 10 percent, add production by 40 percent and generate 35 percent more jobs in 2023.