Home
Industries and Sites
Site Info
Location Report
Gyeonggi Banwol-Sihwa Smart Green Industrial Complex: Established as Korea's First Smart Logistics Platform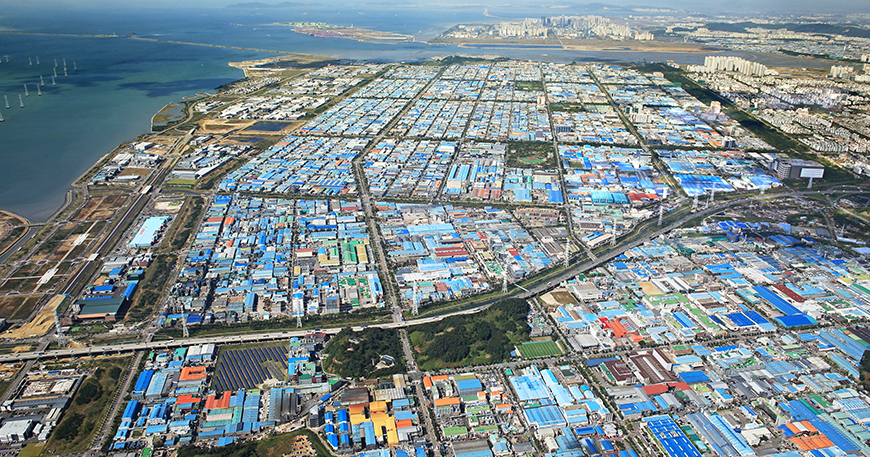 With the support of the Ministry of Trade, Industry and Energy and the Gyeonggi Provincial Government, the Banwol-Sihwa National Industrial Complex located in Ansan, Gyeonggi-do is transforming into Gyeonggi Banwol-Sihwa Smart Green Industrial Complex that will lead cutting-edge industries.

The Smart Green Industrial Complex has beenis established to upgrade the existing businesses and public facilities in the National Industrial Complex and make them digital, energy-independent and environmentally-friendly. To that end, the Gyeonggi Banwol-Sihwa Smart Green Industrial Complex Project Group implementing the Smart Logistics Platform Project (led by Hanaro TNS) has launched the nation's first smart logistics platform in August 2021.

The Smart Logistics Platform Project is providing free-of-charge integrated logistics ERP services to residents to help them process orders, shipment, inventory management and closing in one-stopthrough a one-stop platform. Logistics big data analysis and cargo loading simulation features are also available.

In addition, the Cutting-edge Logistics Demonstration Center plans to provide a high-efficiency cutting-edge logistics storage service to residents by servicing 5G-based automated guided vehicles (AGVs) and multi shuttles by interfacing the system with the smart logistics platform.
About the Industrial Complex
Name: Gyeonggi Banwol-Sihwa Smart Green Industrial Complex
Location: Around Banwol National Industrial Complex, Sihwa National Industrial Complex, and Sihwa MTV
Concept: An industrial complex with digital, energy-independent and environmentally-friendly residents, industrial cluster infrastructure, industrial infrastructure and public facilities.
Current status: Around 20,000 residents producing KRW 24.5 trillion, exporting USD 13 billion and employing 247,000 workers.
* 'As of the end of 2021 (statistics may subsequently be updated)
About the Location
(Road) Seohaean Expressway (connecting Incheon, Ansan, Gunsan and Mokpo), Singil-Ansan Expressway, Siheung-Ansan Expressway
(Railway) Seoul Metropolitan Subway No. 4, Suin-Bundang Line, daily operation of cargo train (connecting Yeongdeungpo and Ansan)
(Port) Incheon Port (unloading capacity of 39,081,000 tons, berthing capacity of 62 vessels)
(Airport) 80 ㎞ from Incheon International Airport and 50 ㎞ from Gimpo International Airport
Key Highlight
Gyeonggi Banwol-Sihwa Smart Logistics Platform Project
Project led by: Hanaro TNS
Project period: 2020- to 2022
Objective: Building and operating a smart logistics platform to build digital SOC in the industrial complex, optimize the logistics and save the logistics costs of residents.
Description
- (Logistics platform establishment and operation) Building and operating a smart logistics platform for providing a logistics service encompassing facilities control, integrated control, management of inventory, shipment and order processing, resources sharing and supply chain management.
- (Upgrading to a cutting-edge joint logistics center) Introducing cutting-edge ICT systems to the existing aged joint logistics center for building a logistics platform hub and facilitating its effective use.
User process
- (Portal address) myslp.kr
- (Eligibility) Residents of Banwol and Sihwa Industrial Complexes and businesses in Banwol and Sihwa operating manufacturing, logistics or distribution businesses.
- (User process) ①Application submission → ②Document screening → ③Cargo and business verification → ④Final selection and signing of contract
Benefits
- (Smart Logistics Platform)Integrated logistics management service (provided free-of-charge during the project period)


※ Systems: ①Smart logistics portal system ②Smart logistics information system ③Big data analysis system ④Digital twin system ⑤Logistics resources sharing platform ⑥Vehicle control system (IoT-based)

- (Cutting-edge Logistics Demonstration Center) Storage service provided with high-efficiency cutting-edge logistics facilities (multi shuttles and AGVs), smart warehouse, field trip to logistics facilities


※ Apply on the Smart Logistics Platform website

Contact: myslp@htns.com