Home
Industries and Sites
Site Info
Location Report
G-Valley, Rising as a State-of-the-Art IT Valley
Having begun as the nation's first export-oriented national industrial complex in the 1960s to grow into Seoul's biggest industrial complex housing 12,000 enterprises and employing around 140,000 workers, G-Valley, also known as Seoul Digital Industrial Complex, is rising once again as an urban industrial complex specializing in information and communication, computer, software and network in line with the Fourth Industrial Complex. Once limited to export manufacturers, G-Valley is now open to non-manufacturing sectors including IT and knowledge-based industries to transform into a diversified cutting-edge complex providing a wide range of tax benefits and policy support. By leveraging its optimum location in the capital area and restructuring the industrial structure focused on venture capitals, R&D, cutting-edge, IT and knowledge-based industries, G-Valley is expected to position itself as Korea's Silicon Valley based on a network linking industries, universities and research centers for the exchange of information and technology transfer.
About the Industrial Complex
Name: G-Valley (Seoul Digital Industrial Complex)
Location: Around Guro-dong, Guro-gu and Gasan-dong, Geumcheon-gu, Seoul
Area: : 1,920,583㎡
Complex


(Unit : ㎡)

산업단지 단지규모를 나타내는 표

| Type | Industrial facilities | Supporting facilities | Public facilities | Total area |
| --- | --- | --- | --- | --- |
| Area | 1,447,460 | 184,741 | 288,382 | 1,920,583 |

Complexes: Complex 1 (Guro Digital Complex), Complexes 2 and 3 (Gasan Digital Complex)
※ Complex 1: Gaming, animation, software / Complex 2: Information & communication, fashion / Complex 3: IT, state-of-the-art industries
Tenants: 12,663 enterprises
Employees: 143,522 persons
Major tenants: Lotte Data Communication, Netmarble, Eduwill, MCNEX
※ Contact: Seoul Tenants Support Team, Seoul Regional Headquarters, Korea Industrial Complex Corporation (kth1012@kicox.or.kr)
About the Industrial Complex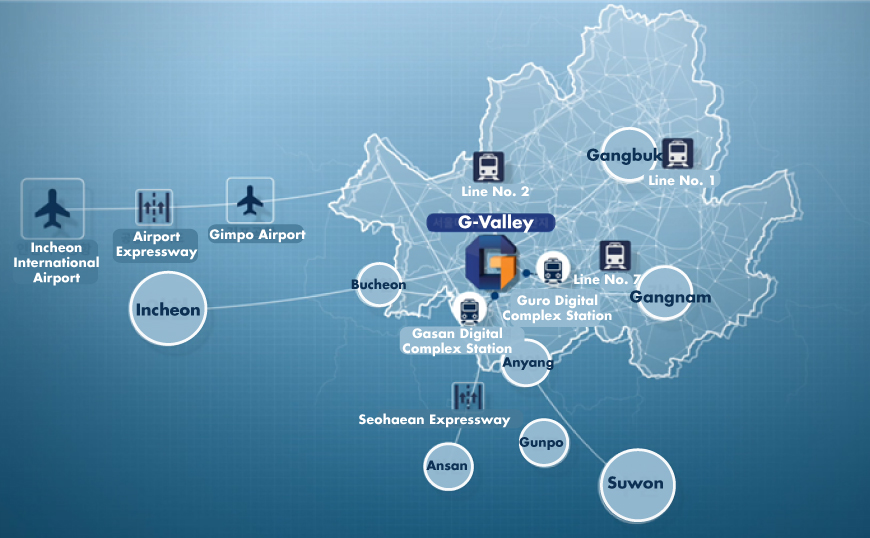 Located in the southwestern area of Seoul and 10 to 15 km away from downtown Seoul, G-Valley is not only highly accessible to Siheung-daero, Seobu Expressway and Seohaean Expressway but also situated nearby Gyeongin Line and Gyeongbu Line. From nearby subway stations of Guro Digital Complex Station (line no. 2) and Gasan Digital Complex Station (line no. 7), passengers can reach Gangnam, Yeouido and downtown Seoul in 30 minutes. Located in the urban center of Yeongdeungpo, G-Valley offers the best conditions for businesses in cutting-edge industries.
Incentives
Local tax benefits
- Acquisition tax (New and additional construction): 50% exemption by the end of 2022
- Property tax (New and additional construction): 35% reduction for five years
- Acquisition tax (Major repair): 25% reduction by the end of 2022
Key Highlights
Project for enhancing the competitiveness of industrial clusters
- Facilitate business growth and the innovation of industrial complexes by building a cooperative network of businesses, universities and research centers for knowledge sharing, joint R&D and marketing.
Roles of the Biz Hub


비즈허브역할 내용이 들어있는 표

| | |
| --- | --- |
| Biz-Space operation | Providing spaces for the cooperation and sharing amongst mini-clusters (MC) |
| Capacity building and training | Supporting the training of MC managers and member businesses |
| Biz forum operation | Operate a biz forum to spread business generation results by sharing industrial and technology trends and IT R&D policy directions. |
| R&D project search and planning | Technical planning coaching, technology matching, patent analysis and strategy planning supported by specialized coordinators. |
| Commercialization | Investment attraction, IP support, marketing support, overseas market exploration support, etc. |

※ Mini-cluster (MC): Councils involving businesses, universities and research centers organized by industry type within the industrial complex.

Projects for supporting startups진
- Nurture startups that will lead the Fourth Industrial Revolution and support their business launch for innovative growth.

창업지원사업 추진 내용이 들어있는 표

| | |
| --- | --- |
| G-Startup Competition | Find business items in future new growth areas and G-Valley's main industries and support the growth of the leaders of the Fourth Industrial Revolution. |
| G-Valley Tech Platform (GTP) | Provide work spaces for new startups and potential entrepreneurs and offer management and technical consulting for supporting the overall growth of businesses. |
| Industrial complex open innovation platform | Build an open innovation platform to help tenants find new businesses and facilitate the cooperation and networking of young entrepreneurs. |
| Working station for media and marketing startups | Project for finding and selecting potential media and marketing startups to support their business launch process. |
Source: Korea Industrial Complex Corporation (kicox.or.kr)