Home
Industries and Sites
Site Information
Location Report
Changwon National Industrial Complex Rises Once Again as the Capital of Hydrogen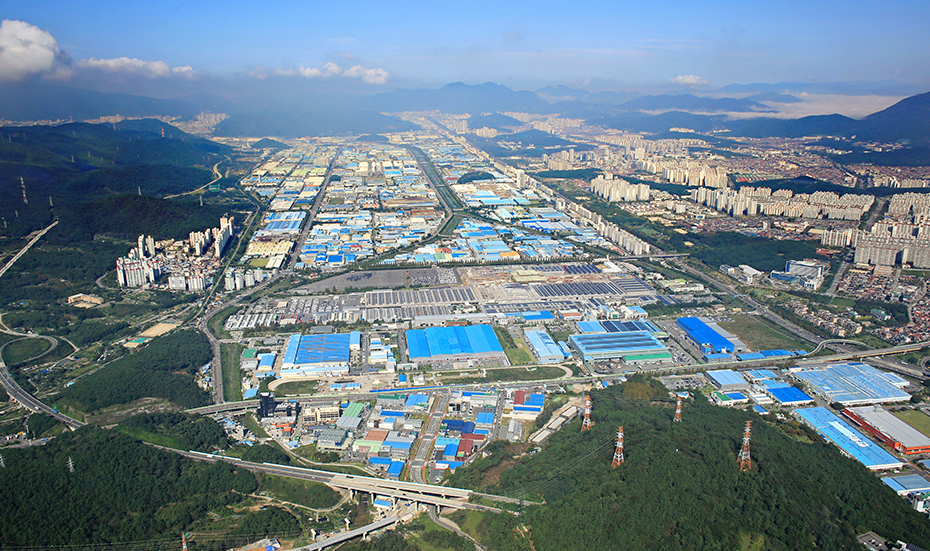 In the 1970s, the South Korean government selected Changwon as the best site for building a machinery industrial complex and designated it as an industrial base development promotion area. Accordingly, the Changwon National Industrial Complex grew as the center of South Korea's machinery industry. Since a project was launched in 1974 to build the first complex, the Complex quickly grew as a global machinery industrial complex leading national development, achieving production surpassing KRW 50 trillion in 2011.
산업단지 개요
Changwon National Industrial Complex
Around Changwon, Gyeongsangnam-do
Area


(unit:1,000)

| Total area | Industrial facilities | Supporting facilities | Public facilities | Green area | Multi-purpose area |
| --- | --- | --- | --- | --- | --- |
| 25,729 | 17,526 | 1,954 | 3,842 | 2,395 | 12 |
A regeneration project launched to transform into a cutting-edge industrial complex
Located in South Korea's first planned city, the Changwon National Industrial Complex to cope with changes in the surrounding environment is working to transform itself and recover its role as a growth engine and an industrial hub. A regeneration project including the upgrade of aged infrastructure and building of an industrial site to attract private investment was launched. The designation of a regeneration project zone will be followed by the establishment of a smart industrial complex and a small-sized R&D special zone and the implementation of a structural upgrade project.
Green and human innovation and application of ICT and AI technologies
In line with the Fourth Industrial Revolution and the digital transformation through ICT, the Changwon Smart Green Industrial Complex is focused on developing highly-skilled workforce for "data centers, simulation centers, standard manufacturing process and smart manufacturing." Along with the digital transformation, efforts are also being made to reassign the workforce befitting the digital era by providing digital transformation job training for green and human innovation and training high-skilled workers needed in the workplace.
Transformation of Changwon as the hydrogen capital
Having declared itself as the hydrogen capital in November 2018, Changwon has implemented various policies to promote hydrogen mobility and build hydrogen charging stations. As a part of a project to improve the Complex's environment, a commercial hydrogen liquefaction plant (capacity of 5 ton/day) and storage facilities are being built for the global success of South Korea's hydrogen industry.
* Source: Korea Industrial Complex Corporation