Home
Industries and Sites
Site Information
Location Report
Gumi National Industry Complex with a Fifty-Year History Prepares for the Next Fifty Years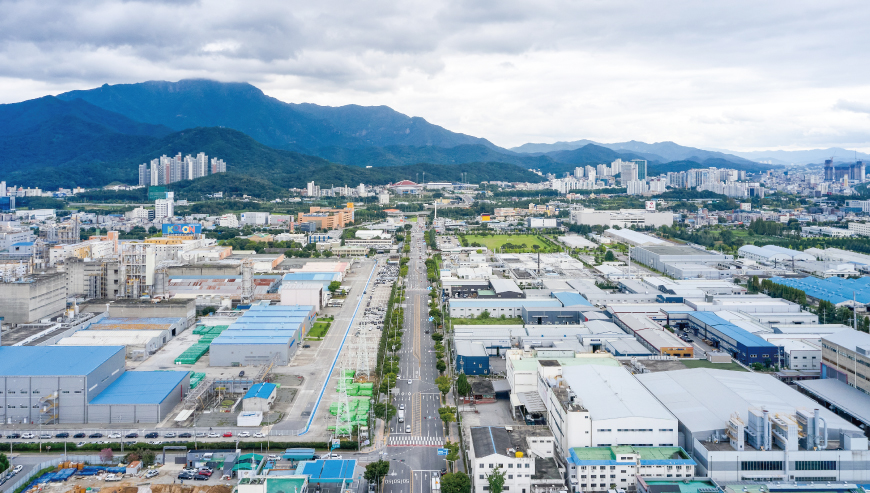 Gumi National Industrial Complex is the nation's largest ICT industry hub as well as a national industrial complex that has led the history of Korea's textile, electricity, and electronics industries. The Complex is divided into a total of five complexes, and the foreign investment area is located in Complex 4. Currently, about 2,481 companies are operating in the Complex, and the electricity and electronics sector accounts for the highest proportion of total production and exports, with a total of KRW 2.01 trillion in production and a total of USD 1.27 billion in exports as of June 2021.
An Overview of the Industrial Complex
Title: Gumi National Industrial Complex
Location: Around Gongdan-dong, Simi-dong, Haepyeong-myeon, Sandong-myeon and Chilgok-gun, Gumi, Gyeongsangbuk-do
Area:

(Unit : ㎡)

산업단지 단지규모를 나타내는 표

| Total Area | Industrial facilities | Supporting facilities | Public facilities | Green zone | Multi-purpose facilities |
| --- | --- | --- | --- | --- | --- |
| 27,946,344.3 | 19,664,165 | 1,439,745 | 4,819,978.3 | 1,921,358 | 101,098 |
Finding future growth engines by attracting new industry businesses
The Gumi National Industrial Complex, which led Korea's textile and electronics industries in the 1970s, has been taking the lead in upgrading Korea's industrial structure by concentrating on semiconductors and computers in the 1980s and focusing on IT and mobile industries from the 2000s. Following Complex 4 which focused on new industries such as LEDs and secondary batteries, Complex 5 was established in 2000 where semiconductor-related companies such as SK Siltron and LG Innotek are scheduled to relocate. Moreover, the Complex is expected to continue growing as it had successfully attracted leading players such as LG BCM (EV batteries) and KOLON (advanced materials, secondary batteries).
Supporting the growth of businesses through a major renovation
Currently, the Gumi National Industrial Complex is at the center of change with the confirmed relocation of Daegu and Gyeongbuk New Airport, the establishment of an industrial complex specializing in Metabus, and the establishment of an innovative ecosystem for semiconductor convergence parts. With Gumi as the hub, an ICT materials and parts cluster linking the Gimcheon 1, Waegwan, and Seongju Industrial Complexes will be developed to evolve from the existing cluster covering electronics, machinery, and automobile parts to one specializing in 5G RF modules, e-mobility, and special environmental clothing. The transformation will not only revive the electronic industry but also nurture the car industry of the future and enable the Complex to emerge as a global export base.
* Source: (Text and photo) Korea Industrial Complex Corporation