Home
Industries and Sites
Site Information
Location Report
Daebul National Industrial Complex, a Key Industrial Base of Korea's Southwestern Region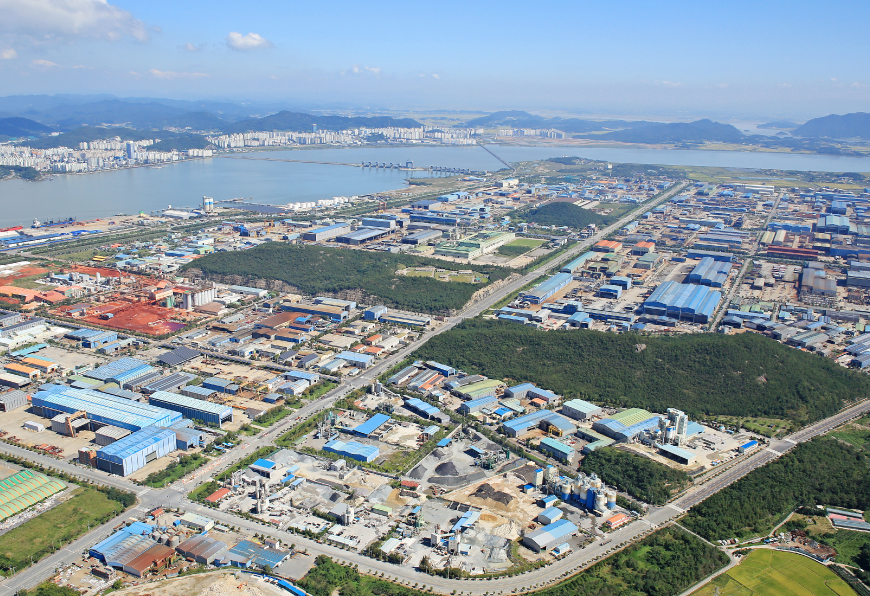 The Daebul National Industrial Complex was established to promote the development of Korea's underdeveloped southwest region and to leverage it as the frontline of entering the markets of China and Southeast Asia, as part of efforts to tackle the problem of national industrial complexes being concentrated in the southeastern region and the metropolitan area. A foreign investment zone and a free trade area are designated within the Complex to attract foreign investment. The Complex recorded a cumulative production of KRW 1.731 trillion and cumulative exports of USD 188.69 million, with 389 companies in operation as of the third quarter of 2022.
An Overview of the Industrial Complex
Title: Daebul National Industrial Complex
Location: Around Nabul-ri, Nanjeon-ri, and Yongyang-ri, Samho-eup, Yeongam-eup, Jeollanam-do
Total area

(Unit : ㎡)

산업단지 단지규모를 나타내는 표

| Total area | Industrial facilities | Supporting facilities | Public facilities | Green area | Multi-purpose area |
| --- | --- | --- | --- | --- | --- |
| 11,523,859 | 6,668,154 | 626,122 | 2,366,753 | 1,842,995 | 19,835 |
Excellent location and wide-ranging infrastructure:
Located near China's major ports including Shanghai and Qingdao, the Daebul National Industrial Complex serves as a bridgehead for entering the markets of Mainland China, Southeast Asia and the Pacific as it sits on the southernmost tip of the southwest coast. The construction of the infrastructure including Seohaean Expressway, KTX Honam Line, Muan International Airport, Daebul Port and Mokpo New Port nearby the Complex creates a dynamic transportation network covering the land, sea and air, with Mokpo Customs Office also operating within the Complex. The Complex also enjoys the advantage of readily sourcing materials including steel and petrochemical products from the heavy chemical bases of the nearby Gwangyangman Bay area.
Aiming to transform itself into more than a shipbuilding base:
As a waterfront industrial complex with affordable land and rental prices, the Daebul National Industrial Complex is equipped with optimal conditions to emerge as a shipbuilding equipment cluster. A renovation project is being implemented to transform the Complex into a renewable energy-based industrial complex, and the Complex is preparing to emerge as the center of the regional economy by transforming itself into a smart green industrial complex focused on eco-friendly ships and wind power equipment.
* Source: (Text and photo) Korea Industrial Complex Corporation