Home
Industries and Sites
Site Information
Location Report
Daegu National Industrial Complex, Specializing in Cutting-edge Manufacturing Industries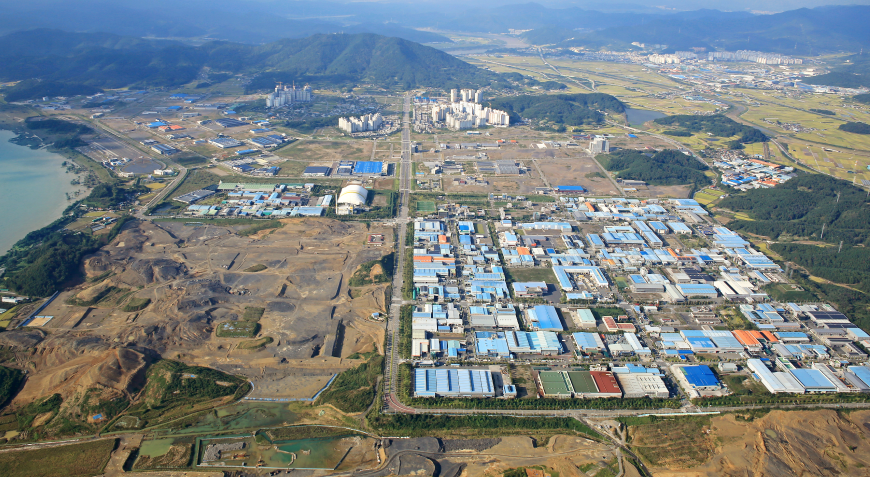 With the objective of developing the nation's future growth engines, the Daegu National Industrial Complex was established to revitalize the local economy based on projects focused on cutting-edge manufacturing sectors, including next-generation electronic communication, cutting-edge machinery, future cars, and renewable energy. Currently, more than 200 companies are operating in the Complex, including 92 machinery, 84 transportation equipment and 38 electric and electronic businesses. It was designated as a national industrial complex in 2009, and construction is nearly completed followed by the completion of stage 1 in 2017.
Overview of the Industrial Complex
Title : Daegu National Industrial Complex
Location : Around Guji-myeon, Dalseong-gun, Daegu
Area

(Unit: 1,000m2)

산업단지 단지규모를 나타내는 표

| Total area | Industrial facilities | Supporting facilities | Public facilities | Green area |
| --- | --- | --- | --- | --- |
| 7,479 | 4,943 | 349 | 1,288 | 899 |
Transition to future industries
Transition to future industries: The Daegu National Industrial Complex is located nearby specialized institutes including the Korea Intelligent Automotive Parts Promotion Institute and the Korea Automotive Technology Institute (Daegu Gyeongbuk Headquarters), and is starting to play a crucial role in planning and discovering new projects based on robots, convergent medical devices, and future car industries by collaborating with local innovative institutions. The partnership of urban air mobility, semiconductors, digital healthcare, and ABB (AI, big data and blockchain) is accelerating the transition to future industries, and the synergy will grow further in line with the Daegu Metropolitan City's policy of promoting future cutting-edge industries.
Local-led Investment Job Project
The Daegu National Industrial Complex was selected in the government's Local-led Investment Job Project* (mobility industry). Daedong Mobility is an affiliate of Daedong, Korea's no. 1 producer of agricultural machinery that is operating in the Complex, and it was selected as the first case of the Daegu-type Job Project, planning to produce 650,000 new products through a KRW 181.4 billion investment by 2026. It is focusing on producing e-scooters and AI robot chairs in its newly-established S Factory and is planning to train and recruit local talents in the fields of mobility and robotics.

ㆍ Local-led Investment Job Project : A project through which the labor, management, private sector and government discuss and reach consent on investment, employment and welfare for the aim of attracting regional investment and creating jobs. (based on Article 11-2 of the Special Act on Balanced National Development)
* Source: (Text and photo) Korea Industrial Complex Corporation