Home
Industries and Sites
Site Information
Location Report
Eco-Friendly and Digital Transformation of Yeosu National Industrial Complex, the Leader of Korea's Petrochemical Industry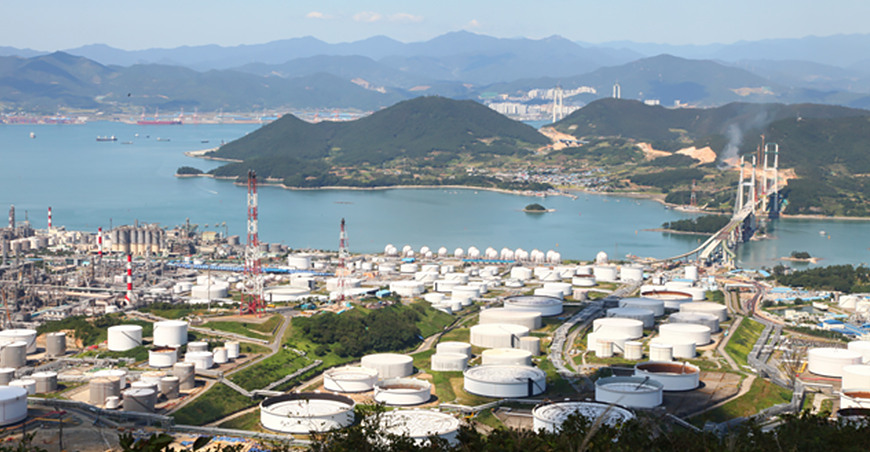 According to the Korean government's policy of fostering the heavy chemical industry, Yeosu National Industrial Complex began as Yeocheon Industrial Base in 1967 to emerge as the nation's largest petrochemical production and export base. As an industrial complex leading the local economy, it is a major producer of ethylene, a raw material essential for the petrochemical industry, with a total production value of KRW 101.71 trillion and an export value of USD 38.873 billion (as of 2022).div>
Overview of the Industrial Complex
Title: Yeosu National Industrial Complex
Location: Jungheung-dong and Samil-dong, Yeosu, Jeollanam-do
Area

(Unit: 1,000 ㎡)

산업단지 단지규모를 나타내는 표

| Total area | Industrial facilities | Supporting facilities | Public facilities | Green area | Multi-purpose area |
| --- | --- | --- | --- | --- | --- |
| 32,550 | 23,517 | 1,849 | 4,256 | 2,924 | 4 |
Optimal location for a heavy chemical industrial complex
Gwangyangman Bay located nearby the complex has pier capable of berthing 2,000-300,000 ton-class ships, and the complex is 20km away from Yeosu Airport, which is only a thirty-minute ride. Moreover, the construction of the Yisunshin Bridge has shortened the transportation distance and time between Yeosu and Gwangyang National Industrial Complexes. The average altitude of the complex is below 100 meters, and it has excellent geographical and transportation conditions, including the Seomjingang River known for its rich water resources.
A digital and eco-friendly transformation to build a bright future for the complex
Since its designation as a smart green industrial complex in 2020, a 'low-carbon and intelligent materials and parts industrial complex' is being established based on the complex's main industry of petrochemical. To help the complex cope with safety and environmental issues, projects are being carried out to establish the digital environmental and safety control center of Yeosu National Industrial Complex and to build smart plant explosion-proof and fire safety infrastructure. The complex is leading eco-friendly ship technologies since its designation as an eco-friendly high-density polyethylene (HDPE) small fishing vessel regulation free zone. These efforts are expected to tackle the complex's existing problems including environmental pollution, safety, and job scarcity.
* Source: (Text and photo) Korea Industrial Complex Corporation