Home
Industries and Sites
Latest Industry Information
Industry Trends
[December] Industry Trends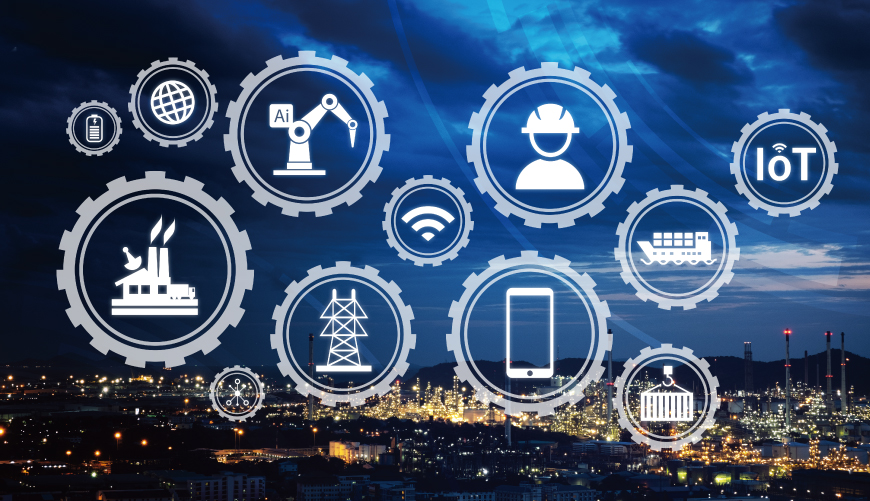 All Industries
The Index of all industry production in September decreased, mostly in the mining and manufacturing industries due to disruptions in steel supply. However, consumption and equipment investment gained sharply from the previous month, and the overall economy continues to be on a track to recovery with the coincident composite index growing for five consecutive months.
8월 한국의 산업 활동

| Subject | All Industries | Mining & manufacturing | Service | Retail sales | Equipment investment | Construction completed |
| --- | --- | --- | --- | --- | --- | --- |
| Monthly Change (%) | ∆0.6 | ∆1.8 | ∆0.3 | ∆1.8 | ∆2.4 | 0.0 |
All industrial production fell for three straight months in September, but continued to rise year-on-year. Mining industry production decreased due to a fall in steel production and the sluggish semiconductor sector caused by the havoc wreaked by Typhoon Hinnamnor. In the case of service industry production, ICT, food, and accommodation industries grew, but wholesale and retail, after rising sharply in the previous month boosted by Chuseok. In retail sales, strong car sales led the sales of durable goods. However, the sales of semi-durable and non-durable goods decreased, bogged down by a decrease in the consumption of clothing worn in the changing season due to warmer-than-average weather and the effect of the earlier-than-average Chuseok of the previous month. Despite rising prices and interest rates, service industry consumption and commodities consumption also rebounded and supported the continued trend of recovery. Equipment investment fell as machinery investment decreased due to a surge in the introduction of equipment for semiconductor and display manufacturing in the previous month. Construction investment remained steady as investment in construction projects grew, witnessed by the increase in the area of newly-launched construction projects, but investment in civil engineering projects decreased.

Amid continued global inflation, uncertainties in economic trends have increased due to the growing downside risk of the global economy, including the interest rate hikes in major countries, China's lockdown measures, and the prolonged Russia-Ukraine War. On the production side, there are positive signals such as the easing of supply chain disruptions and the recovery in service production, but weakening export recovery and accumulating semiconductor inventories could be a burden in the future, alongside disruptions in steel production due to the damages caused by typhoons. In the case of consumption and investment, the continued recovery of consumption, supported by accumulated household savings and the increased arrival of foreigners, are positive signs that exist alongside risks from high inflation and rising household and corporate loan rates.
※ Source: Ministry of Economy and Finance (moef.go.kr)
Industry
Auto
'Easing of supply chain disruptions increased supply, boosting both domestic demand and exports increase'
→
In August, imports grew by 37.1 percent year-on-year, driven by increased imports of finished cars especially from the United States and Germany. Exports in September rose by 25.8 percent from the same period of the previous year, with exports of finished cars to the US rising sharply to 54.6 percent and exports of auto parts reaching 16.6 percent. In September, domestic demand increased by 22.6 percent year-on-year, driven by the increases in both the sales of domestic car sales and the registration of imported cars.
Shipbuilding
'As production indicators recover rapidly, exports increased while imports plunged'
→
Cumulative global ship orders in August decreased by 20 percent year-on-year, but Korean shipbuilders continued to win orders. Orders were focused on LNG carriers, up 117 percent year-on-year, but orders of most vessel and hull types plunged. Including Qatar's order of LNG carriers, Korea won orders worth 11.9 million CGTs in August, up by 1 percent year-on-year. In August, imports fell by 57.3 percent from the same period of the previous year due to decreases across all areas of cargo ships, ship engines, and ship parts. In contrast, exports in September increased by 15.5 percent year-on-year as several tankers, ordered after COVID-19, were delivered.
General machinery
'Production gained sharply while imports fell slightly'
→
In August, production rose by 7.6 percent year-on-year and by 4.1 percent month-on-month, backed by the recovery of both domestic demand and exports. In particular, domestic shipments increased slightly by 1.7 percent after falling for five straight months, and both equipment investment and machine orders rose sharply to 13.1 percent and 22.7 percent and drove production growth. Imports in August amounted to $2.896 billion, up 13.7 percent from a year earlier. Exports in September fell by 1.5 percent year-on-year due to sluggish demand affected by the slowdown of the global economy.
Steel
' Steel industries at home and abroad continue to shrink due to concerns over an economic slowdown'
→
In August, steel production recorded a sharp year-on-year fall of 7.5 percent due to sluggish demand and a shift in the optimal production trend triggered by excessive inventories. Imports in August dropped by 21.1 percent from the same period of the previous year as sluggish domestic demand diminished the demands for import and delayed purchases. Exports in September decreased by 21.1 percent year-on-year due to diminished steel demand in major countries such as the US, China, and the EU and reduced export capacity caused by typhoon damages at home and abroad.
Oil refining
' Record-high petroleum product exports for the month of September'
→
In August, production grew by 6.0 percent year-on-year supported by increased national and international demands for transport fuels and especially aviation fuel. Domestic demand rose by 5.8 percent driven by a recovery in demand for transportation petroleum products, and exports increased by 42.6 percent boosted by increased exports of transportation petroleum products such as aviation fuel, diesel and gasoline. Exports in September continued the long-term upward trend by recording USD 5.46 billion.
Wireless communication devices
'Exports continued to decline due to sluggish global demand '
→
In August, production decreased by 7.1 percent from the same period of the previous year, but capacity utilization rate rose by 9.7 percent. The domestic mobile phone market grew by 2.9 percent year-on-year and by 0.1 percent month-on-month in August. Imports in August gained 18.7 percent year-on-year, mostly driven by the imports of mobile phones. Exports fell across major markets in September, as exports to the US, China and the ASEAN region nosedived by 5.7 percent, 6.1 percent, and 41.4 percent, respectively.
Semiconductors
'Year-on-year decrease of exports'
→
In August, the production and shipments of semiconductors both fell by 1.7 percent and by 20.4 percent, respectively, compared to the same period of the previous year. Compared to the previous month, production decreased by 14.2 percent, and inventory increased by 67.3 percent, continuing a significant increase in inventory. Semiconductor exports shifted to a year-on-year decline, while imports remained on the rise. Exports in September fell by 5.7 percent year-on-year to USD 11.49 billion to decrease for two straight months after ending the long-term upward trend.
Display
'Exports continued to decrease due to sluggish demand and base effects '
→
In August, production continued to decline by falling 24.6 percent year-on-year as the economic slowdown dampened demand. In September, exports plunged by 19.9 percent due to reduced demand for smartphones, and continued to decline for four consecutive months. Moreover, falling LCD prices and sluggish demand caused exports to decrease by 32.4 percent while OLED exports fell by 15.6 percent.
* Please note that the latest data available on Statistics Korea are for the previous month in the case of exports and the month prior to the previous one for production.
※ Source: Korea Institute for Industrial Economics and Trade (kiet.re.kr)