Home
Industries and Sites
Industry Focus
[ICT]

The Data, Network and AI Ecosystem: A Vital Pillar of the Digital New Deal
▶ Data, the Most Valuable Resource in the Digital Economy
Digital services are changing every corner of our lives and business landscape. What matters under such circumstances is to present open access to data and to make the most out of a massive volume of high-quality datasets in order to well develop artificial intelligence deployments, which underpin tech-driven transformation. With a tremendously huge amount of data gathered, flagship companies spearheading the transition to a digital world have continued expanding their market presence, which is forecast to result in growing disparity between the data-rich and the data-poor over time.

A 2019 market analysis which studied the data industry in S. Korea said the total sales figure of top 60 data companies reached above KRW 779.16 billion, up 7.9 percent on year. Witnessing an upward trend in sales, the data business recorded a 9 percent year-over-year growth or KRW 421.97 billion in 2019. What's worth noting is that 29 companies, nearly 48.3 percent of all, replied that they've attracted investment. Investments attracted by government-led incentive policies took up the largest proportion with 54.1 percent, followed by venture capital funds with 40.5 percent.


The investment value attracted so far has totaled KRW 197.8 billion, and the amount of investment attracted by each business was found to be KRW 3.3 billion on average. In regards to patent application in data analytics or solutions, an average of 11.4 patent applications on innovations was filed by companies surveyed. The study which analyzed the metrics by the number of patents for analytical solutions reported that the respondents obtained 2.7 big data solutions on average, and over half of those questioned (56.7%) said they had less than three.
▶ Roadmap to Develop the Data-Driven Economy and to Build Datasets for Machine Learning
The market size of big data analytics in 2019 reached KRW 1.674 trillion, a 10.9 percent jump from a year earlier, and the figure is predicted to go up to an annual average growth rate of 11.2 percent or KRW 2.569 trillion by 2023. During the forecast period, ICT and business services of all other segments are presumed to act as potential market drivers, presenting an average annual growth rate of 16.3 percent.



To develop the data industry, S. Korea has started to gear up for policy planning since 2018. The government unveiled development strategies and action plans in June 2018, and picked out the data industry in August as part of three main business sectors to be strategically invested in on the path toward the digital platform economy as a means to fuel innovation-driven growth.
On August 31, S. Korean President Moon Jae-in outlined an initiative, called the "Transition Toward the Data Economy," which entails policies to help relevant industries further advance the data-driven economy and to enact regulatory frameworks to spur technological innovations in data utilization. The Moon administration also announced its master plan of the Digital New Deal in July 2020 which largely aims to ramp up data usability and accessibility by collecting, disclosing and utilizing data sources closely associated with citizens' lives. To be more specific, the Digital New Deal is comprised of discrete sub-projects as listed below:
-The "data ecosystem" which involves every phase of the data life cycle will be reinforced.
-A data control tower will be established for the disclosure of 142,000 pieces of public data, while expanding data collection and utilization in the manufacturing and bio-healthcare industries.
-The public authorities will also form big data platforms by each business sector and run a voucher program for data purchasing or processing.
-In company with the action schemes, the Korean government is also planning to set up a data collection and processing mechanism for machine learning.
▶ 5G, An Essential Element – On the Way to Becoming the World's Best from the World's First
After a fierce battle against the U.S. over the official title of the first country to kick off commercial fifth generation broadband services, S. Korea finally became the winner of the 5G race in April 2019, which enabled Seoul to steadily expand its presence in the global 5G market. In Korea, approximately 13 million people, 18 percent of overall smartphone users, proved to be 5G subscribers, and the number is projected to rise to 18 million by the end of 2021. Policymakers in S. Korea, in fact, had initially planned to make an expansion of nationwide 5G coverage until 2025, but reset the deadlines to the year 2022 by forming a public-private partnership with three mobile carriers to continue to build on its lead in the ICT industry and to gain a competitive edge against its global rivals.

5G is more than just a networking service universally accessible in the mobile telecommunications industry. 5G is a more capable wireless technology, further expanding its mobile applications into new realms of vertical industries. 5G is predicted to be the underlying force that drives economic growth and expansion, empowering new deployment models across almost all industries such as smart factories, smart cities, self-driving cars, immersive technologies and digital healthcare applications etc. To prime the pump, the authorities have attracted private investments while helping test and promote 5G-enabled autonomous solutions which include automated manufacturing robots or self-driving vehicles. In the private sector, the top three carriers in Korea are developing their own technologies to usher in immersive experiences and interactions enabled by 5G, forming non-traditional partnerships to deliver targeted services particularly when facing barriers to meet the needs of a specific niche in vertical industries. 5G-based smart hospitals or clinics would probably be the best example to show such cross-sector collaboration to present a new era of healthcare services with connected solutions.
▶ Government-led Policy to Achieve Early Success in 5G B2B Services
The two main success factors to unlock the full potential of 5G services is to create demand for the public and to advance network infrastructure using 28 Ghz millimeter wavelength (mmWave) band, which is a widely adopted frequency for 5G. In order to well respond to the post COVID-19 economy, S. Korea has put forward a government-led development policy, the Digital New Deal, devised to create a successful implementation of 5G. By replacing a wired Ethernet connection (LAN) with 5G across public agencies, the Korean government is working out to provide easier and safer nationwide 5G accessibility. To begin, the project will target four government offices until 2024 and soon spread across the municipalities.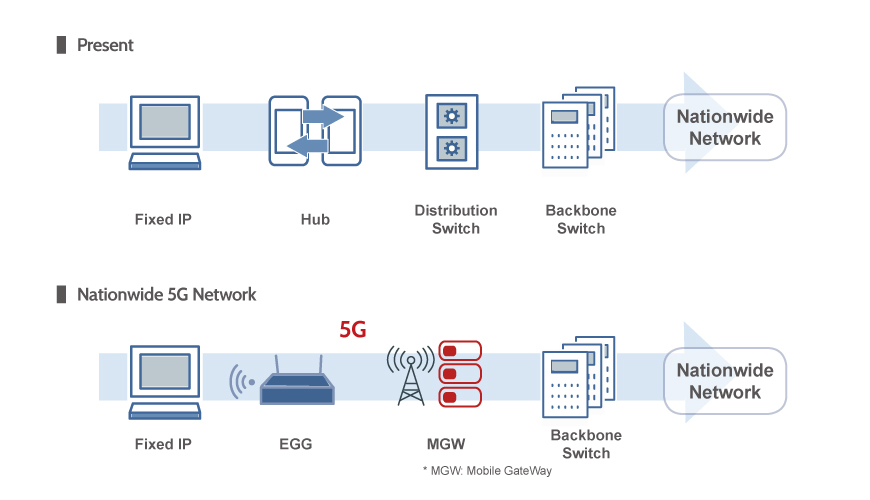 Unlike business-to-consumer (B2C) marketplace platforms, predominantly relying on smartphone applications, business-to-business (B2B) companies with a web presence have high expectations for stronger network infrastructure and better 5G accessibility. Normally, the B2C model uses a mid-bandwidth, low frequency spectrum range of 3.5 Ghz for wider 5G coverage.
But to attain the goals to provide "stronger and better" access to 5G, greater performance with an extended capacity to enable super-fast connectivity, ultra-low latency and extremely high-speed data transmission rates is required. In this sense, 28 Ghz mmWave frequency band spectrum needs to be fully deployed to harness the potential of 5G.
The S. Korean government recently rolled out a policy plan, "Specialized 5G Services" (Jan. 2021), that enables non-mobile carriers who haven't been allowed to facilitate the fifth generation wireless services thus far to become independent network operators (and developers) just as Korea's top three mobile service providers. To put it another way, the plan opens the door to the delivery and the deployment of private 5G networks that are separable from publicly licensed network services once provided only by the flagship carriers in Korea. Under the revised regulatory guidelines, officials are giving full assistance in an effort to meet the rising demand in the private sector and to improve competitiveness in 5G B2B services.
▶ Spotlight on Artificial Intelligence: The Future of Technology
Since the Google DeepMind Challenge Match, a Go match between Google's AlphaGo and Korean Go master Lee Se-dol played on March 2016, captured the world's attention, artificial intelligence has already disrupted virtually every business practice and has started to expand its adoption and usage even in the art world—what was previously thought rarely possible. Today, many of us already live with A.I.-enabled connected devices or services around us, and interactions with these technologies will become increasingly prevalent. The market size of artificial intelligence technologies in Korea has grown from KRW 1 trillion in 2018 to KRW 1.5 trillion in 2019, showing an annual average growth rate of 39.9 percent. Maintaining strong growth momentum, the industry is projected to reach an annual average growth rate of 38.5 percent or an estimated worth of over KRW 10.5 trillion in sales by the end of 2025.

The healthcare sector is perhaps one of the industries where applications of artificial intelligence are the most commonly found. A.I. in healthcare market is anticipated to reach KRW 25.64 billion in 2020 from KRW 1.79 billion in 2015.

By scanning health records and database to provide guidance, healthcare A.I. helps medical practitioners make clinical or diagnostic decisions (e.g. A.I. software "Doctor Answer") and better identify personalized disease treatment and care plans optimally suited to each patient. More recently, it has dramatically cut the time spent on the COVID-19 drug discovery process by which new candidate therapeutic materials and (pre)clinical trials are identified.

The financial industry is also one of the leading adopters of artificial intelligence. Given its distinctive characteristics of data-intensive services, processing banking transactions and compiling customer data repetitively, widespread adoption of A.I. in finance is likely to be gradually on the rise.
Artificial intelligence is currently making its way not only into front and middle offices (investment portfolio management, face recognition payment solutions, A.I.-associated credit risk management development) but into other realms of banking innovation such as Robotic Process Automation (RPA), a labor-saving software using intelligent algorithms enabling employees to streamline workflow (the equivalent of 1.25 million hours saved annually).


▶ Action Plans and Strategies to Become a Leader from Being a Follower in A.I.
According to research published by the Korea International Data Corporation (IDC), the market value of Korea's artificial intelligence industry is estimated to grow 17.8 percent annually over the next five years, hitting KRW 640 billion in sales by 2023. While S. Korea trails in A.I. due, in part, to a lack of human and technological resources, its unrivaled ICT infrastructure and high educational attainment levels, as well as bold investment strategies and entrepreneurial spirit to dare challenge in both the private and the public sectors can help boost the industry. Having been fully aware that machine learning-based smart technologies will become the next growth engine, S. Korea is taking proactive measures to be among the world leaders in artificial intelligence.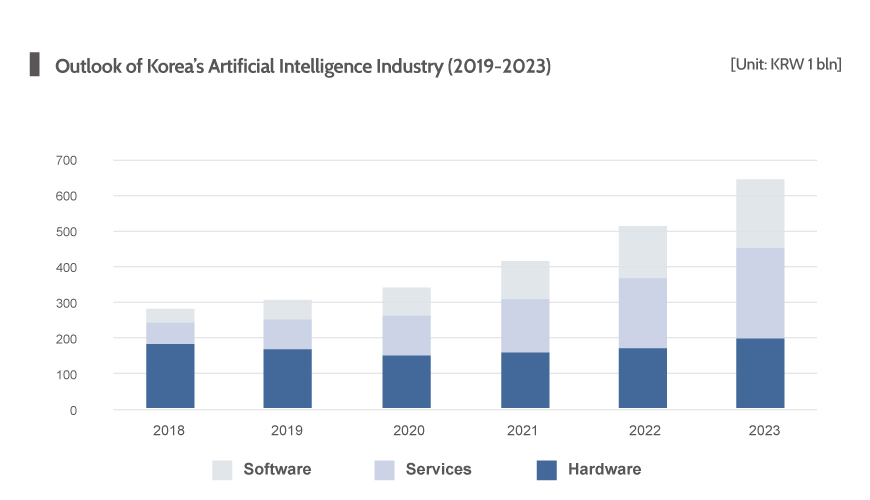 Coupled with the "Action Plans for the Fourth Industrial Revolution" released in 2017 by the Presidential Committee on the Forth Industrial Revolution, which lays out a development blueprint to lead development in A.I. and ICT technologies, a government-wide initiative, "National Strategy for Artificial Intelligence" (Dec. 2019) and its sub-projects designed to form an A.I. ecosystem and to stimulate HR training and AI adoption are currently underway.

In addition, the government unveiled an overarching COVID-19 relief package, called the Korean New Deal (Jul. 2020), not only to cushion the economy against the fallout from the pandemic-induced recession but to pave the way for digital transformation across the country.

Furthermore, the Presidential Committee has drawn up the "Ethics of Artificial Intelligence" (Dec. 2020), a guideline to ensure transparency and value-neutrality in the development and adoption of artificial intelligence as people have started to think that moral rightness, safety, reliability of A.I. is as important as its applicability. The committee also created a roadmap for the regulatory and legal systems assessment in Dec. 2020 to take an agile and systematic approach to the societal and commercial impact of artificial intelligence.

As seen from the above, the government of Korea is making all-out efforts to guide a detailed set of action plans for the development and adoption of A.I. so as to fully support research institutes and businesses.
**Source
1. NIA, "2020 In the age of hyper-connected, super intelligent world-Innovative Companies in D.N.A" (Jan. 2021)
2. IDC, "Outlook of Korea's Big Data / Data-Analytics Industry" (2019-2023), (Jan. 2020)
3. MSIT, "Statistics of Wireless Communications Subscribers in Korea" (as of the end of Jan. 2021)
4. MSIT, "Specialized 5G Services" (Jan. 2021)
5. Korea Credit Information Services, "Industry Trends of A.I. Technologies: Research Focusing on Key Technology, Market Size and Risks" (Dec. 22, 2020)
6. KIST Convergence Research Policy Center, "Focus" (Jun. 24, 2019)
7. IT Chosun, "Syntekabio COVID-19 Treatment Medicine Found higher pharmacological efficacy than Remdesivir's" (Sept. 3, 2020)
8. FNTimes, "KB Bank embraced RPA to save 1.25 million working hours" (May 11, 2020)
9. IDC, Outlook of Korea's Artificial Intelligence Industry (2019-2023), (Apr. 2, 2020)

Junhee Jang(junhee@nia.or.kr), Sangkeun Woo(sangkeun.woo@nia.or.kr), Hyunju Hwang(hyunju731@nia.or.kr) National Information Society Agency(NIA), Department of ICT Policy, AI Future Strategy Center
< The opinions expressed in this article are the author's own and do not reflect the views of KOTRA. >