Home
Industries and Sites
Industry Focus
[Semiconductor]

Semiconductor Industry Driving Korea's Economic Growth
Prospects for the Global Semiconductor Market
The market size of the global semiconductor market has continued to expand in step with the development of PC, mobile, server, and other IT devices. It is expected to grow further due to the development of AI, IoT and self-driving vehicles, driven by the 4th Industrial Revolution. According to OMDIA, a global market research firm, the semiconductor market is expected to grow at an annual rate of 5.4 percent in the coming years.
'2017-2025 Global Semiconductor Market Size (OMDIA)
(Unit : USD 100 million)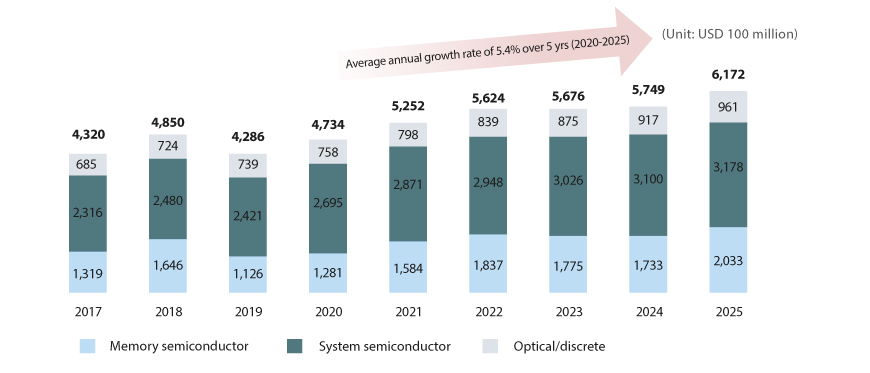 Current Status of Korea's Semiconductor Industry
The semiconductor industry is one of Korea's leading industries, driving economic growth in terms of production, exports and investment. As of 2020, it accounted for 19.4 percent of Korea's total exports, and 45 percent of facility investment. As of 2019, it was responsible for 9.6 percent of manufacturing production. As such, the industry has made significant contribution to Korea's economic growth.
Production, Exports, Facility Investment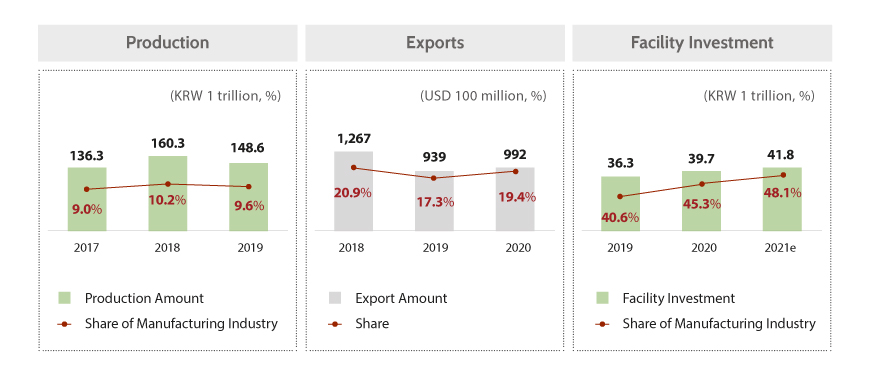 * Source: Production and Employment (Statistics Korea, Manufacture of Semiconductor + Manufacture of Semiconductor Manufacturing Machinery), Exports (KITA)
Also, Korea's semiconductor industry has maintained the 2nd place in the global semiconductor market share since 2013. Based on overwhelming technological competitiveness, the memory semiconductor surpassed Japan (2001) and the United States (2002), taking over the top position, and has continued to maintain the No.1 position. On the other hand, the competitiveness of Korean companies in the system semiconductor sector is still lagging behind, accounting for only 3 percent of the global market share. Korea's competitiveness is limited to DDI, CIS, and PMIC*, which have relatively lower technology barriers.
*DDI: Display Drive IC, CIS: CMOS Image Sensor, PMIC: Power Management IC
Trend of Korea's Global Market Share
Trend of Korea's Global Market Share

| | 2013 | 2014 | 2015 | 2016 | 2017 | 2018 | 2019 | 2020 |
| --- | --- | --- | --- | --- | --- | --- | --- | --- |
| Semiconductor | 15.5% | 16.2% | 17.0% | 16.5% | 21.4% | 23.6% | 18.4% | 18.4% |
| Memory | 48.7% | 53.0% | 57.7% | 57.4% | 60.7% | 61.7% | 58.4% | 56.9% |
| System | 5.5% | 3.9% | 3.6% | 3.1% | 3.0% | 3.0% | 3.2% | 2.9% |
Korean Government's Policy to Foster the Semiconductor Industry
System Semiconductor Development Strategy (April 2019)
Create demand and bolster support in step with the stages of growth, as a way to secure competitiveness in the fabless industry
Support investment in Foundry R&D · manufacturing facilities and create a win-win cooperative ecosystem between fabless and foundry
Aim to groom 17,000 advanced · specialized personnel (by 2030) in the system semiconductors sector
Plan to invest more than KRW 1 trillion over the next 10 years to secure technology for next-generation semiconductors
Measures to Improve Competitiveness of Materials, Parts and Equipment (August 2019)
Support M&A acquisition funds (KRW 2.5 trillion or more) and tax among key items in the domestic supply chain but hard to acquire technology*

Added enterprises specialized in materials, parts, and equipment with key new technologies to those eligible for technological innovation-type M&A support
Corporate tax deduction for the amount acquiring foreign companies specialized in materials, parts, and equipment (to the extent of new growth technology facility investment)

Cash grants for foreign investment in key strategic items expanded from 30% to 40%, and those moving into foreign investment zones exempted from lease for up to 50 years
Fast-track approval and permission on strategic products, and preferential support for expansion of social overhead capital such as roads and electricity
Establish a "K-Semiconductor Belt" – a convergence complex of manufacturing, materials/parts/equipment, packaging, and fabless to stabilize the supply chain of semiconductors
Expand tax benefits, financial support, and investment in deregulation to establish the manufacturing infrastructure
Proceed with a project to foster specialized personnel with masters or doctorate degrees and increase the entrance quota to semiconductor departments, with a goal to train semiconductor manpower
Plan to invest KRW 1.5 trillion or more in developing future technologies such as next-generation power semiconductor, AI semiconductor, and high-tech sensor, among others
Major Foreign-Invested Companies in the Semiconductor Field
ASML Korea (the World's No.2 semiconductor equipment company, 2020)
As the world's leading photolithography equipment maker, holding a global monopoly in supplying EUV lithography equipment, ASML entered the Korean market by establishing its Korea office in 1996
ASML Korea plans to invest KRW 240 billion in setting up an extreme ultraviolet (EUV) cluster by 2025 including manufacturing plants and training centers in Hwaseong, Gyeonggi Province.
Lam Research Korea (the World's No.3 semiconductor equipment company, 2020)
As the world's No.1 player in etching equipment, Lam Research established a global manufacturing facility in Osan, Gyeonggi Province in 1992. It achieved shipments of 7,000th equipment produced in Korea in 2021. The equipment produced in Korea are sold not only to semiconductor manufacturing plants in Korea but also global market players.
Lab Research Korea plans to complete construction of its R&D Center in Yongin, Gyeonggi Province by the second half of 2021, and is pushing to double its production capability in Korea.
ON Semiconductor Korea
As On Semiconductor took over Fairchild in September 2016, it also acquired Fairchild Korea Semiconductor.
As Fairchild Semiconductor had strengths in high-voltage semiconductor while ON Semiconductor had strengths in low-voltage semiconductor, their merger led to a more diverse product portfolio.
By Sinwoo Park (swpark@ksia.or.kr)
Korea Semiconductor Industry Association
<The opinions expressed in this article are the author's own and do not reflect the views of KOTRA>