Home
Industries and Sites
Industry Trends
[Transport and logistics]

Evolution of Korea's Logistics Industry: Rapid Advance into Smart Logistics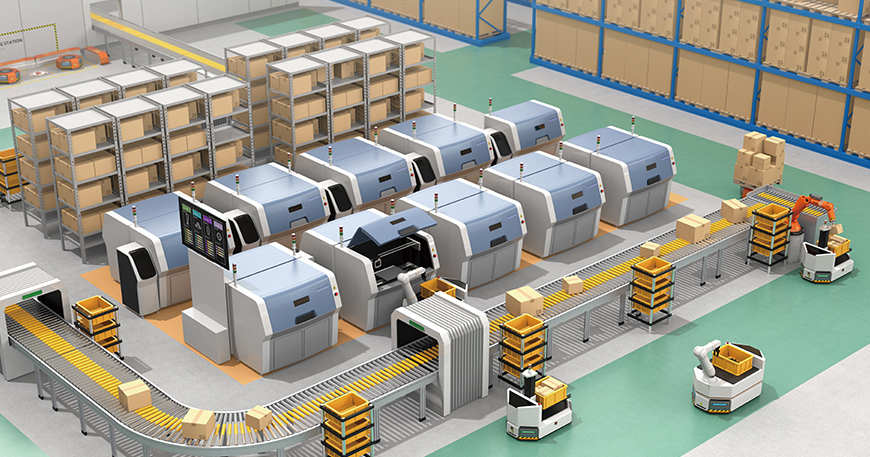 Current Status of Korea's Smart Logistics Industry
There are varying opinions about the origin of Korea's smart logistics. Generally, it can be originated to 'rocket delivery' by Coupang which began in 2014 with the slogan 'Wow the Customer!', benchmarking Amazon's 'Fulfillment Delivery Service' .Coupang has emerged as First Mover in the distribution/logistics market by continuously investing in logistics infrastructure (logistics information system, automation facilities, establishment of logistics center, etc.) and pursuing customer-oriented strategies. Since then, various companies followed in its footsteps, expanding smart logistics.

The Korean smart logistics market is rapidly growing due to increasing demand for cost effective logistics and supply chain solutions from various industries. The rising expectations from customers and logistics cost management are playing an important role in shaping the future of the logistics market. Technological development in artificial intelligence, IoT, and blockchain are changing the market ecosystem. Increasing data volume of the growing E-commerce market and digital transformation are expected to serve as a crucial factor in driving the growth of the smart logistics market.
Trends of Investment in Smart Logistics Facilities by Korean Companies
The domestic delivery market has continued to grow at fast pace, recording an average annual growth rate of 10 percent, driven by the rapid growth of e-Commerce (delivery usage per person in 2020 was 65.1 times per year, and 122 times per person per year in the economically active population). The demand for it has also skyrocketed due to expansion of non-face-to-face activities, stimulated by the COVID-19 pandemic, and is likely to grow rapidly in the future. The movement to introduce smart logistics also has been accelerated to maximize logistics efficiency like cost-cutting by establishing automation facilities on logistics sites through new technologies including AI and ICT.

Looking back on the trends of automation equipment application in Korean logistics centers over the past 10 years, Multi Stacker Crane (MSC) and Multi Shuttle System (MSS)—smart automation storage system—have been actively introduced in response to the need for highly-efficient logistics centers to accurately and swiftly handle increased volume of goods and small-quantity low-frequency multi-items.
<Table 1> Korean Smart Equipment Application Cases and Trends in Major Logistics Centers
Korean Smart Equipment Application Cases and Trends in Major Logistics Centers
Automation Level
Step
Step 1
Step 2
Step 3
Step 4
Step 5
Level
System Automation
Semi-Automation
(Low Level)
Semi-Automation
(High Level)
Full-Automation
(Advanced Level)
Unmanned W/H
(Intelligent Level)
Key Equipment
Information
ERP, WMS
WMS, WCS¹
WMS, WCS
Real-time Monitoring System
WMS(AI), WES²
WMS(AI), RMS⁸
Picking
Manual Picking
DPS³, DAS
DPS, DAS⁴, SPS⁵
DPS, SPS, RPS⁶, MPS⁷
SPS, RPS, MPS
Storage
Pallet Rack
Pallet AS/RS
Pallet AS/RS
Box AS/RS
Pallet AS/RS
Box AS/RS
Pallet AS/RS
Box AS/RS
HPSC, MSS
Self Rack with AMRⁿ
Pallet AS/RS
Box AS/RS
HPSC
Self Rack with AMR
Sorting
Manual Conveyor
Slide Shoe, Tilt Tray
Slide Shoe, Cross Belt
Cross Belt, AMR
Cross Belt, AMR
Application Cases
Dongsuh Foods, Daehan Flour, JW Pharmaceutical, POSCO, Hankook Tire, KT&G, Lotte Chilsung Beverage, Woongjin
Amore Pacific, Emart, SK Chemical, Dongwha Pharm, Samsung Fine Chemicals, Pulmuone, Shinsegae International, Lotte Confectionery, GC Pharma
Emart 24, DAISO, Lotte Mart, Lotte Super, SK Innovation, OurHome, Shinsegae Food, Emart Mall, BGF Retail
Dongwon Industries, SK Networks, Lotte Chilsung Beverage, E-Land, UNIQLO, Hyundai Department Store
Automation market of Intelligent Level, centered on Wholesale distribution & Online is expected
Industry
Food/Pharmaceutical/Steel/Tire
Chemical/ Pharmaceutical/ Food/Retail
Wholesale Distribution/Online
Wholesale Distribution/Apparel/Online
Period
2010
2020
2030
* Note) 1. WCS(Warehouse Control System) 2. WES(Warehouse Execution System) 3. DPS(Digital Picking System) 4. DAS(Digital Assorting System) 5. SPS(Smart Picking System) 6. RPS(Robot Picking System) 7.MPS(Mixed Palletizing System) 8. RMS(Robot Management System) 9.HPSC(High Performance Stacker Crane), MSS(Multi Shuttle System) 10. AMR(Automated Mobile Robot)
* Source: Paradigm Shift in Logistics Center Establishment, SFA, Park Jung-hyun, 2022, Partial modification of contents
Also, Smart Picking System (SPS) of the Goods to Person (GTP) mode has been introduced since 2015 in earnest to make the picking process, which accounts for more than 50 percent of operating cost of logistics centers (Tompkins et al. 2003), more efficient. Recently, Robot Picking System (RPS) and Mixed Palletizing System (MPS)—more advanced method of smart picking system converged with robots—are under consideration.

All in all, the distribution and logistics centers are expected to actively adopt various smart logistics automation equipment to improve productivity and resolve the shortage of manpower.
Korean New Deal Policy and Smart Logistics Industry Promotion Policy
The Korean government put forward the 'Korean New Deal' (July 14, 2020) as a national development policy—equivalent to the US's New Deal Policy—as a way to overcome the crisis and lead the global economy in the post-COVID-19 era, when it was faced with serious economic depression and structural transformation brought about by COVID-19 while it was working towards an economic paradigm shift and dealing with low growth and deepening polarization. In addition, the government announced the 'National Logistics Basic Plan (2021-2030)' on July 1, 2021 as a new blueprint for the development of the logistics industry in the coming decade in a rapidly and drastically changing logistics environment in the post-COVID-19 era.

This can be seen as a plan which considers the aging population, decreasing productive population, urban concentration, smart urbanization, growing middle-class, and increasing importance of quality of life.
<Table 2> National Logistics Basic Plan (2021-2030) Vision and Strategy
National Logistics Basic Plan (2021-2030) Vision and Strategy
Category
Contents
Vision
Logistics Industry: Leap into world's leading logistics country through creation of win-win ecosystem and smart•digital innovative growth
Goal
• Advanced and Digitalized,
• People-centered/Decent jobs
• Shared/Connected convergence infrastructure
• Secure the industry's response capability to the future
• Sustainable environment
•Secure global competitiveness
Strategy
• Strategy 1.Establish the advanced smart technology-based logistics system and work towards digital transition
• Strategy 2. Establish shared/connected infrastructure and network for seamless logistics services
•Strategy 3. Prepare people-centered decent jobs and create high-quality logistics services from the perspective of demand
• Strategy 4.Create sustainable logistics industry environment
• Strategy 5. Strengthen the competitiveness and improve the fundamentals of the logistics industry in order to respond to new demand
• Strategy 6. Strategic expansion to overseas market in line with changes in global economic map
* *Source: Notice by the Ministry of Land, Infrastructure, and Transport (No. 2021 – 968), July 1, 2021.
In the case of Strategy 1, 「Establish high-tech smart technology-based logistical system and work towards digital transition」, it will be pursued to create a highly efficient, visible, seamless, and unmanned logistical environment through automation and robotization of all logistical process including transport, storage, unloading, and packaging on the logistics site, which used to be manually done, thereby establishing ultra-connected and intelligent logistics.
Prospects for Korea's Smart Logistics Market
Aside from numerous tasks regarding economic efficiency, expandability, and flexibility for the smart logistics industry, a rapid digital transition on the logistics site is inevitably required by transition due to low-growth society, urban concentration, dropping birth rate and growing aging population, and growing importance on the quality of life brought by the COVID-19 pandemic.

The system where the national government gives the 'Smart Logistics Center Certification' to logistics facilities equipped with excellent efficiency, safety, and environment-friendliness through deployment of advanced and automated facilities, equipment, and systems, and provides them with administrative and financial benefits, has been in place since April 2021. The certification enables low interest-rate loans needed for the construction of logistics centers or purchase of advanced and automated equipment, as well as the government's support for up to 2%p of interest cost. For such benefits, it attracts increasing attention from relevant companies, and is expected to play out as a positive factor in expanding investment in smart logistics infrastructure.

The continued growth of the e-Commerce market, changes in the market that require quick delivery, shortage of manpower on the logistics site, and increasing demand for the work environment and safety are likely to accelerate the transition to smart logistics. In addition, the automation market growth of the intelligence level is expected, led by the wholesale distribution and online sectors.
< The opinions expressed in this article are the author's own and do not reflect the views of KOTRA.>