Home
Industries and Sites
Latest Industry Information
Industry Focus
[Transport and logistics]

[Distribution/Logistics] The Korean Distribution & Logistics Industry, Diving Deep into Digital Transformation, Automation, and Robotization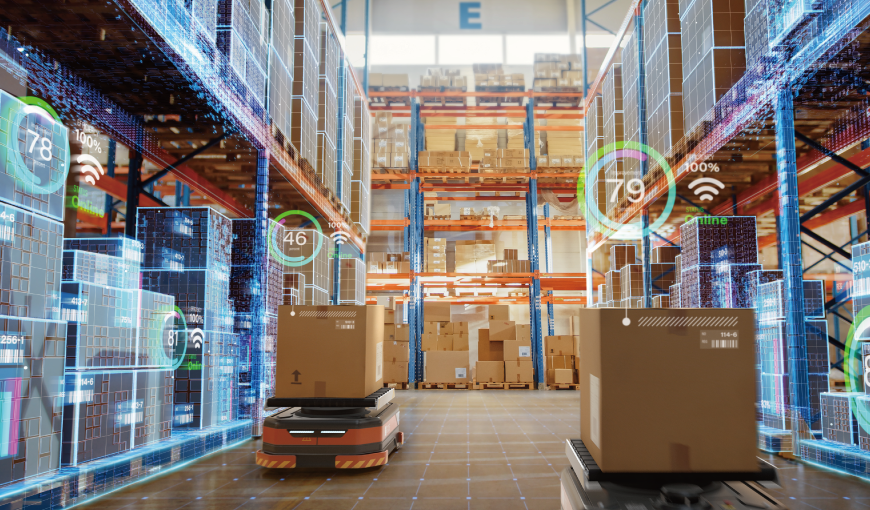 Current Status of Korea's Distribution & Logistics Industry
[Distribution] Intensifying Big Blur1)and Reshaping Market
With the prolonged COVID-19 pandemic, the spike in global energy prices due to the Ukraine-Russia war, and the US-China trade dispute, the supply chain has been disrupted and society as a whole has been experiencing drastic changes. Across the distribution industry, a digital transformation is underway. The entire industry is faced with major changes caused by the Big Blur phenomenon, which is obscuring the boundaries not only between the distribution industry and other industries but also between buyers and sellers, and of the channels within the industry.

Coinciding with the Big Blur, offline distribution is changing its nature and evolving into the 'space business,' and the new business model, 'quick commerce,' is spreading as distribution, logistics, and tech industries are being combined, and the boundaries between online and offline are collapsing due to COVID-19. Also, the 'Local platform' is emerging as a result of the blurring of boundaries between distribution and IT, online and offline, and buyers and sellers.

Amid these changes, companies that seek to preoccupy dominant priorities in the e-commerce market strive to secure competitiveness and maximize economies of scale through M&A. At the same time, the distribution market is reshaped around deep-pocketed e-commerce companies.
M&A Cases of Major E-Commerce Companies
M&A Cases of Major E-Commerce Companies
ㆍ Emart, a retail arm of Shinsegae group, acquired an 80 percent stake in the open market business Ebay Korea, which operates G-market and Auction, for KRW 3.44 trillion in Nov. 2021
ㆍAfter the acquisition, the integration of SSG.com and G-market's paid membership program, Smile Club, created synergy
ㆍ Qoo10, which has been developing its e-commerce business based in Southeast Asia, including Singapore, entered the Korean e-commerce market by acquiring TMON for KRW 280 billion in September 2022 (Qoo10 as a Korean company)
ㆍ External consortium's 100% stake in TIMON was exchanged for a stake in Qoo10's logistics subsidiary,'Q Express'
ㆍ After successfully turning the 2020 operating profit in the black, Yanolja acquired Interpark's e-commerce division, which focuses on ticketing and travel services, in a bid to establish a dominant position in the online travel market
ㆍ In October 2021, Yanolja acquired a 70 percent stake in a newly formed entity that spun off Interpark's e-commerce division for KRW 294 billion
ㆍ In November 2022, the price comparison platform Danawa announced an M&A with KOREACENTER, which runs Enuri.com and the overseas direct purchase platform Malltale, to strengthen management efficiency, data commerce, and solution capabilities
ㆍ KOREACENTER holds a 51.3% stake in Danawa, and Danawa changed the name of its parent company, KOREACENTER, to ''Connect Wave Corp.'' after the merger
*Source: E-commerce Market Rearrangement and Corporate Response Strategies, Samjong KPMG (p.5, Dec. 14, 2022)
[Logistics Industry] Accelerating Automation and Robotization
The exponential growth of the e-commerce industry, and the increasing adoption of automation solutions at logistics sites according to advanced robotics and automation facilities, are the main factors driving the growth of the logistics automation and robotics market.

The rise of logistics automation and robotization requires the economic and social background factors as follows:

First, as with the disruptions in a division of labor structure by intergovernmental rows and the rapidly expanding reshoring movement, automatization and robotization have been adopted to solve the difficulty of securing skilled workers and addressing labor shortages.

Second, there is a move to prevent the lockdowns incurred by aggravating non-face-to-face situation and workers' infection in the COVID-19 pandemic.

Third, it has become more challenging to manage Gig Workers2. Recently, Gig Workers2) have been voicing their demands for social insurance access. In other words, a flexible and resilient response to supply and demand, the perk of the Gig Economy, has become hard to manage.

The fourth is the aging population, labor shortages, and rising labor costs. The staffing shortage has led business owners to realize the need for automation and robots in logistics as the price of automation and robots is expected to fall at a faster pace than the increase in wages, further expediting their spread.
Government Policy to Foster Distribution & Logistics Industry
In response to changes in the distribution environment, the government released a plan to rev up the digital distribution competitiveness for responding swiftly to the transition to contactless and online platforms. The plan would enable the spread of private-led innovation and ESG governance to create digital innovation and a sustainable growth ecosystem, and expand e-commerce's entry into overseas markets.
Vision and Five Strategies for Digital Distribution Enhancement
Vision and Five Strategies for Digital Distribution Enhancement
Vision
Lead digital innovation in the distribution industry and create a sustainable growth ecosystem
Fundamental Directions
ㆍ Promote private-led innovation by establishing digital distribution infrastructure
ㆍ Spread the private-led ESG governance by creating sustainable industrial ecosystem
ㆍ Expand distributors' entry into overseas markets by ramping up global cooperation
Initiative Strategies
① Build distribution data dam
② Fulfill innovative foundation for logistics delivery
③ Set up distribution innovative ecosystem such as training talent and starting a business
④ Form distribution environment for sustainable growth
⑤ Foster globalization of e-commerce
* Source: Plan to Strengthen Digital Distribution Competitiveness, Government of Korea (Mar. 4, 2021)
In the meantime, through the National Logistics Master Plan33), the government has announced and implemented six goals and five strategies to facilitate Korea's leap forward as a leading country in global logistics by fostering smart and digital innovation in the logistics industry and creating a co-prospering ecosystem.
National Logistics Master Plan (2021-2030)
National Logistics Master Plan (2021-2030)
Vision
Take a leap forward as a leader in global logistics by fostering smart and digital innovation and creating a co-prospering ecosystem
Goals
ㆍ Realize advancement and digitalization
ㆍ Create human-oriented & quality jobs
ㆍ Make shared & affiliated convergence infrastructure
ㆍ Obtain future readiness for industry
ㆍ Realize sustainable environment
ㆍ Secure global competitiveness
Initiative Strategies
① Establish advanced smart-based logistics system and promote digital transformation
② Build shared & affiliated infrastructure and a network for seamless logistics service
③ Create human-oriented and quality jobs and generate high-quality logistics service from users' perspectives
④ Bolster competitiveness in logistics and improve its metabolism to respond to new demand
⑤ Make forays strategically into overseas markets in line with changing global economic landscape
* Source: The 5th National Logistics Master Plan, Ministry of Land, Infrastructure, and Transport, Ministry of Oceans and Fisheries (Jul. 27, 2021)
Outlook for Korea's Distribution & Logistics Industry
The distribution industry, which has shown exponential growth thanks to the spread of contactless purchases after COVID-19, is predicted to have a tougher year on the back of worsening consumer sentiment from rising interest rates, deteriorating profitability due to fierce competition among companies, declining contactless purchases due to the return to normalcy, and possible regulation of online platforms.

Meanwhile, the logistics industry will be affected by the overall domestic industry, which is forecast to stagnate from bearing the brunt of high oil prices, high-interest rates, and high exchange rates, resulting in languish cargo volumes, while restrictions on carbon emission, ESG governance, and digital logistics transformation are likely to go into full force.

The rearrangement of the market and emergence of new businesses across the distribution and logistics industry are expected to continue as a consequence of changes in the external (geopolitical) and business environment and the intensification of the Big Blur. Moreover, the transition to digitalization, automation, and robotization of distribution and logistics sites is likely to progress rapidly because of the aging population, labor shortages, and enhanced work environment and safety under ESG governance.
1) The "Big Blur" refers to the phenomenon in which the boundaries between already existing things become ambiguous owing to drastic changes in society. The term originated from an English word, 'blur,' meaning something becomes unclear or less distinct. Initially, the term was used to describe a radically changing industrial ecosystem caused by innovative IT technologies such as Internet of Thing (IoT), Fintech and Artificial Intelligence (AI).
2) Gig Worker means a person who has a short-term contract with an employer on an on-demand basis or does temporary work. As its labor intermediation is done on digital platforms, Gig Work is different from traditional part-time jobs.
3) The National Logistics Master Plan encompasses the entire logistics services by land, sea and air. The plan decides the matters necessary for logistics facilities and infrastructure, international logistics network, logistics industry, logistics technology and informatization, eco-friendly logistics and logistics security, and logistics training for people.
* The opinions expressed in this article are the author's own and do not reflect the views of KOTRA.