Home
Investment Opportunities
Latest Information
Industry Focus
[Auto parts]

[Electiric Vehicle] The Rapidly Developing Electric Vehicle Industry in Korea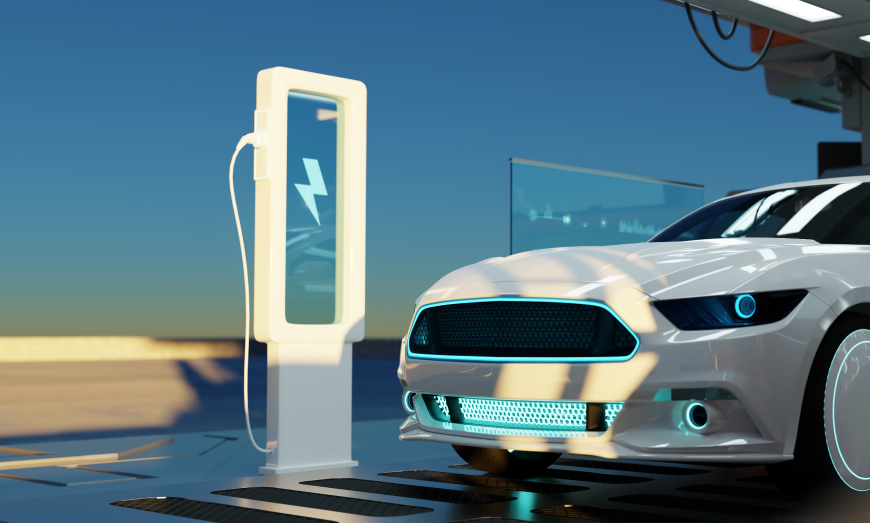 The Fast-Growing Korean EV Production and Sales
South Korea's automobile production and sales structure is rapidly shifting to electric vehicles (BEV +PHEV+FCEV). Last year, Korea produced more than 400,000 electric vehicles, and exports reached 267,000 units. In Korea, the world's fifth-largest automobile producer, the proportion of electric vehicles among automobile production reached 11%, indicating that the structure of the automobile industry is rapidly shifting to electric vehicles. The share of electric vehicles in total vehicle exports was 11.6%, which was higher than its share in production.
EV Supply and Demand Structure in Korea (2022)
국내 전기자동차 수요와 공급 구조 (2022)
Category
Production
Domestic Sales
Export
Export Share in Production (%)
PHEV(units)
47,310
0
46,173
97.6
BEV(units)
348,895
123,676
220,507
63.2
FCEV(units)
10,804
10,336
400
3.7
Total EV(units)
407,009
134,012
267,080
65.6
Total Auto Vehicles(units)
3,757,049
1,395,111
2,300,333
61.2
PHEV Share(%)
1.3
0.0
2.0
BEV Share(%)
9.3
8.9
9.6
FCEV Share(%)
0.3
0.7
0.0
Total EV Share(%)
10.8
9.6
11.6
* Note: Battery Electric Vehicle (BEV), Plug-in Hybrid Electric Vehicle (PHEV), Fuel Cell Electric Vehicle (FCEV)
* Source: KAMA
Korean Automaker Emerges as Global EV Maker
Hyundai Motor Group was recorded as the world's 5th largest electric car seller last year, following BYD, Tesla, VW and Stellantis. Although GM—including Chinese company Shanghai GM Wuling—ranks 4th, GM alone has fewer sales than Hyundai. Hyundai's sales growth rate reached 43%, a relatively high level.

Korea plays an important role in EV development. The GM Technical Center Korea (GMTCK) played a leading role in the development of the GM electric vehicle Volt, and continues to cooperate with various entities in the development of GM electric vehicles. Ssangyong Motor develops and sells electric vehicles through cooperation with Chinese electric vehicle maker BYD. Renault Korea plans to develop electric vehicles in cooperation with Chinese automaker Geely.
Global EV Sales by OEM/OEM Group for 2022
* Source: EV Volumes
Korea's Outstanding EV Parts and Charging Infra Supply System
Electric vehicles are built on an electric vehicle platform, and major electric vehicle-related parts are installed on the platform. Hyundai Motor's electric vehicle platform, Electric-Global Modular Platform (E-GMP), is equip ed with a Power Electric (PE) system composed of a motor, EV transmission, inverter, etc., a charging system, and a battery system.

Electric vehicles require a speed reducer, a thermal management system, and tires. The most important parts related to electric vehicles, such as batteries, motors, and inverters, are produced by existing electric industry-related companies. Existing auto parts makers are responsible for the control devices, cases, and assemblies that necessary to apply these major parts to automobiles. Batteries are brought from a battery cell manufacturer in the form of cells or modules, assembled in a pack form, and mounted on a vehicle together with a control system (BMS), various switches, electric current sensors, and cooling systems.
E-GMP (Electric-Global Modular Platform)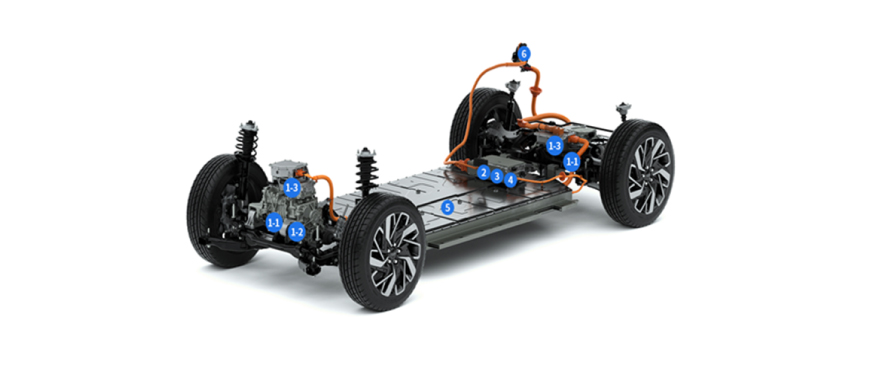 * Note: Power Electric (PE) System (1-1 Motor, 1-2 EV Transmission, 1-3 Inverter- Converter), 2. Vehicle Charging Management System (VCMS), 3. Integrated Charging Control Unit (ICCU), 4. Vehicle Control Unit (VCU), 5. High-voltage Battery, 6. 400/800V Multi-charging System
* Source: Hyundai Motor
Korea owns world-class battery cell companies such as LG Energy Solution, Samsung SDI, and SK On. The overall battery system is managed by Hyundai Mobis, but the production of parts such as pack assembly and related cases is mainly entrusted to existing auto parts companies. Motors are produced by Hyundai Mobis, LG Electronics, and S&T Motiv, and related core parts are also produced by Korean companies. The drive motor core, an important component of drive motors, is produced by POSCO International, which aims to become the world's No. 1 company with a global market share of 20% by 2025. LG C&S produces Enamel Wire for drive motors.

The heat management system and air conditioning are handled by Hanon Systems, the heating system is produced by PCT heaters, and the air conditioner hose and coolant hose, which are major components, are produced by Hwaseung R&A. Hankook Tire develops and supplies tires suitable for electric vehicles, and SL is in charge of LED lamps used in electric vehicles. Korean parts makers supply electric vehicle parts to major global automakers.

- VW: Battery Cell (LG Energy Solution, Samsung SDI, SK On), Tire (Hankook Tire), E-Compressor & Thermal (Hanon System)
- GM: Battery Cell (LG Energy Solution), Drive Motor (LG Electronics), Converter, Inverter, ODC (LG Electronics), Head Lamp (SL), Tire (Hankook Tire)

Regarding electric vehicle charging, it can be divided into the charger manufacturing and charging business, and major companies operate both at the same time. Recently, leading Korean conglomerates have newly entered the electric vehicle charging business. Hyundai Motor Group aims to lead the charging market with its super-fast charging brand E-pit.

Regarding the charging business, LS Group established LS E-Link, and Hanwha Solutions launched Hanwha Motiv, an electric vehicle charging brand.

SK acquired Signet EV (SK Signet), a super-fast charger and solution provider, and GS Energy established GS-Connect, a joint venture with GENTEL, the second largest electric vehicle charging service in Korea. Lotte Information Communication entered the charging business market by acquiring a 71.14% stake in JAC, the second largest manufacturer of chargers. Major charger manufacturers such as Daeyoung Chaevi, Moderntech, and Everon received investment to prepare for competition.