Home
Information Center
Newsroom
Investment News
IFEZA Expects IFEZ to Become a Hub City in Northeast Asia with the Completion of I-Tower
According to Newsis,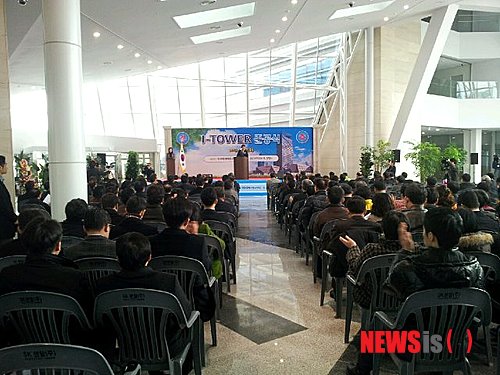 I-Tower, a landmark building of the Songdo International City in the Incheon Free Economic Zone (IFEZ) where the secretariat of Green Climate Fund (GCF) and UN international organizations will move in, was completed on February 27.

In the afternoon on February 27, the Incheon Free Economic Zone Authority (IFEZA) held a completion ceremony at the lobby on the first floor of I-Tower, with the presence of 400 people, including Mayor Song Young-gil of Incheon-si (City), Commissioner Lee Jong-cheol of IFEZA, guests, and citizens.

Being presided over by former KBS announcer Lim Seong-min, the ceremony opened with a string quartet performance, followed by reporting on the proceedings by Director Lee Gwang-jae of City Management, presenting men of merit with award certificates, addressing congratulatory speeches by Mayor Song Young-gil of Incheon-si (City), and Chairman Lee Sung-man of Incheon Metropolitan Council, and giving a commemorative speech by Commissioner Lee Jong-cheol of IFEZA.

"The completion of I-Tower means much since this year is the 10th anniversary of IFEZ's designation as the first free economic zone in Korea. With the completion of the tower, we will try our utmost to attract investments and will transform IFEZ into a business hub in Northeast Asia," said Commissioner Lee Jong-cheol in his commemorative speech.

"As the pride of a true international city "Incheon" and a new growth engine of the country, I-Tower will surely become the symbol that contributes to improving Korea's brand value," addressed Mayor Song Young-gil in his congratulatory speech.

I-Tower, built in a 24,042㎡ site, consists of two basement floors and 33 ground floors, and its gross floor area amounts to 86,165㎡. The tower, situated on 175 Art Center Road in Yeonsu-gu (District), was constructed with the total investment of KRW 185.4 billion.

The Daewoo consortium won an I-Tower construction project from IFEZA, and the construction began in July of 2010. It took 32 months to complete the project. This tower aims to serve the purpose of turning IFEZ into a world-class global city by providing better investment environment to investors at home and abroad and attracting the GCF secretariat and UN organizations.

The 25th to 31st floors will be used as the IFEZA office, and the 17th to 24th floors will be rented. GCF will use from the 9th to 15th floors as its office, and UN organizations, including the Northeast Asia regional office of the UN Economic and Social Commission for Asia and the Pacific (UNESCAP), will use from the 2nd to 7th floors.

In particular, the 8th floor will be equipped with meeting rooms, such as a large room with 100 seats and a simultaneous interpretation system for six different languages, a mid-sized room, and four small rooms. Hence, various international meetings can be held on this floor.

"I-Tower is an environment-friendly building, which has earned five preliminary certifications including the first grade of energy efficiency certification, and its main building is equipped with atriums applied with double-skin systems in order to prevent outside air from making a direct impact on the inside. Besides that, the aseismatic structure has been adopted so that the tower can resist an earthquake in the magnitude of 5.0 to 6.0 on the Richter scale. We have spared no effort to make I-Tower one of the best buildings in the aspects of external design, safety, and efficiency," said an official from Daewoo Engineering & Construction.


Source Text
Source: Newsis (Feb. 27, 2013)
** This article was translated from the Korean.