Home
Information Center
Newsroom
Investment News
President Park Meets With Foreign Investors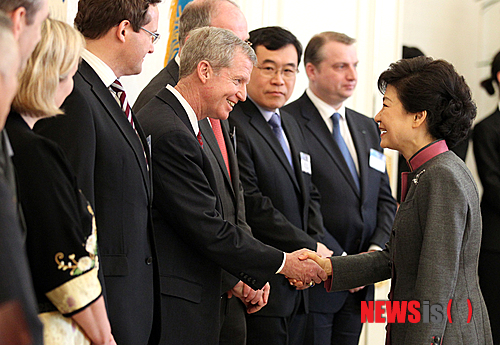 Despite provocations by North Korea, South Korean President Park Geun-hye met with representatives of foreign-invested companies last Thursday to promote foreign investment in Korea. President Park held a luncheon with 19 foreign guests at Cheong Wa Dae for less than two hours.

A spokesman said the foreign guests highly appreciated President Park's efforts to expand communication channels with foreign-invested companies and the guests agreed to fully trust the Korea government and continuously invest in the country.

Pat Gaines, Chairman of the American Chamber of Commerce in Korea (AMCHAM), said that despite rising tensions between the Koreas, he had strong confidence in the Korean government, as it has been working closely with allies to defend peace and stability. He added that in the process of building a fair, transparent, and competitive economy, Korea will see more FDI and jobs.

Amy Jackson, President of AMCHAM, said American companies will not withdraw their business from Korea. She added that AMCHAM would assure American firms of the safety of Korea's business environment.

Toru Nakajima, Chairman of the Seoul Japan Club (SJC), said the investment of Japanese companies in Korea last year doubled and that he hopes investments will continue to rise.

Nasser Al-Mahasher, CEO of S-Oil, said that having consistently increased investment in Korea, his company has the largest oil refinery and petrochemical plant in Korea. He added that S-Oil plans to quadruple its investment in Korea and that it is now reviewing a plan to invest billions of dollars but is having difficulty securing appropriate sites. Al-Mahasher expressed his hopes for support from the Korean government.

Foreign investors also showed their support for the new government's determination to usher in a creative economy.


Source Text
Source: Newsis (Apr. 11, 2013)
** This article was translated from the Korean.