Home
Information Center
Newsroom
Investment News
Jeonju & Dongducheon National Industrial Complex plans gather steam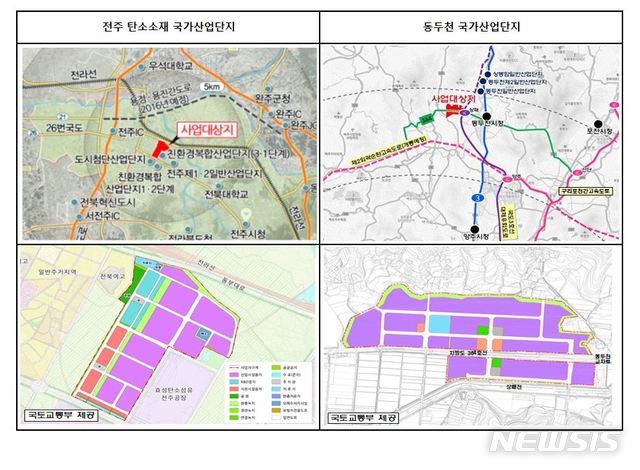 Plans to construct national industrial complex in Jeonju, South Jeolla Province and Dongducheon, Gyeonggi Province has gained momentum.

On September 1, the Ministry of Land, Infrastructure and Transport (MOLIT) announced that it approved "Jeonju carbon materials national industrial complex" and "Dongducheon national industrial complex" plans, which will get started.

"Jeonju carbon material national industrial complex" is a project to build an industrial complex specialized in carbon materials in the site of 660,000 sq. meters. It was selected at the 5th Trade and Investment Promotion Meeting in March, 2014 and passed preliminary feasibility test in 2017.

The carbon materials industry has been in the limelight as it can be utilized in various areas including automobiles, aviation, and leisure, with its potential of fostering other industries. As an alternative to save energy, it has been applied to component and part industries. However, the industry has been largely dependent on imports from Japan due to lack of original technologies.

When Jeonju industrial complex is built as planned, it is expected to produce world-class products with support from research institutes such as International Carbon Institute, Korea Institute of Carbon Convergence Technology, and existing carbon production facilities.

Dongducheon National Industrial Complex has been pursued as a measure to prevent hollowing of industry and urban decline (June 2015) in response to the relocation of the U.S. Forces in Korea to Pyeongtaek. The plan went through preliminary feasibility test in 2017, and capital reorganization review, among others.

It will be built as a cutting-edge cluster for fashion industry by attracting textile, clothing and electronic part industries on the site of 270,000 sq. meters. Dongducheon has been restricted in its development for national security issues as it contributed 42 percent of the total city area to the U.S. forces over the past 60 years. When the national industrial complex is built, it will be a turning point in regional development.

Korea Land & Housing Corporation (LH) will commence the process of land compensation from next year. Jeonju Carbon National Industrial Complex targets for completion in 2024, while Dongducheon sets target at 2023. When they are constructed, the MOLIT estimates KRW 311.9 billion production effect and 2,271 jobs.

Kim Keun-oh from Industrial Location Policy Division of MOLIT said, "Jeonju carbon national industrial complex will contribute to enhancing national competitiveness by localization of materials industry," while "Dongducheon national industrial complex is likely to stimulate regional economy in surrounding areas and foster the textile industry."



Source: Newsis (September 1, 2019)
** This article was translated from Korean.