Home
Information Center
Newsroom
Investment News
S.Korea sees tenfold rise in hydrogen fuel use by 2030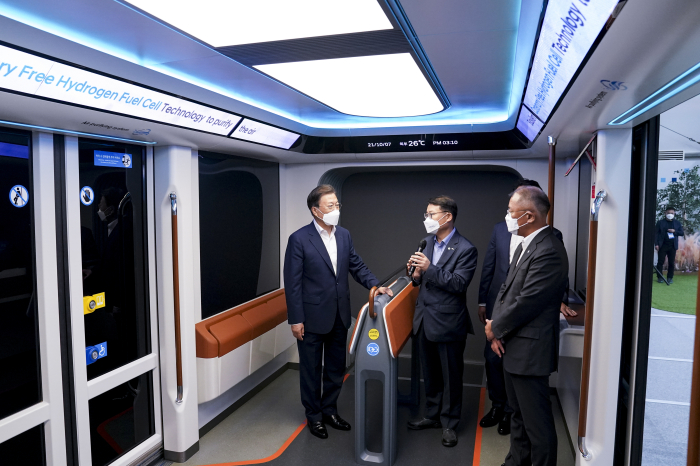 President Moon Jae-in (left) on hydrogen-powered tram produced by Hyundai Rotem with Hyundai Motor Chairman Chung Euisun (right) on Oct. 7
According to The Korea Economic Daily Global Edition,

South Korea will sharply increase the adoption of hydrogen as a fuel of transportation, industrial plants and power generators to become the world's leading hydrogen economy, President Moon Jae-in said on Thursday.

The government will provide all-round support, including debt payment guarantees and tax deductions, to hydrogen-related companies and their overseas hydrogen projects with an aim to create 30 leading hydrogen companies by 2030. By then, the government plans to boost domestic hydrogen consumption over tenfold to 3.9 million tons from this year's estimated 220,000 tons, according to Minister of Trade, Industry and Energy Moon Sung-wook.

The minister unveiled the plan, entitled "The benefit of the hydrogen economy and the government's vision as a leading hydrogen economy," in a briefing to President Moon and the country's leading business leaders on the sidelines of the groundbreaking ceremony for Hyundai Mobis' hydrogen fuel cell plants in Incheon, west of Seoul.

During the event, President Moon said the government will push forward the plan to make clean hydrogen as the country's future growth driver.

"The government and companies are now one team working toward the goal of becoming a leading hydrogen economy," he said in a meeting with CEOs of the country's leading business groups ahead of the groundbreaking ceremony. "The government will be at the forefront of the efforts, cheering and supporting the challenges the companies make."

The 2030 consumption target of hydrogen is twice as much as the government's previously stated number of 1.94 million tons by 2030, disclosed in January 2019 as part of a road map to shift toward a hydrogen economy.

By 2050, South Korea plans to increase domestic hydrogen consumption over tenfold to 27 million tons, compared with 2030. Clean hydrogen, which emits zero carbon dioxide (CO2) during the production process, will account for half of the country's hydrogen consumption by 2030 and then 100% by 2050, by when the country aims to achieve carbon neutrality.

Currently, hydrogen fuels used to power plants are mostly grey hydrogen which is produced from fossil fuels. In comparison, blue hydrogen is produced from natural gas and emits less CO2, while green hydrogen is the cleanest variety as it uses renewable energy to produce hydrogen from water.

30 GLOBAL HYDROGEN COMPANIES

To create 30 South Korea-based global hydrogen companies by 2030, all government ministries will pull together to expand tax deductions and financing support, including debt payment guarantees, to the companies that develop hydrogen technologies and carry out the relevant projects.

As part of the efforts, they will help establish hydrogen education centers in colleges and graduate schools, which will likely lead to the creation of 50,000 jobs.

In the automobile industry, South Korea will sharpen hydrogen fuel cell technology to widen its gap with global competitors. It also plans to expand the use of hydrogen as a fuel to trains, ships and urban air mobility services.

HYDROGEN INFRASTRUCTURE

To usher in a full-fledged hydrogen economy, the government puts its priority on building the hydrogen distribution infrastructure to make hydrogen-fueld cars more accessible. The country will increase the number of hydrogen charging stations to 660 and then over 2,000 by 2050, versus the current 70.

Moreover, the government will bring forward the commercialization of vessels carrying ammonia and liquefied hydrogen, as well as building ports used for hydrogen transportation. Ammonia is currently considered the most efficient hydrogen storage and transportation medium because of its low explosion risk, compared with hydrogen.

Major South Korean companies' hydrogen production plans


Company

Plans

Details

Samsung Engineering, Lotte Chemical, POSCO

Sarawak hydrogen project in Malaysia

To produce blue and green hydrogen and ammonia for industrial use

GS Energy and six other Korean companies

To import 1.14 million tons of blue ammonia from the United Arab Emirates

In partnership with Abu Dhabi National Oil Company

SK Group

To invest 18.5 trillion won in building hydrogen ecosystem

To develop the technology of producing, liquefying and transporting 250,000 tons of blue hydrogen a year

KEPCO

To replace seven coal-powered plants with ammonia-fueled plants by 2050
"If the governments around the world increase the adoption of hydrogen fuels, hydrogen will likely account for 24% of global energy consumption by 2050," said an industry source. "We can't give up the market worth $700 billion."



Copyrights The Korea Economic Daily Global Edition. All Rights Reserved.
Reprint or redistribution without permission is prohibited.


Write to Don-won Lim and Ji-hoon Lee at van7691@hankyung.com
Yeonhee Kim edited this article.






Source: The Korea Economic Daily Global Edition (October 7, 2021)