Home
Why KOREA
Success Stories
[Other / S.Korea]

Looking Ahead to 2021
Invest Korea magazine talks to Shawn Chang, Commissioner of Invest KOREA, to hear more about Korea's business environment amid COVID-19 and his aspirations for the agency in 2021.
Mr. Chang, it's great to meet with you as we kick off the New Year. Do you have any words for our Invest Korea magazine readers?


First of all, Happy New Year! May this year bring you all health and happiness, and I hope that the pandemic comes to an end soon so we can return to normalcy in our lives as well as meet in person again.

Here at Invest KOREA, we've made many efforts over the past year to digitize our regular activities and ensure uninterrupted services to foreign investors. Additionally, we're revamping our website to offer a wider range of information not only on Korea's business environment, but also that which is useful for everyday life in Korea. In line with this, we've changed the name of our magazine from KOTRA Express to Invest Korea—synonymous with the name of our agency—to place focus on FDI and further enrich the contents we provide to our readers.



An IMF report released in October predicts a grim outlook, saying the global economy is on course to shrink to -4.4 percent due to COVID-19. Can you tell us more about the recent global foreign direct investment (FDI) trends?

Sure. As we're all aware, the pandemic-induced economic recession is taking a toll on global trade and investment, and the rebound from this is showing signs of stalling.

According to recent data by the United Nations Conference on Trade and Development (UNCTAD), global FDI halved (49%) in the first six months of 2020 from the same period in 2019 and the average annual flows for 2020 appear to be down by about 40 percent year-over-year. As the global investment landscape will most likely remain negative in 2021, I suppose it will take some time to get back to the pre-pandemic levels.

S. Korea isn't immune to the negative impacts of COVID-19 on the global economy, as we're seeing a contraction in FDI here as well. What's your view on FDI inflows to Korea?

Well, Korea has attracted FDI worth USD 20 billion for five consecutive years since 2015. The cumulative amount officially reported in the first half of 2020 declined 22.4 percent year-on-year probably because of the current global health crisis, but Korea's FDI in 2020 Q3, in particular, was large enough to make up for the shortfalls. The FDI aggregates for 2020 Q1-Q3 stand at USD 12.89 billion.

The data presents a stark contrast from the overall contraction in FDI globally. This can be attributed to Korea's effective disease containment measures which have successfully flattened the curve without shutting down the economy. The authorities' efforts to mitigate the economic shock from COVID-19 would probably be very appealing to foreign investors.
As the country's national investment promotion agency, what direction is Invest KOREA taking to attract FDI?

Since the COVID-19 outbreak, the global economy has undergone changes such as GVC restructuring and digital transformation. In response, the Korean government is working to boost the economy at the policy level through the Korean New Deal.

In line with the central government's policy, Invest KOREA will carry out foreign investment promotion based on the Digital New Deal and Green New Deal, which are both part of the Korean New Deal. Under the Digital New Deal, we're going to focus on the so-called D.N.A. (big data, network, AI), ICT industries as well as the Big 3 industries (system semiconductor, medical bio, future car). Under the Green New Deal, we'll focus on renewable energy and the hydrogen economy.

Invest KOREA's investment attraction activities will be carried out in three main directions. First, we will continue to attract investment from foreign-invested companies in new growth industries so that Korea can grow into a global hub for high-tech industries.

Second, in cooperation with free economic zones (FEZ) and local governments, we're going to facilitate deregulation and provide incentive packages to help investors planning to establish their entities in Korea's new industrial ecosystems.

Third, we will secure opportunities for sustainable and dynamic growth by strengthening cooperation with Korean startups. Indeed, Korea is experiencing a startup boom based on its world-class ICT infrastructure, human resources, and R&D capabilities.

What role would you say Invest KOREA will play in the future?

Since the pandemic, Korea has proven its competitiveness as a sound investment destination. The world has its eyes on Korea's innovative capabilities which are well demonstrated through the so-called "K-Quarantine" and the country's stability amid COVID-19.

Of course, Korea also has several strengths in terms of its flagship industries, marketability and infrastructure. Based on Korea's assets and government policies, I believe Invest KOREA's role is to carry out active and strategic investment promotion activities, be a reliable business partner to domestic and foreign companies, and also, to be a bridge for foreign investors doing business in Korea and in Asia as a whole.

Furthermore, we're here to be a liaison between investors already conducting business here and the government to improve regulations and incentives to continue fostering a favorable investment environment.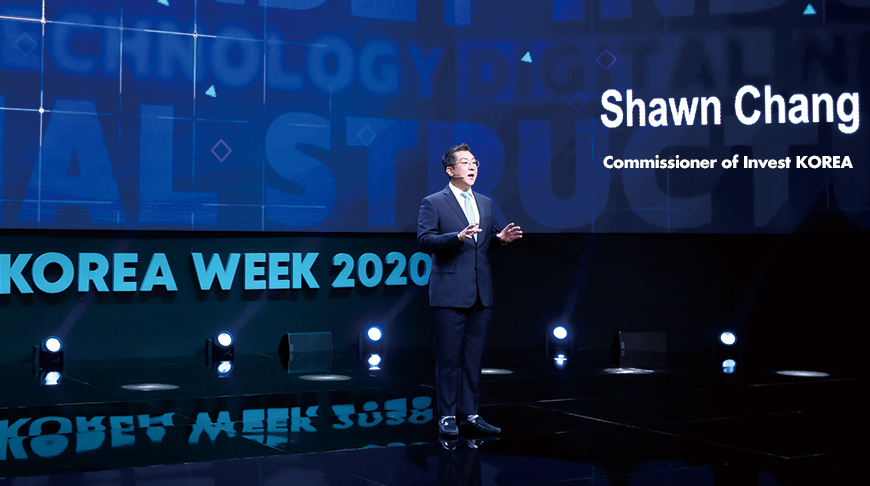 How has the COVID-19 pandemic changed how Invest KOREA is carrying out its investment promotion activities?

First of all, our major annual event called Invest Korea Week (IKW) was held online for the first time ever in 2020 from Nov. 11-18 under the theme of "Smart Innovation & Safe Growth with Korea." IKW is a national investment attraction event held yearly to promote Korea's investment environment.

What was different about IKW 2020 was that it was hosted together with Arirang TV in the form of a broadcast so that foreign investors and other participants could watch the event in the safety of their homes amid the pandemic.

IKW had always been held offline and in-person, with visitors being able to physically be present. But last year, investors from all over the world were able to attend through broadcasting and online platforms. As a result, IKW 2020 was broadcast to over 130 million households in 101 countries around the world. Now, we have over 2 million views on YouTube.

Although the pandemic has definitely reshaped the way we hold this event, we still had about 144 investors in attendance (59 in key industries like materials, parts & equipment; 33 in new industries like biotechnology, information & communications; and 52 in service industries like logistics and finance). They held a total of 321 consultations with 204 Korean companies and local governments looking to attract foreign investment. These consultations are projected to reach a total of USD 9.4 billion in investment.

Aside from IKW, we are making great use of online platforms and Korea's strong ICT infrastructure to continue holding meetings with investors and are also creating new ways to provide information on Korea's business environment to potential investors around the world.


What is Invest KOREA's plan for 2021?


We really hope that COVID-19 will be over soon so that we can hold our events offline again. It'd be great to host and meet (in-person) foreign investors who are considering Korea as an investment destination.

More specifically, we're going to continue working closely with KOTRA's overseas offices and further concentrate our resources and energy on 60 large-scale business projects that involve renewable energy or online platforms.

Despite these tough times, everyone at Invest KOREA is excited to see what this year holds for us and will work tirelessly to respond to the changes in the global investment environment. We ask for your continued interest and support.
By Grace Park
Executive Consultant
Investment Public Relations Team / Invest Korea
Korea Trade-Investment Promotion Agency (KOTRA)
gracepark@kotra.or.kr