Home
Why KOREA
Success Stories
[Machinery and manufacturing / USA]

Emerson Automation Solutions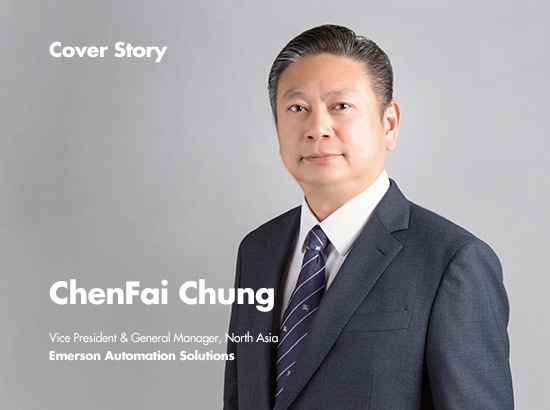 Invest Korea talks to ChenFai Chung, Vice President & General Manager, North Asia at Emerson Automation Solutions, to gain insight into industrial automation in Korea and learn more about his experience doing business here.
Emerson (NYSE: EMR) is a global technology and engineering company providing innovative solutions for customers in industrial, commercial, and residential markets. Founded in St. Louis, Missouri, USA in 1890, Emerson has approximately 200 manufacturing facilities around the world. In 2020, the company's global sales amounted to USD 16.8 billion.

With a 130-year history of growth and expansion, Emerson has emerged as a resilient organization that has minimized risk through diversification while proactively responding to market changes. The company's Automation Solutions business helps process, hybrid and discrete manufacturers maximize production, protect personnel and the environment while optimizing their energy and operating costs. Its Commercial & Residential Solutions business helps ensure human comfort and health, protect food quality and safety, advance energy efficiency, and create sustainable infrastructure. Emerson has built a billion-dollar software business within those two platforms.

As a global innovator, Emerson has a deep legacy of solving the most complex challenges facing modern life. It combines advanced technologies, industry-leading expertise, and an insatiable curiosity about the world to create sustainable solutions for the essential customers it serves. The company recently announced its unified global purpose—to "drive innovation that makes the world healthier, safer, smarter, and more sustainable."

Originally an engineer with a Bachelor of Engineering Degree in Electrical & Electronic Engineering from Nottingham Trent University in the UK, ChenFai Chung is currently Vice President & General Manager of North Asia for Emerson Automation Solutions. Since 2015, he has been leading Emerson's businesses in the Korean and Japanese markets, supervising all operational affairs including sales, marketing, engineering, production, quality management, financial and human resources. Chung began his career with Emerson in 1992 as a Systems Engineer. Since then, he has held various positions of increasing responsibility and functions, including his appointment as Director of Sales and Project Pursuit, driving and growing Emerson's Rosemount Measurement business in Asia Pacific. He was subsequently promoted to Vice President of Emerson's Rosemount Analytical Business Unit managing and growing its market in Asia Pacific. His role was expanded when he was appointed as Vice President & General Manager of Analyzers & Solutions for the Analytical business globally.

Read on to gain insight into Korea's automation industry and learn more about Chung's experience doing business here.



First off, can you tell us a little bit about Emerson? Why did the company decide to establish the Korea office, and how does it view the Korean market?

Emerson established its presence in Korea in 1988, and today, Emerson Korea provides a comprehensive portfolio of technology and solutions for automation, sustainability, and digital transformation including services such as engineering, consulting, project management and maintenance. It helps Korean manufacturers achieve Top Quartile performance by reducing project costs and improving plant performance and availability.

Emerson has invested in Korea for over three decades as Korea has been one of our priority markets and a crucial part of our growth in Asia. As of 2020, we are backed by 650 employees here across our sales, engineering, manufacturing, and service facilities in Jukjeon, Anseong, Busan, Gunpo, Daesan, Yeosu and Ulsan, and we are serving over 2,000 customers and supporting a total of 4,000 projects.

Our new headquarters and Solutions Center in Jukjeon that opened in November 2018 plays a central role in the company's automation solutions business in Korea and demonstrates Emerson's commitment and continued investment in Korea. We have received numerous commendations from Korea's Prime Minister and the Ministry of Trade, Industry and Energy, for our commitment in and contribution to the local industry through foreign investment. We are constantly initiating and nurturing partnerships with our local, regional, and global customers in Korea to address their challenges and needs and to further our mutual growth.

"Sustainability & decarbonization" have become a key driver in manufacturing and its importance will grow as populations increase and resources dwindle. How is Emerson dedicating itself to creating a better world?

Emerson pursues environmental sustainability and decarbonization through three approaches that we call Greening of Emerson, Greening by Emerson, and Greening with Emerson. Under the "Greening of Emerson", we are committed to achieving a 20 percent greenhouse gas intensity reduction target by 2028 compared to 2018. We will achieve this by reducing energy use and optimizing performance, as well by procuring renewable energy and supporting onsite renewable generation projects. "Greening by Emerson" is where we believe we can have the greatest impact as we enable our customers' decarbonization transitions through our range of environmental sustainability solutions and expertise. Because of the nature of our business and that of our served customer base, we are highly relevant—across our entire portfolio—to catalyze global environmental sustainability improvements.

Finally, "Greening with Emerson" drives invaluable collaborations and engagements with external stakeholders from universities and governments to industry forums and international associations. Transitioning to a low-carbon future requires unprecedented levels of innovation and investments, which is why stakeholder collaboration is so important. Key to these efforts is the establishment of partnerships within Korea and worldwide to collectively develop innovative solutions for both Korean and global customers.
What kinds of activities is Emerson Korea carrying out that are in line with the Korean government's Green New Deal policy, which aims to create greener, more sustainable industries?

The world is moving toward a low-carbon future. Following the Paris Agreement (COP 21), Korea currently has committed to target a 24.4 percent reduction in greenhouse gases (GHG) emissions by 2030 compared to 2017 levels. The target isn't attainable unless industrial manufactures contribute heavily.

Emerson has already started discussing a path toward decarbonization with global energy leaders and policymakers. Our expertise can help in leveraging technologies to help industries transition to more eco-friendly approaches that meet decarbonization goals and energy efficiency maximization, the objectives of the Green New Deal initiative.

And, Emerson is in a unique position to help manufacturers improve both their energy and efficiency, that is, to become more resource-efficient, and thereby Top Quartile performers. We can provide energy-intensive producers with a systems-wide understanding of their resource use: a transparent, pragmatic, and flexible tool that identifies opportunities for efficiency improvements across entire sites during daily operations. For renewable power generation and clean fuel production, we provide solutions that enable to operate plants at peak performance.



How can automation technologies help enhance the sustainability of the Korean manufacturing industry?

Emerson has introduced Operational Certainty, which is a technology and engineering-based approach designed to help our customers identify what challenges are preventing Top Quartile performance in the areas of safety, reliability, production, and energy & emission. Top Quartile is defined as achieving operations in the top 25 percent of peer companies. We help our customers to define an automation strategy which will address those challenges—maximizing shareholder value by reducing operating expenditure and improving plant availability. Our Operational Certainty program helps industrial sites improve energy use by identifying waste and by optimizing unit and equipment performance with real-time monitoring solutions and expert consultation to lower both energy intensity and emissions footprint.



How do you think Korea has handled the COVID-19 pandemic?


Korea has been recognized for its successful management of the COVID-19 pandemic and navigating the new kinds of challenges that the society, economy and industries face. In the last few months, the country has made progress on multiple fronts: securing vaccines for 60% of the national population, proactively preparing a transition into a sustainable green economy under the Green New Deal, and more.

Similarly, Emerson continues to stay agile. From the start of the pandemic, Emerson has taken important steps to protect more than 80,000 employees across the globe. We are adhering to the guidelines of the global health experts and local authorities and have taken the most stringent steps to protect the employees who work at facilities that manufacture critical technologies and equipment.


Has the pandemic changed the way your company does business in Korea?

Definitely. Our efforts to contribute to disease control included the activation of a response team on the ground and the launch of strengthened preventive measures indoors. We installed automatic thermal scan cameras and face recognition thermometers at facilities, in addition to providing our employees with face masks and hand sanitizers and putting in place strict hygiene and social distancing measures. We implemented a work-from-home arrangement in early March 2020 as the situation evolved in Korea, where the Work Site Safety Checklist and Quarantine Tracker Report played a helpful role in ensuring efficiency and productivity, as well as minimal disruption to our service to customers.

At the same time, we are ramping up production and putting our ultrasonic equipment to work in creating surgical face masks, face shields, disposable hygiene gowns and filter media to get vital personal protective equipment to care providers faster. Our cold chain technology is monitoring temperature and humidity of critical COVID-19 test kits from development to distribution at healthcare facilities and testing sites. We have shifted manufacturing capacity in a key facility to accelerate production of printed circuit boards for ultrasonic welding equipment critical to manufacturing N95 face masks that protect healthcare workers. Our advanced compressors and control technologies are providing temperature control at "pop-up" emergency medical facilities and testing sites, where it is critical to maintain precise temperature, humidity and filtration requirements to protect vital medications. Our leading valve technologies are being used in multiple ways, including in ventilators and oxygen therapy devices to help patients who are at high risk or who have been sent home to recover.


As a global company, what is Emerson Korea's vision for digital transformation solutions in the 5G era?

Korea is so technologically advanced and was the first country to introduce 5G mobile networks for telecommunications—which is why it's a key market for us in leading digital transformation across industries both in-market and beyond.

In 2019, we deepened our commitment to manufacturers' Top Quartile performance with the launch of a new digital transformation organization. The new business brings together critical resources to help manufacturers develop and implement pragmatic digital transformation strategies that deliver industry-leading performance, combining existing expertise in consulting, project execution, smart sensor technologies, data management and analytics to help customers not only establish a clear vision for digital transformation, but also execute with confidence and realize measurable results at each step of their journey. Automation has become an important subject of discussion at a time when technological advancements are pioneering new horizons. Digital transformation has become a necessity, not just to stay in the game, but to also face the challenges caused by the global pandemic at a scale we have never seen before.

Now, companies are required to gain speed and accuracy of decision-making and actions based on having the right information in the hands of the right expert. The new Industrial Internet of Things (IIoT) is ushering in digital transformation that enables companies to utilize technology and expertise more than ever before, but only if the right scalable technology strategy is matched to business goals.

Emerson's innovative technology and service offerings enable our customers to reduce the time spent on managing remote facilities and the cost of building telecommunication infrastructures, which, in turn, radically enhance the impact of smart plants that harness the power of digital transformation.


What is Emerson Korea doing to build win-win partnerships in Korea?

We are very grateful to the Korea Foreign Company Association (FORCA) and the American Chamber of Commerce in Korea (AMCHAM) who helped us build a great relationship with KOTRA. With their support, we have been able to continuously collaborate with the Korean government in various fields. Before the pandemic, at KOTRA's request, we provided training at our Solution Center to introduce local government officials and university students to opportunities for digital transformation in the industries we serve.

Going forward, I can envision more opportunities for Emerson in which we can cooperate with the Korean government—specifically in the hydrogen area of the Green New Deal policy. This can be a government-led platform where private corporations—domestic and foreign—can play an essential role.

Emerson has the potential to play an active part in the Korean government's Green New Deal initiative with its internal "greening of" improvement measures and vast "greening by" technological capabilities, which are relevant across most areas of the energy system. Our expertise and experience make Emerson an optimal partner to serve the hydrogen value chain from production to distribution and use.

Emerson's products and services portfolio also supports the promotion of renewable energy and the creation of a fair power transmission mechanism that helps expand green mobility by backing up the green fuel ecosystem and contributes to the decarbonization of the industrial sector. At the core of such projects are Emerson's automation solutions.


By Grace Park
Executive Consultant
Investment Public Relations Team / Invest Korea
Korea Trade-Investment Promotion Agency (KOTRA)
gracepark@kotra.or.kr