Home
Why KOREA
Success Stories
[Auto parts / Germany]

Audi Volkswagen Korea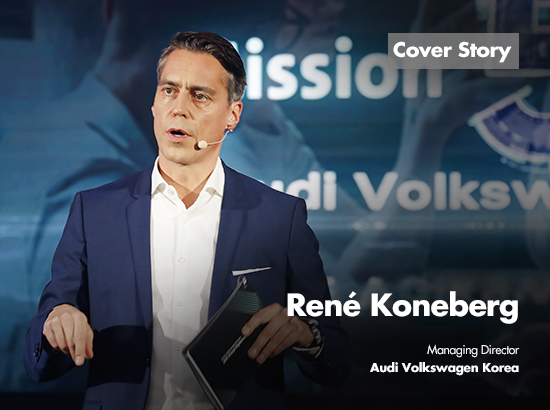 Invest Korea talks to René Koneberg, Managing Director of Audi Volkswagen Korea, to learn more about the company's operations in Korea and his experience doing business here.
Audi Volkswagen Korea (AVK) was established in 2004 through a 100 percent investment by Audi Group, steered by Volkswagen Group in Germany. Under Audi Volkswagen Korea, there are four business divisions—Volkswagen, Audi, Bentley and Lamborghini—which meet the various lifestyles and characteristics of its customers. With approximately 200 employees, AVK is committed to leading the transformation of mobility in Korea, as well as contribute to the sustainable growth of the Korean society. Notably, the company is investing in nurturing talent who will lead Industry 4.0 through its educational and cultural programs under the theme of "TOMOROAD," which is a combination of "tomorrow" and "road," representing its efforts to become a trusted partner along the future journey ahead.

René Koneberg was appointed managing director of Audi Volkswagen Korea in 2017, and is currently serving as chairman of the Korea Automobile Importers & Distributors Association (KAIDA). Hailing from Frankfurt, Germany, he has a background in both business and engineering, with a degree in Economics and Mechanical Engineering from the University of Economics & Technology at Gießen-Friedberg. Koneberg has a plethora of experience within the Audi company worldwide, holding positions of Head of Corporate & VIP Sales at Audi Volkwagen Middle East, Sales Director of Audi Sports (former Quattro GmbH), Director of Brand Operations at Audi China, and Managing Director of Audi Hong Kong & Macau, before making his way to Korea.

Read on to learn more about Audi Volkswagen's operations in Korea and René Koneberg's experience doing business here.
Can you tell us about Audi Volkswagen Korea?
Audi Volkswagen Korea (AVK), which belongs to Volkswagen Group, was established with a 100% investment from Audi Group in 2004. AVK has four brand divisions—Volkswagen, Audi, Bentley, and Lamborghini—contributing to the growth of Korea's imported vehicle market by importing and selling a wide range of models that meet the various lifestyles and characteristics of the local customers.
Last year, AVK launched 54 models across its four brands and returned to the market with sales of over 43,000 units by year's end. What were some key factors that helped the company make such a successful comeback?
First and foremost, I would like to highlight that AVK improved its organization and process by placing top priority on recovering customer trust over the past three years. We transformed our organization and processes, while strengthening communication between our headquarters and the Korean authorities.

Through such efforts, AVK completed more than 200 homologation projects over three years since 2018 and introduced various new models across our four brands. We have successfully launched a total of 54 new models in 2020 alone across the four brands, and wrapped up the year 2020 with a total of 43,727 vehicle sales in total, doubling our sales from 2019. We have also focused on laying a solid foundation for our people and corporate culture. Despite difficulties caused by our suppressed sales, we increased our headcount and maintained the entire dealer network over the last three years. In addition, we introduced various programs to help our employees enhance their competence and maintain a healthy work-life balance.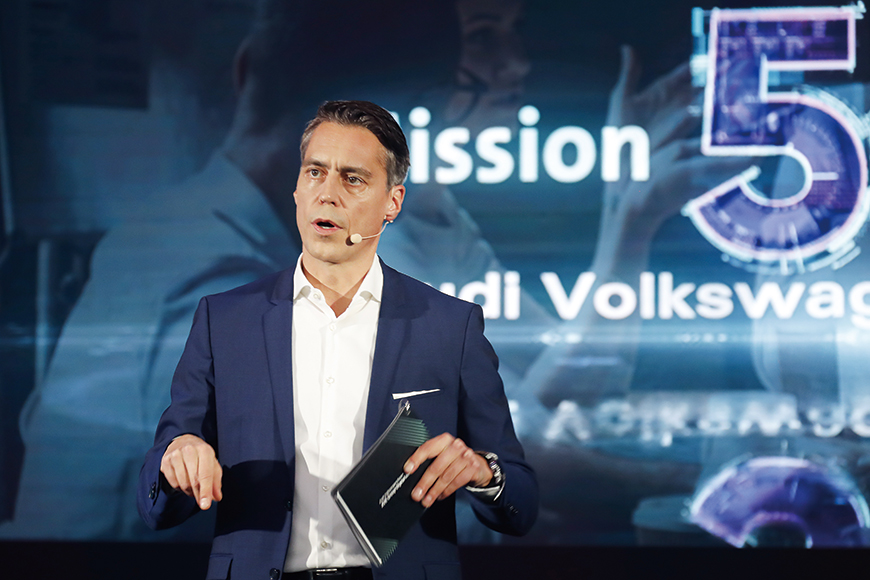 Can you share about AVK's business strategy in the Korean market, and plans/vision for 2021?
AVK provides a wide range of models that meet the various lifestyle and characteristics of our local Korean customers: from Audi, the premium imported car brand; Volkswagen, leading democratization of imported cars; Lamborghini, demonstrating extreme performance; and Bentley, representing ultimate luxury.

In 2021, we plan to have a solid product line-up with the launch of 20+ models across the four brands. Also, in line with the trends of the global automobile industry—electrification and digitalization—to respond to climate change and carbon neutrality, we will also build up our battery electric vehicles (BEV) portfolio. With the launch of eight new BEV models within three years, we plan to grow our BEV sales by 10 times to reach 11 percent of our sales in 2023. With a mix of both internal combustion engine (ICE) and electric vehicle (EV) models, AVK will provide various offerings across different segments.
Despite the difficulties over the past three years, no dealership left. What efforts did AVK make to retain and even expand the dealer network in Korea?
Dealers are very important to AVK and Korea is an important market for our headquarters. AVK has been financially supporting dealers to stabilize their operations together with our HQ office.
With the support of our headquarters, a total of about KRW 268 billion was invested into our dealers. On average, jobs of some 3,700 employees have been maintained since 2016. We also continued to expand our dealer network from 147 to 163 in 2020.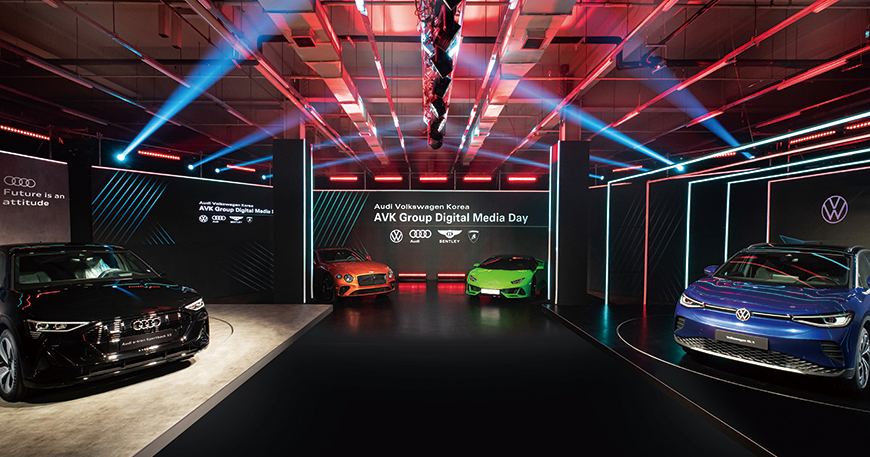 How has your company contributed to the country's employment and job creation?
AVK has been investing in stabilizing employment by fully maintaining jobs across our company in Korea, even despite bouts of sluggish sales since 2015.
AVK made efforts to retain employment and even increased its headcount by over 10 percent during the past three years, which have jumped from 196 employees in 2017 to 217 in 2020.
Now, 83 percent of our senior managers are Korean, which is up by 20 percent compared to 2017. On top of this, 30 percent of our senior managers are female.

AVK has been engaged in CSR activities with a focus on education and environment for years. What do you expect to achieve from these activities, and what are some of your upcoming CSR activities for this year?
We always believe AVK must become a partner and a part of the Korean society to restore customer trust and market competitiveness, as well as contribute to sustainable growth in Korea.
AVK is helping to enhance the future value of Korean society through its CSR initiative entitled TOMOROAD, which was first unveiled in 2018. It focuses on creating the infrastructure to foster future talent in Korea. While strengthening the software competence of future talent who will lead future mobility and the era of Industry 4.0, we are taking the lead in creating urban forests and resolving environmental issues with social responsibility for climate change and a sustainable future. We have invested KRW 5 billion over the past two years into CSR activities which are focused on education, culture, environment and local communities, and we plan to invest KRW 5 billion more in the next two years.

Our flagship educational program, "TOMOROAD School," begun its 1st semester for 2021 in March. Due to the prolonged effects from the coronavirus outbreak, classes are entirely carried out online.
By entering into an MOU with the National Institute of Special Education (NISE), AVK has also implemented educational programs for disabled students and is carrying out barrier-free TOMOROAD School classes. A total of five special schools have been confirmed for participation in the barrier-free TOMOROAD School and we are recruiting more schools to participate.

Moreover, AVK plans to contribute to addressing climate change and environmental issues in urban areas through the Green School Walkway, the Classroom Forest, and the Companion Tree projects.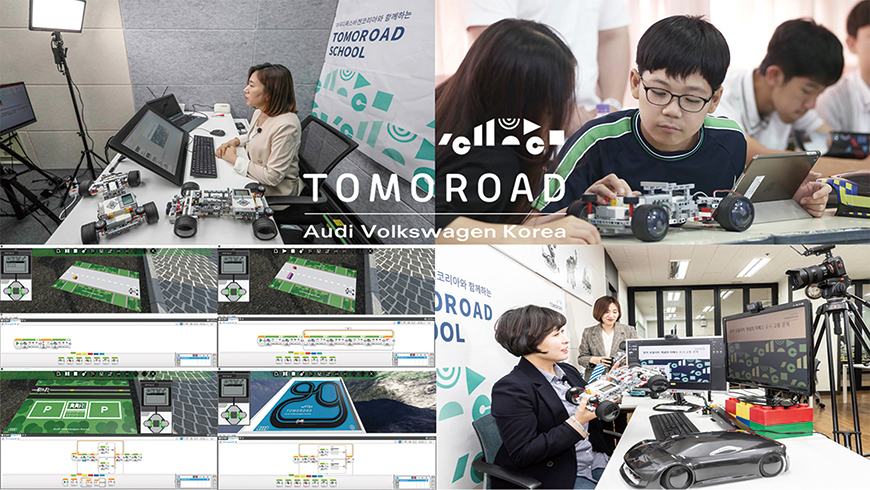 By Grace Park
Executive Consultant
Investment Public Relations Team / Invest Korea
Korea Trade-Investment Promotion Agency (KOTRA)
gracepark@kotra.or.kr