Home
Why KOREA
Feature Stories
Korea Institute for Advancement of Technology (KIAT)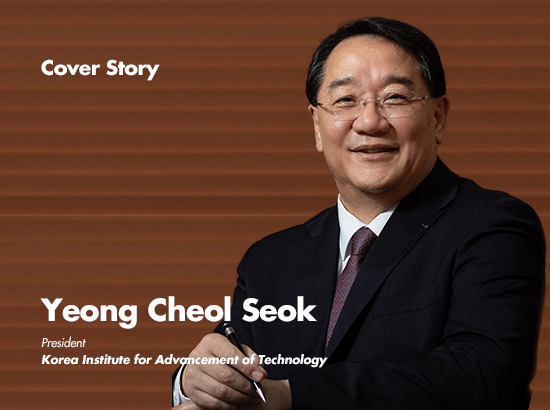 Invest Korea talks to Yeong Cheol Seok, President of the Korea Institute for Advancement of Technology (KIAT), to learn more about KIAT, industrial technology innovation, and the advantages of doing business in Korea.
The Korea Institute for Advancement of Technology (KIAT) was established in May 2009 as a public agency under the Ministry of Trade, Industry and Energy (MOTIE), with the objective to promote industrial technology innovation and support the development of related policies. KIAT strives to create synergy between industry, academia and research institutions to contribute to Korea's leap forward in becoming a leader in the 4th Industrial Revolution.

With an extensive background in industrial technology research and a Ph.D. in Economics from Ohio State University in Columbus, Ohio, USA., Dr. Yeong Cheol Seok has been serving as president of KIAT since June 2019. Prior to his position at KIAT, he has accumulated a deep knowledge and experience in the field of industrial technology at the Korea Economic Research Institute and MOTIE, and has also taught at the University of Cincinnati and Inha University.

Read on to learn more about KIAT, industrial technology innovation, and the advantages of doing business in Korea.
Dr. Seok, can you tell us a little bit about yourself?
Sure. I'm actually a researcher by training—my expertise is in conducting technology policy research and making policy recommendations to government ministries. Over the years, some of the recommendations that I've made as a researcher have been selected by the government in their decision making process, and I do take pride in those accomplishments.

I attended Ohio State University in Ohio, USA, and my doctoral thesis is regarding R&D competition among major companies. Industrial organization is a subdivision in the field of economics. Back when I was in school, the economics of innovation was not a popular subject matter, but one of my professors had told me that this would be a big topic in the future, so I listened and decided to specialize in that area. Right after graduation, I got a job at the University of Cincinnati as assistant professor.

During one of my summer vacations, I visited Korea and had the opportunity to meet with a government official at the time. He persuaded me to come back to Korea to work for the Korean government, which I had never even dreamt of. He pointed out that the United States was already advanced and doing well, and insisted that I come back to help my home country in a time of need and contribute to the development of the Korean economy. That conversation with him sparked a sense of patriotism within me and I eventually made the decision to come back to Korea in 1994, where I've worked for the Korean government ever since. It's now been about 27 years.
What is the Korea Institute for Advancement of Technology (KIAT) and what does it do?
KIAT is a government service agency. We support industrial technology innovation in Korea and develop related policies. In addition to supporting R&D activities, we also promote innovation in companies by creating diverse foundations in fields like technology commercialization, research equipment construction, regulatory innovation, international technology cooperation, and professional training. We also study domestic and foreign policies related to industrial technology and support mid- to long-term industrial technology strategic plans established by the government.

KIAT's budget for this year is KRW 2.0284 trillion. This is 7.4 percent of the Korean government's R&D budget of KRW 27.4 trillion this year. KIAT plans to help the Korean economy recover quickly from the shock of COVID-19 and pave the way to take another leap forward. In order to implement the Korean New Deal, we are planning to digitalize, greenize, and reorganize major industries.

In addition, fostering new industries is crucial to gaining a competitive edge in the 4th Industrial Revolution, and active regulatory innovation is needed to foster new industries. Our government operates regulatory sandbox systems in five areas, and among them, KIAT handles applications and deliberations on two regulatory innovations: Industrial Convergence and Regulation free zones (Regional Innovation). Notably, we are entrusted with the office of the Industrial Convergence Regulatory Sandbox and support regulatory innovation across various industrial sectors in Korea.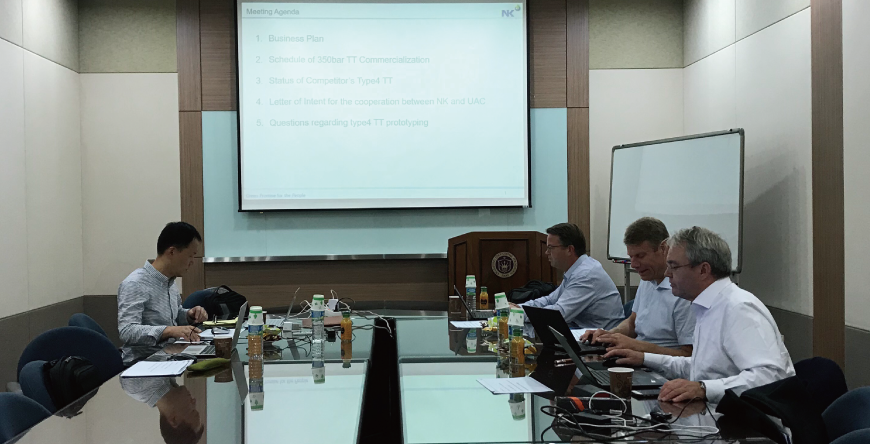 Norway's UMOE and Korea's NK discuss technological cooperation (Photo provided by KIAT)
Korea is garnering a lot of global interest these days. Why do you think that is?
Recently, Korea has attracted the attention of the world for various reasons. K-pop and Korean films for one, but I think the world is also noticing the competitiveness of Korea's manufacturing industry. The COVID-19 outbreak has disrupted the global value chain, causing factories around the world to shut down and paralyzing economic activities; fortunately, Korea succeeded in its initial disease control efforts and did not suffer from panic. Thanks to this, the perception of Korea as a safe and reliable production base has spread throughout the world. The proportion of manufacturing industries in Korea's industrial structure is about 27.8 percent, higher than manufacturing powerhouses like Germany (21.6%), Japan (20.8%) and the U.S. (11.6%).

As a result, Korea ranked third among major countries in the OECD with a real growth rate of -1.0 percent last year. (1st: China with 2.3%, 2nd: Norway with –0.8%). From coronavirus diagnostic kits to masks and recently developed special syringes (Low Dead Space (LDS) Syringe), Korea's manufacturing industry has indeed played an important role in effectively managing COVID-19.
Would you consider Korea to be a good investment destination?
As one of the world's top 10 exporters, Korea is a unique market providing a plethora of opportunities to not only domestic companies, but to foreign companies as well. The world's top 10 exporters, excluding China and Hong Kong, all saw a decline in their exports last year due to the pandemic, but Korea's exports were only down by 5.5 percent from the previous year, ranking in seventh on the list. Also, despite the fact that the overall global foreign direct investment (FDI) decreased by about 40 percent last year compared to the previous year, FDI in Korea only declined by 11 percent. FDI in Korea reached a whopping 20 billion dollars for the sixth consecutive year. The numbers prove that Korea is still a safe and attractive investment destination despite the global crisis.

The key element of this phenomenon is the competitiveness of Korea's manufacturing sector. Compared to other countries around the world, Korea is very small in size, but offers an open economy. Many foreign professionals always ask me, "How is Korea able to manage its diverse manufacturing industries so effectively?" I'm actually impressed myself about the way that Korea can handle not just one, but over 10 different manufacturing industries—from semiconductor, display, shipbuilding, automobile, you name it. It's extremely difficult to imagine that such a small country can manage it all and manage it well. This is great strength of the Korean economy.

Several foreign companies have already used Korea as an R&D base, and we also have witnessed many foreign companies entering the industrial convergence regulatory sandbox that we run at KIAT. Not only are foreign companies joining hands with Korean companies to enter the Korean market, but a growing number of foreign companies are now investing directly into the market here.
[Industrial Convergence Regulatory Sandbox] Sales & Investment Growth Status (Unit : KRW millions)

Can you elaborate on some examples of foreign investment into Korea through KIAT's regulatory sandbox?
As part of the Digital New Deal project which is part of the Korean New Deal policy, regulatory sandboxes help businesses that are digitize many of their existing offline-based operations. For instance, the Over-the-Air (OTA) service is an electronic control system that can update existing cars wirelessly and enhance vehicle performance. Through deregulation, Tesla has been able to use this technology to run its business overseas by introducing new technologies to the Korean market and meet the needs of Korean consumers remotely. The OTA service offers a much more convenient method of repairing and maintaining cars—it saves consumers time and energy that's needed when physically going to the car repair shop.

In line with the Green New Deal project, another part of the Korean New Deal which focuses on the development of the hydrogen economy, we have introduced a high-capacity hydrogen tube trailer for hydrogen transportation through a joint agreement between Korean company NK and Norwegian company UMOE. The companies signed a technology transfer agreement and applied for the regulatory sandbox system to push for more demonstration tests of their technology in Korea. This is just an example of other projects in new fields of contact-free industries, electric vehicles, hydrogen economy, etc. that are currently underway but ones we cannot elaborate on at the moment.

Furthermore, as interest in Korea's leading technology companies is increasing, overseas investment cases are also continuing to grow. For now, attention is being paid to the bio sector, and smart automated external defibrillator (AED) is a great example. It's a matter of seconds when one's life is in danger due a heart attack or heart condition, so that's where cardiopulmonary resuscitation via smart AEDs come in. Smart AED has shown a significant increase in exports and investment from abroad as well.

KIAT supports innovation in industrial technology and supports the success of foreign companies in the form of technical cooperation, not just direct investment. Currently, BMW in Germany and the International Microelectronics Centre (IMEC) in Belgium are conducting joint R&D with domestic companies and are planning to expand their cooperation this year. From the perspective of foreign companies, they can secure key technologies strategically by collaborating with Korean companies that are highly competitive in manufacturing. Meanwhile, for Korean companies, such cooperation can lead to a stable entry into the global supply chain. As a result, I think it's a win-win situation for both sides.
Last July, the government announced the Korean New Deal policy, and the regulatory sandbox is emerging as a key task. What exactly is a Regulatory Sandbox and what role does it play in the Korean New Deal?
Regulatory sandbox is a system that supports companies that have a difficult time spearheading innovation due to existing regulations that impose certain limitations. Through the sandbox, companies can conduct live experiments on their newly developed technologies and services in a controlled environment and launch them in the market in a streamlined way. While overseas sandboxes are mainly concentrated in one area, such as fintech, Korea is currently operating in five categories: Regulatory Sandboxes for Industrial Convergence, regulation free zones (regional innovation), ICT, fintech, and smart city. Among them, the Industrial Convergence Regulatory Sandbox operated by KIAT supports a wide range of new convergence technologies. In particular, unlike other fields, the Industrial Convergence Regulatory Sandbox does not impose restrictions on eligibility for application, covering the widest range of both subjects and tasks.

KIAT has been operating the regulatory sandbox for three years now, even before the announcement of the Korean New Deal in last year. When I came to KIAT in June 2019, there was no official division to handle the regulatory sandbox—there was just a temporary task force that conducted this function. The first thing I did was to formalize it by creating the Regulatory Innovation Division. We currently have various new projects pouring in and are realizing the impact of the Digital and Green New Deals that have been highlighted in the Korean New Deal. As I said before, active regulatory innovation should be the top priority in order to proceed with new projects, and regulatory sandboxes are emerging as a key task. The Industrial Convergence Regulatory Sandbox is laying the foundation for innovation in a future society that is centered around the Digital and Green New Deal tasks.

Since the implementation of the system in 2019, 75 companies have already been given opportunities for commercialization through deregulation through KIAT for two years. Now that we are celebrating the third year of the system, the results are also gradually appearing. More than half of the 75 passing tasks I mentioned are leading Digital and Green new deals, raising national interest in sandboxes. Foreign countries are also showing great interest directly and indirectly in the form of investment and direct entry into the Korean market. And since last year, we've been actively utilizing the fast-track system to promote the new technology to enter the market faster. The fast-track system simplifies the deliberation process and actively supports market entry and commercialization only for businesses that have proven to be safe and new projects similar to previous cases. Korea's "bbali bbali" culture is a good advantage to have in terms of operating a regulatory sandbox. Even now, we are striving to streamline the system by improving it for faster and safer operation.
This photo shows a Type 4 Skid Tube trailer. (Photo provided by KIAT)
Do you have any words of advice for potential foreign investors interested in investing in Korea?
'As the saying goes, "Crisis is an opportunity." In a way, the COVID-19 crisis has become an opportunity for Korea to solidify itself as a manufacturing powerhouse and let the world know it. I believe informing foreign companies that Korea is a safe and competitive production base can be an effective tool in attracting investment in Korea's manufacturing sector. Korean companies who possess outstanding technological competitiveness can be great partners for foreign companies.

Furthermore, Korea's efforts to innovate existing regulations stand out more than in any other country. I hope the fact that Korea is where innovative business ideas and technologies can be realized to the fullest extent will be highlighted to foreign investors. I would also like to emphasize that KIAT is the official channel supporting the Korean government's initiative for international technology cooperation. If you are interested in the technological competitiveness of Korean companies and the K-manufacturing industry, I can assure you that going through KIAT is the easiest and fastest way to conduct business with Korea.
By Grace Park
Executive Consultant
Investment Public Relations Team / Invest Korea
Korea Trade-Investment Promotion Agency (KOTRA)
gracepark@kotra.or.kr