Home
Why KOREA
Success Stories
[Healthcare / Other]

Prestige BioPharma Korea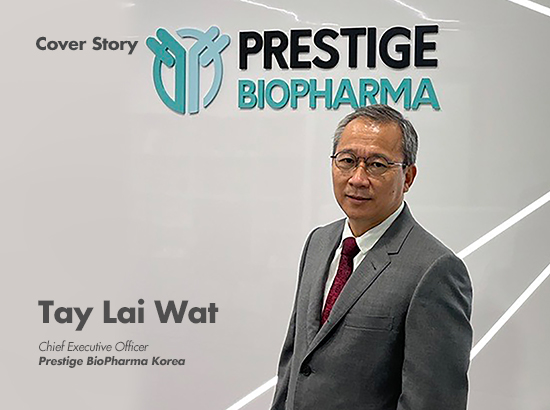 Invest Korea interviews Tay Lai Wat, CEO of Prestige BioPharma Korea, to hear more about his experience doing business here and the opportunities Korea has to offer for potential foreign investors and foreign-invested companies in the biopharmaceutical industry.
Founded in 2015, Prestige BioPharma Limited (PBP) is a Singaporean biopharmaceutical firm dedicated to biosimilars and new antibody therapeutic developments. This year, the Singapore-based PBP group incorporated a wholly-owned subsidiary in Korea named Prestige BioPharma Korea (PBK), and made its debut on the Korea Composite Stock Price Index (KOSPI) in February.

Tay Lai Wat, CEO of PBK, is a financial/management specialist with over 35 years of experience and is qualified as a Chartered Accountant of Scotland. He joined the PBP group as Executive Director in 2020.

Read on to hear more about Tay Lai Wat's experience doing business in Korea and the opportunities the country can offer to potential foreign investors and foreign-invested companies in the biopharmaceutical industry.
Please tell us a little bit about yourself.

I have worked in the UK, Australia and Singapore for more than 40 years, where different ethnic cultures co-exist. These experiences helped me gain a better understanding of the multicultural working environment and gave me an opportunity to start my new journey as a CEO of the global company, PBK.

Prior to joining the PBP group, I was the Chief Operating Officer of two listed groups in Singapore, running the hospitality and shipping businesses with a staff consisting of over 2,500 employees.

I believe my experience and demonstrated success in providing managerial and financial solutions has been accumulated by balancing strategic planning and practical delivery of solutions.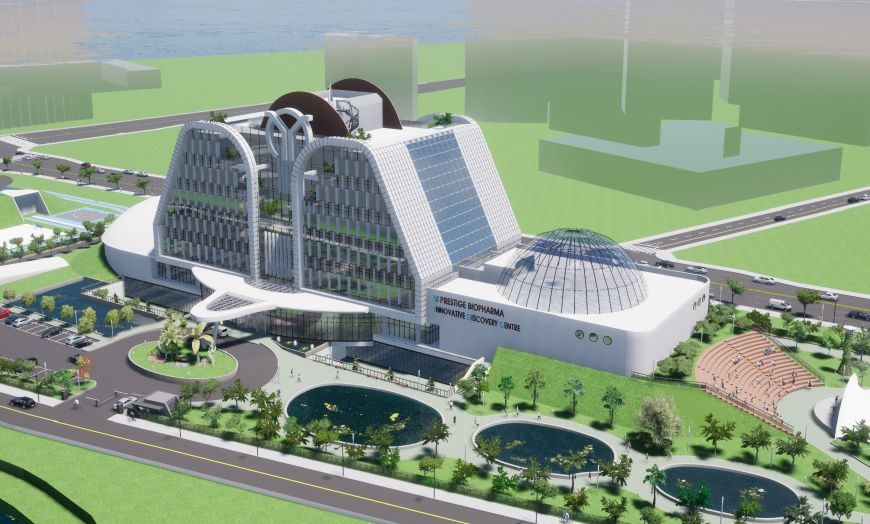 What kind of company Prestige BioPharma, and what is its history?

The company currently has 17 pipelines of biologics and biosimilar drugs under various stages of research and development. The first pipeline, Herceptin® biosimilar HD201 has successfully completed its Phase Ⅲ clinical trial and is currently under EMA review. The Avastin® biosimilar HD204 and the Humira® biosimilar PBP1502 are in Phase Ⅲ and in the preparation of Phase Ⅰ respectively. PBP's pipeline also includes its proprietary First-in-Class antibody for pancreatic cancer, PBP1510, and it has been designated as an Orphan Drug by FDA, EMA and the Ministry of Food and Drug Safety (MFDS) of Korea.

Prestige BioPharma was listed on the KOSPI in February 2021 and raised approximately USD 410 million from the IPO exercise.

PBP is in a consortium that will be producing Russia's Sputnik COVID-19 vaccine. Korean biotech firm, Huons Global, will lead the consortium and PBP will be participating as a drug substance (DS) manufacturer. We are currently building a vaccine manufacturing plant costing approximately USD 110 million in Osong, Korea for this venture. The plant is scheduled for test operation in August 2021.

We are also planning to establish the Innovative Discovery Centre (IDC) in Busan this year. In collaboration with Busan City and the Korea Land and Housing Corporation, we plan to invest up to USD 150 million over the next five years into the IDC.
Why did Prestige Biopharma invest in Korea?
As the first Singapore-based company to be listed on the KOSPI, PBP was attracted to going public in Korea because the KOSPI has an active and vibrant biotech and healthcare sector.
Our proprietary First-in-Class antibody for pancreatic cancer, PBP1510, was also discovered by Professor Sang Seok Koh of Dong-A University in Busan, Korea.
In addition, Korea is a very attractive country for foreign investors, where the government encourages global companies' investment with a wide range of foreign direct investment (FDI) incentives.
The PBP group signed an MOU with Busan City for the establishment of the IDC in Busan last May. We are on target to build a global-scale R&D center with a total area of approximately 45,000 square meters and will be investing about USD 150 million, including hiring more than 200 Ph.D. degree holders and highly qualified R&D personnel in the next five years. The IDC will be focusing on new antibody biologics discovery, dual- antibody development based on proprietary First-in-Class biologics and next generation vaccine development.
With this partnership and the global-scale R&D center, the PBP group will be able to accelerate the development of innovative antibody drugs and at the same time contribute to the growing global demands of vaccines in response to COVID-19 and potential future pandemics. We strongly believe that the IDC will be a landmark of Busan City and will boost the local economy.
What are some of the characteristics and advantages of Korea's biopharma industry?
Korea has played and will continue to play a key role in the growth of the global biopharmaceutical industry. The country has exceptional growth potential especially in the field of biologics such as biosimilars and gene therapies. On the back of the Korean government's large-scale investments, the Korean bio industry has formed the foundation for global growth and the actual outcomes are emerging, demonstrating global competitiveness.
The COVID-19 crisis has demonstrated the great potential of the Korean biopharma industry. Korean bio-pharma companies developed testing kits soon after COVID-19 was first reported in China, utilizing the published gene sequence. The government fully supported its commercialization and supply through emergency-use approval.
Korean COVID-19 vaccine CMO (Contract Manufacturing Organization) companies are also taking center stage as the current global contract manufacturing capacity is not keeping up with the global COVID-19 vaccine demand. There is also a lack of qualified CMOs for COVID-19 vaccines. Prestige BioPharma recently participated in a consortium that will be producing Russia's Sputnik COVID-19 vaccine as a DS manufacturer. Global COVID-19 vaccine developers are expected to continue to move their main production site to Korea, where it owns an outstanding bio-infrastructure including regional bio-clusters, cutting-edge technologies and highly qualified and experienced human resources.
According to the Global Biopharma Resilience Index 2021 surveyed by the research arm of the Financial Times, Korea ranked first in Asia and seventh globally. The country received a high score in the R&D ecosystem which is the biggest competitive advantage of the Korean bio industry. Active cooperation between academic institutions, research centers and business sectors resulting in a constructive R&D ecosystem. Government policies continue to encourage the pharmaceutical companies to develop innovative pharmaceutical and biopharma products.
What are the advantages of doing business in Korea?
The Korean government set out its 2030 plan for the biopharma industry in 2019 and announced that "the government will foster the biotechnology and pharmaceutical sectors as the country's new economic growth driver, aiming to triple the export and the global market share of pharmaceutical products and medical instruments by 2030." The Korean government's bold investments in the bio industry is one of the most attractive benefits in doing business in Korea as a biopharmaceutical company.
The Korean government has been promoting FDI through financial aid and its incentives are instrumental in attracting foreign investors to Korea for their financial inputs and lowering their launch expenses. Korea also provides seven government-assigned Free Economic Zones (FEZ) nationwide. PBK's IDC is in the Busan-Jinhae FEZ.
The Korean government have made the entry and exit conditions for foreign capital more flexible and efficient. In addition to the government support, Korea's exceptional human resources, top global digital infrastructure and its developed and mature capital markets are attracting foreign companies' investment to Korea.
Were there any specific strategies that Prestige BioPharma established to target the Korean market?
Korea has a strong reputation when it comes to cancer care and precision medicine. The doctors and researchers here are actively studying and conducting a variety of cancer related clinical trials. We are also preparing for the clinical trial of our First-in-Class antibody for pancreatic cancer, PBP1510 in Korea and filed an application to Korea MFDS. We will be able to accelerate the development of innovative antibody cancer treatments with collaboration of the Korean cancer institutes.
PBP will also be focusing on vaccine development in Korea. While Korea's childhood immunization rates are ranked at the top in the world, Korea is relatively a newcomer in the vaccine development industry. In response to the unmet domestic demands and the current and future viral pandemics, we will ultimately develop our own vaccine products in the IDC Busan through cooperation with domestic and international organizations. Dr. Wang Sik Ryu, a virus expert who has recently joined our team, will be leading essential research in the areas of new generation vaccine development for future infectious diseases.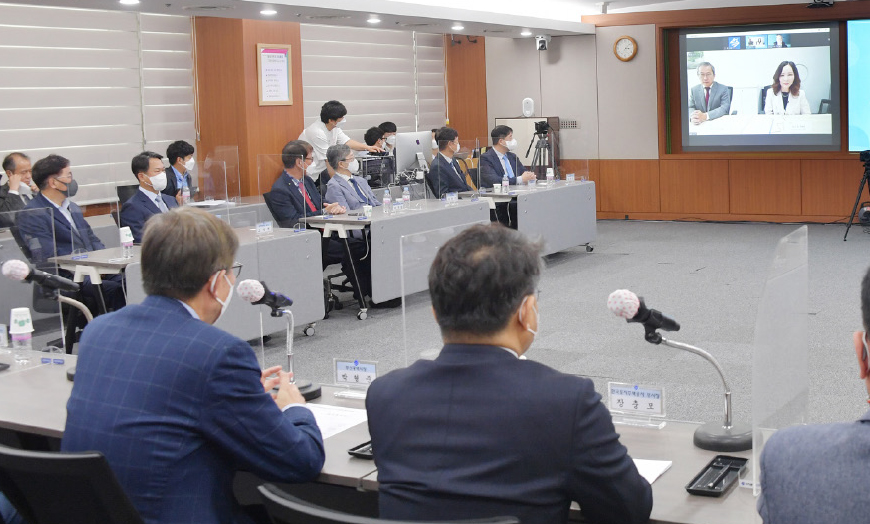 What kinds of opportunities does Korea's new policies such as the Green New Deal and the Digital New Deal entail for your company?
The Korean government's new deal plan focuses on the Digital New Deal and Green New Deal, and includes overarching policy support to strengthen employment and social safety nets. Under this new plan, Korea will triple the size of the country's green biotechnology industry over the next decade and nurture related talent to groom the industry as a future growth engine of the economy.
The PBP group will be benefiting from this plan, and we recently appointed the former SAP Korea Vice-President Hyun Duk Hoon as Chief Digital Officer for our company's digital transformation. PBP Korea's new vaccine center is also in the process of digitization and automation, and it will be equipped with an IoT controller and digitally enabled lab. Digital sensors at the site alert inventory when it is running short and enable real-time parametric release. The result of such digital transformation will provide enormous savings in time and cost, and our digitally enabled lab will link the PBP group's R&D centers all over the world.
What Korean companies/agencies do you work with to strengthen your business partnerships?
Our dedicated CDMO, Prestige Biologics ("PBL"), a Korean company, was successfully listed on the KOSDAQ in March 2021. PBL focuses exclusively on development and manufacturing high quality biologics and biosimilar drugs. PBL's proprietary ALITA Smart BioFactory™, the world's first smart factory system in bio manufacturing designed based on digital artificial intelligence, will contribute to reducing human or process related errors. The system will also enable fast and convenient change-over to maximize efficiency when catering for multiple products and manufacturing processes. This smart factory's 'single-use' system will enable mass production of vaccine in the short-term.
The PBP group is also working closely with Korean government agencies such as the Ministry of Trade, Industry and Energy, Busan City, and Korea Land and Housing Corporation for the IDC establishment and building construction. We will cooperate in creating a bio-cluster that supports Korean local economies and drives mutual growth in academia and industry. We expect 50 percent of IDC's R&D resources to be sourced from local universities and communities.
Lastly, KOTRA is our most supportive Korean partner organization. From the very beginning, KOTRA Singapore and KOTRA's HQ in Seoul have provided timely and practical advice on our business. KOTRA plays a crucial role in attracting global companies to invest in Korea.
What are Prestige BioPharma's future goals for Korea and Asia?
Our vision is to become a global top 10 biopharmaceutical company specializing in antibody and vaccine development and production by 2030. Since the founding of the company in 2015, the first five years has successfully laid the foundation for making the impossible possible.
Through portfolio depth and expedited delivery, shrewd partnerships and alliances, scientifically compelling and innovative discoveries, and carefully considered geographical company expansions, we are extremely excited to be realizing this vision.
Notably in 2021, PBK has successfully established and expanded our business to the vaccine industry amid the COVID-19 pandemic. Through relentless transformation, we will be able to accelerate our drug development strategies and corporate vision and continue to contribute to the world`s health and welfare.
By Grace Park
Executive Consultant
Investment Public Relations Team / Invest Korea
Korea Trade-Investment Promotion Agency (KOTRA)
gracepark@kotra.or.kr