Home
Why KOREA
Success Stories
[ICT / USA]

Empowering Every Person and Every Organization on the Planet to Achieve More : Microsoft Korea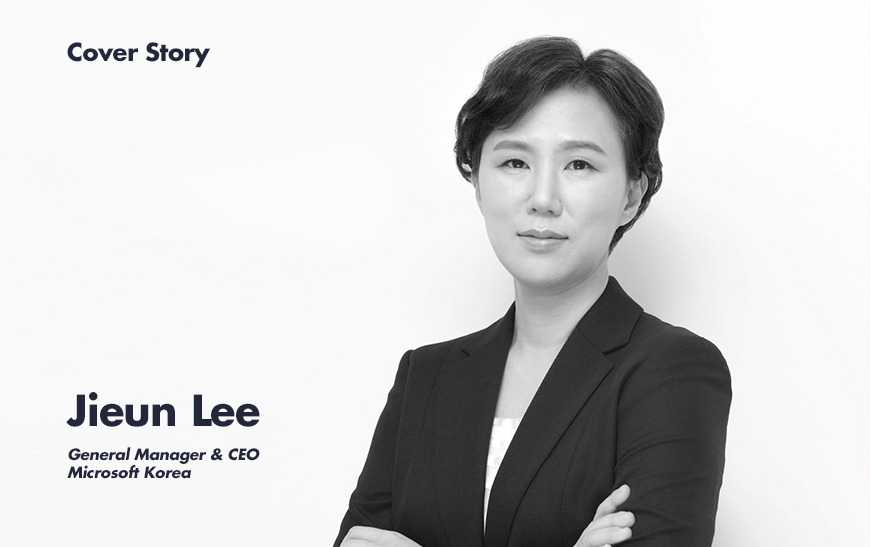 Microsoft Korea is a digital technology corporation that established standards for computer software with the development of MS DOS for an IBM personal computer operating system. Although the digital platform war has been fierce throughout the PC era, the Internet era, and the mobile era, Microsoft (MSFT) has survived the war and still holds a high position in digital space. The 100 percent stake of Microsoft Korea is owned by Microsoft headquarters in the U.S. Microsoft Korea was established in 1988 and currently has more than 400 employees. The company is mainly involved in the sale of IT products, while also providing business support
Digital Competence Is Competitiveness
In this situation, digital transformation is a matter of survival for businesses. It has become an urgent priority for any company to provide personalized services to customers with information technology and to provide employees with a non face-to-face work environment. Microsoft, a leading IT group, actually changed its corporate culture before the pandemic and was equipped with the necessary digital transformation technology before COVID-19.

Microsoft Korea is located in the K Twin Towers, next to Dongsipjagak Watchtower at Gyeongbokgung Palace in Seoul. As you walk down the street, you can see the large letters of the word Microsoft engraved on the building. Microsoft's Korean office, which succeeded in transforming its business from software sales into a cloud and AI-based IT service, overlooks Gyeongbokgung Palace. It was interesting that a 21st-century high-tech software company was at the center of the Gangbuk area in Seoul, where the old palace is located, not Pangyo or Gangnam.

According to Lee Ji-eun, general manager and CEO for Microsoft Korea, many Korean companies are commissioning or discussing their digital transformation with Microsoft Korea. For years, Microsoft Korea has been revolutionizing digital culture, including the way work is done throughout Korea, and has successfully expanded its business areas.

Lee has been quoted as saying, "Before the pandemic, it took us a year to explain why we need digital transformation. Now we can convince Microsoft clients that are Korean companies or institutions of this reality in just a month. We have moved on to discussing how we enable digital transformation. We need better benchmarks. If we used to refer to a lot of overseas cases in the past, we are now seeing one successful case after another in Korea."

SK Group is a leading Korean company that is conducting digital transformation in partnership with Microsoft Korea. After digital transformation, SK Telecom's way of working began to changesignificantly. SK Telecom applied Microsoft Teams, a collaboration tool, across the company, and SK Group adopted Microsoft's customized AI training program MS Run to its in-house education platform mySUNI, which was launched in January 2020.

SK Telecom's 5GX Service Business Division is composed of various talents such as hardware and software developers, producers, graphic engineers, cloud server managers, technology-based artists, modelers, and planners. Indeed, they have established a start-up cul179ture that when quickly a project fails the division comes up with ways to improve the conditions by using Microsoft Teams.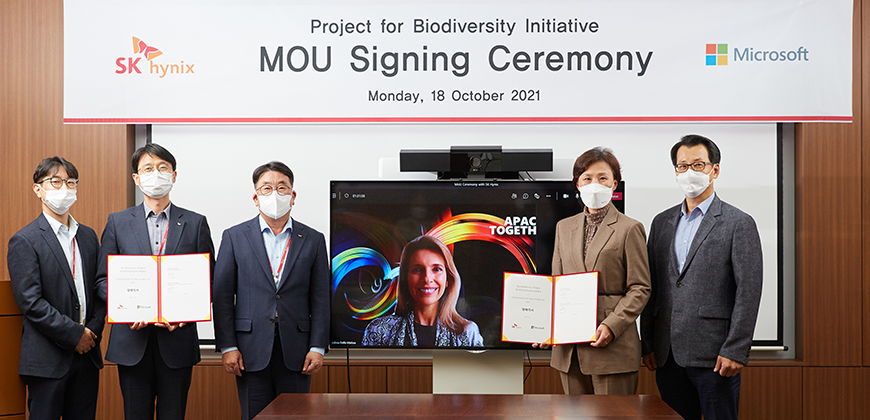 The Strongest Company in the Computer Software Business
Microsoft set the standard for computer software with the development of MS DOS, an IBM personal computer operating system. It has survived fierce digital platform wars throughout the PC era, the Internet era, and the mobile era, and is still maintaining a high position in the market.
It has been more than 30 years since PCs were created and connected to the Internet, and without computers, neither daily life nor economic activities could be carried out today. The digital world has become a part of our lives by becoming intertwined with our everyday life, but people usually do not remember detailed information about technologies and names of developers and small companies involved in the development of technologies.
However, the names of global companies that have fought fiercely in wars around computer hardware, chips, operating systems, browsers, Internet commerce, search engines, and cloud platforms are vaguely remembered. IBM, Intel, Microsoft, Apple, Amazon and Google are the leading companies that have won the wars. Among them, Microsoft has established itself as the strongest one in the computer software business by developing MS DOS, a computer software program that opens windows and allows text and images to move when a computer is turned on.
Microsoft had maintained its exclusive status with the Windows operating systems and Office products, but failed in new businesses such as mobile phones, e-books, music searches, and social media for more than a decade (since 2000) when Steve Ballmer became CEO of the company. The so-called "Microsoft's Lost Decade" was a dark period. As such, although the company has gone through good times and bad times as the digital environment has changed to personal computers, the Internet, and mobile devices, Microsoft's status as a global information, communications, and technology (ITC) company has not changed very much.
Microsoft Windows is a flagship product used by hundreds of millions of people around the world, but no longer remained the company's main growth engine when Satya Nadella became the CEO of Microsoft. From July 2019 to June 2020, global sales of Windows were USD 22 billion, and overall commercial cloud solution sales, including commercial Office 365 and Azure cloud services, saw 36 percent year-on-year growth, reaching USD 52 billion. Based on the U.S. headquarters' drives, Microsoft Korea is working hard to fully support the digital transformation of Korean companies.
Come As You Are. Do What You Love
Microsoft Korea's stake is 100 percent owned by the U.S. headquarters. The company was established in 1988 and currently has more than 400 employees. It mainly works on the sale of IT products and providing business support. Lee Ji-eun has focused on reorganizing the organization and changing the corporate culture for half a year since she took office. She set new goals and led employees to acquire the skills they needed in accordance with changing business areas and market trends.
As Lee put it, "There have been big changes in Microsoft Korea over the past six to seven years. As we became a cloud-oriented company, purchasing methods, organization, manpower composition, and R&D have changed even though we didn't have enough time to relearn the existing advanced corporate culture in the area. At the time of my inauguration, I aimed to change the organization and culture. Since July 2020, and after discussions with the employee council, we have removed all titles for employees and started to use the honorific suffix "nim" at the end of their full name or given name. We have created a communication environment where we can focus on a single goal beyond each department and position."
Lee stressed that it is important to create an Microsoft-SK hynix Success Story 11 organizational culture in which anyone can demonstrate their capabilities, even if their workload is heavy. She explained: "I try to give a fresh impetus to awaken employees' latent talent again by changing the roles of the executives and employees or removing the boundaries between departments."
In 2013, instead of Stack Ranking, which was based on the relative evaluation of an employee's performance, Microsoft changed its employee evaluation method to Impact Assessment, which comprehensively deals with the impact each employees has on the company. Employee performance is defined as a person's impact on teams, business and customers. In particular, impact is possible only with the contribution of the people they work with. The culture at Microsoft Korea, which traditionally saw self-centered people working in a competitive environment, gradually changed into an empathy-oriented culture.
Impact Assessment is conducted through "Connect," in which employees, team leaders, and managers communicate better with one another than in the past. Connect is a time for employees to discuss past and future tasks more than twice a year. It is not just a tool to measure performance, but a communication method to use as a foundation for employees' work improvement and career development.
In 2004, Microsoft applied the Workplace Advantage Program to Microsoft companies worldwide. There are three characteristics of this program. First, it innovates the way you work in a flexible and productive way. Second, it creates an environment to utilize your workspace by purpose. Third, it creates an IT infrastructure that allows employees to work on any device they want regardless of time or place.
Microsoft Korea adopted "Freestyle Workplace" when it moved its headquarters in 2013. By applying the results of workplace advantage research, the company introduced flexible commuting, telecommuting, and free address. In addition, the company moved a desktop-specific work environment to mobile devices so that people can work regardless of the device or software they use.
In this age of rapidly changing information and knowledge, it is essential to have the ability to learn the necessary knowledge and skills anytime, anywhere. Microsoft believes in talented people who not only learn and grow nonstop, but also recognize and embrace the diversity in the workplace. The company believes that leaders can create results in a new direction by leading members to grow together with empathy rather than by blindly pursuing high performance results.
Microsoft welcomes empathic people in the spirit of "Come as you are. Do what you love." Rather than looking for employees with the "image of talented people" as defined by the company, diverse people are encouraged to express their talents to the fullest. Microsoft highly values diversity and inclusion.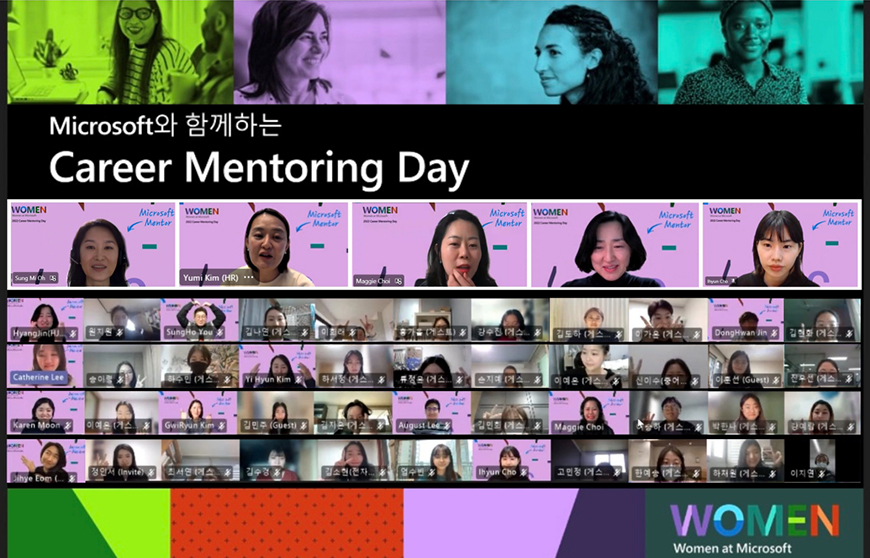 Supporting K-Edu
In 2020, Microsoft Korea set up a public education infrastructure program that allowed for 3 million middle and high school students nationwide to simultaneously access. This was accomplished by urgently expanding EBS (Educational Broadcasting Service) online class servers by 1,500 times within 15 days of using the Azure cloud platform.
Azure played an important role in establishing a remote education infrastructure. By expanding the platform within a limited time, Microsoft Korea supported 3 million students so that they could start online schooling sequentially, established large servers immediately in urgent environments where demand was difficult to predict. Microsoft Korea also flexibly responded to the situation by adding real-time computing system resources to prepare for traffic increase at certain timeslots. In addition to providing stable support for services in response to real-time problems, the company prepared to prevent various security problems, including DDoS, through a 24-hour response team.
The foreign press praised K-Edu. There has since been a flood of requests from all over the world to share how to start school online in a similar way. Korea is the only country that has conducted same-quality online classes throughout the country under the leadership of the government. At the center of this is Microsoft Korea.
Microsoft CEO Satya Nadella sent a letter to Korea's president, Moon Jae-in, praising Korea's successful online schooling. In the letter, Nadella welcomed Korea's plan to push for a "Digital New Deal" and predicted that it would serve as an opportunity for small and medium-sized Korean companies and startups to apply and develop new technologies. In addition, he also proposed international cooperation between the private and public sectors for the digital new deal, and expressed expectations that goods and services would be exchanged in various economic fields, such as medical treatment, electrical communication, and remote education.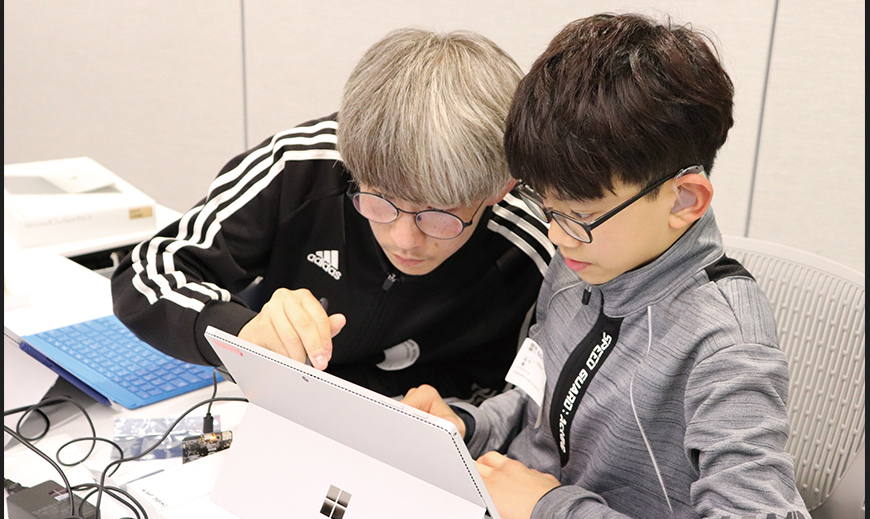 CSR Activities to Narrow the Digital Gap
In June 2020, Microsoft announced a global skills initiative to support IT training needed to perform new tasks based on data and digital technologies, including AI. In addition, the company announced its goal to educate 10,000 Koreans in digital competences by the end of 2021. The program includes government support for digital transformation, student empowerment and education cooperation, support for digitally challenged groups, and technical training support for businesses.
Lee explained by saying, "One of the reasons I joined this company is this kind of philanthropy. There are many things that can contribute to society as a digital IT company, not just CSR activities with donations. Microsoft is helping 25 million people around the world to acquire digital skills. We identify high-demand technologies through our affiliate career social network, LinkedIn, and can create synergies by linking training programs to a Git repository hosting service called GitHub."
Lee emphasized the importance of relearning in society as a whole. In an age where everything changes rapidly, you have to learn how to live in the world again, so to speak. Lee added, "In the future, the world will be different from the one I used to know. In fact, content education is conducted in a way where students do not actually go to school. Thus, I'm going to send a message that everyone needs to learn something new, and I'll send this message not only to people inside our company but also to customers."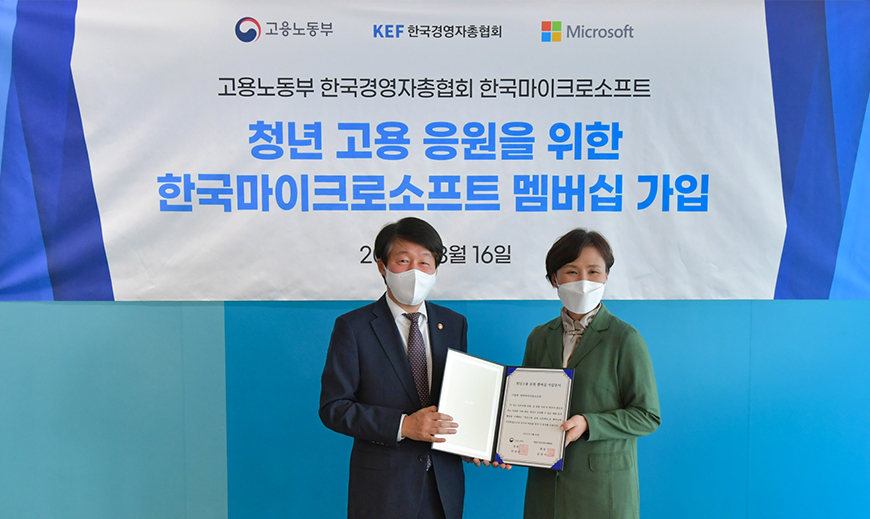 Increasing the Digital Competences of Schools, Companies, and the Government
The cloud service market has great potential thanks to a number of advantages it possesses, such as access to a wider network, on-demand services, benefits in payments, resource pooling, agility, fast resilience, and cost saving measures. As existing social activities were rapidly replaced with online activities due to the recent COVID-19outbreak, demand for cloud services has soared in almost all sectors, including healthcare, finance, education, business and retail.
The financial statements of Amazon, Microsoft and Go ogle for 2020 clearly show this change. Although the global economy was hit by COVID-19, Google Cloud's sales in the third quarter of 2020reached USD 3.4 billion and its business grew by 45 percent. Microsoft posted USD 48.3 billion in sales for Intelligent Cloud in 2020. This is a 24 percent increase compared to 2019. The net sales of Amazon Web Services (AWS) in the third quarter of 2020 were USD 11.6 billion, up 29 percent from the same quarter last year.
Cloud service usage rose dramatically faster during the COVID-19pandemic. Experts predict that Korean companies will also face a paradigm of new growth, believing that remote work, telemedicine, online classes, consumption and leisure activities using cloud technology will become commonplace in the wake of COVID-19.
Microsoft Korea is planning to support the government's digital transformation and enhance service innovation and leadership in order to increase its digital competences. In line with the rapidly changing environment, it will support the tools and technologies needed to innovate public services and jointly develop solutions with the government. It is also planning to provide tools to improve employment skills, such as certificates for job seekers. As a program for leaders in the public sector, the company plans to operate an AI Business School that will provide AI integrated insights from a business perspective.
Microsoft Korea is supporting digital skills training for corporate digital transformation, too. It will convert all its curriculums from theory to practice digitally to increase users' accessibility and provide all technology education programs in more than 10 languages and time zones.
In an effort to strengthen students' capabilities, the company will establish and support a step-by-step roadmap together with educational institutions. It will educate elementary students using Minecraft Education Edition and provide free Microsoft Imagine Academy for middle and high school students' software education, while using Microsoft Learn for college students to enable universityindustry cooperation. The company also supports programs for educators as well as students. It plans to provide digital technology to major universities around the world, including UC Berkeley, Carnegie Mellon, and Oxford.
In addition, Microsoft Korea will strengthen educational cooperation with universities. First, the company will partner with more than17 universities in Korea to provide the learning platforms necessary for the Fourth Industrial Revolution, including big data and cloud services. It will support public institutions by developing training programs that utilize AI and data science with the Korea Foundation for the Advancement of Science and Creativity and operate mentor groups for a Hanium ICT Mentoring program.
Microsoft Korea will also conduct employment programs for digitally challenged groups. It is committed to providing disabled people and teenagers with opportunities to learn about AI, and expand basic data analysis education to specialized high schools, linking trainees to practical certificates or employment. Furthermore, it will foster female information security experts, digital marketers, and data analysis experts by focusing on education related to jobs that are currently receiving the most attention in the job market.
Lee Ji-eun set two goals for the company. First, she wants the Korean market to embrace the fact that Microsoft is the undisputed leader for digital transformation. Microsoft has all the key solutions in the digital sector. Depending on the needs of each company, it can carefully consider the best solutions together with the client company. Lee emphasized, "With Microsoft, you don't need to transfer trains many times while traveling to the destination of digital transformation." Second, Microsoft Korea will expand its philanthropic activities in Korea. In doing so, the company aims to expand training in the field of digital competencies for not only ordinary people but also the disabled and female developers to help them all become the digitally abled.
Microsoft Korea announced the "Cloud & AI Country Plan" in 2019 and contributed to the popularization of cloud and AI by working closely with domestic companies, government agencies, and various members of society. In 2021, the company will play a role as the driving force in the growth of cloud and AI in Korea by focusing on a total of four areas: enabling digital transformation based on its technology and philosophy; forming a community for reliable innovation; closing the skills gap and enhancing employability; and creating social influence.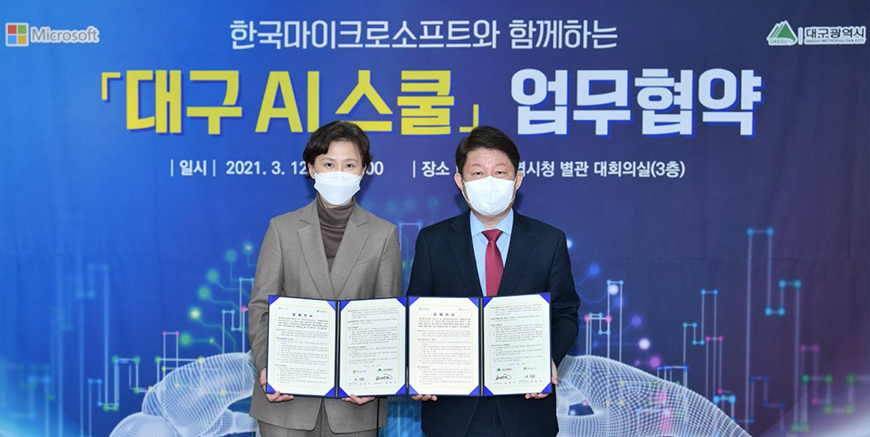 Source: Excerpt from Focus on Korea (ISBN: 979-11-6490-986-5(93320)). Pgs. 176-188. KOTRA 2021.