Home
Why KOREA
Feature Stories
Creating Environments Where Innovation Thrives : One-on-One with Jason Yun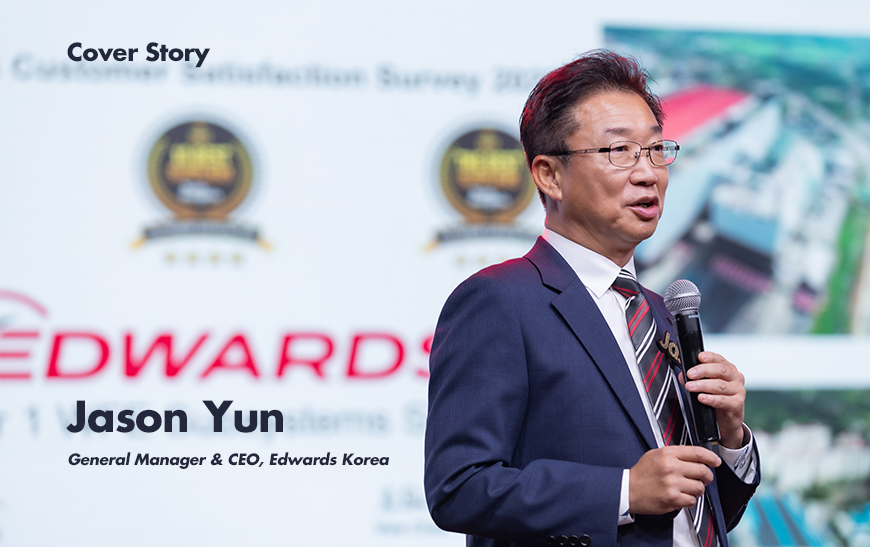 Invest KOREA talks to Jason Yun, General Manager & CEO of Edwards Korea, to hear more about the company's operations in Korea and his experience doing business here.
A global leader of vacuum and abatement, Edwards was founded in 1919 by F.D. Edwards and is based in Burgess Hill in the UK. The company has a presence in over 30 countries with 7,000 employees worldwide, and ranks No. 1 in the global market for vacuum and abatement-related R&D and technology.

Edwards established its Korean branch in 1992, and since then, Edwards Korea has grown to strengthen its position in the semiconductor, display, LED and solar industries. With its state-of-the-art manufacturing system at its Cheonan Product Company, Edwards Korea continues to future its value and leadership no only in Korea, but also across Asia as an important center for innovation, quality and environmental vacuum and abatement solutions to extend beyond—to industrial, chemical, and scientific R&D applications.

Invest Korea interviews Jason Yun, General Manager & CEO of Edwards Korea since 2015, to learn more about the company's operations in Korea and his experience doing business here.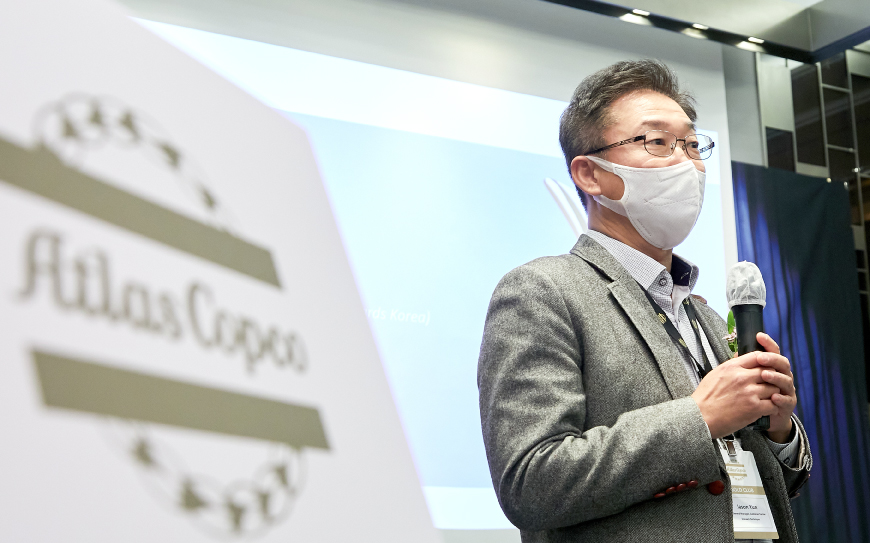 Please tell us a little bit about yourself. What is your story and how has your career experience led you to where you're at now?
Thank you for the interview opportunity. I've been working in the semiconductor and display industries for the past 30 years with companies like Samsung, Philips, and Cymer (ASML). I joined Edwards in 2015, where I'm leveraging my global experience and track record in business development to advance the company's leadership in Korea. I'm also very passionate about delivering happiness, opportunities, and value to our employees and the local community.
What kind of company is Edwards, and what is its history?
Founded in 1919, Edwards Vacuum is a global company leading the world in vacuum and gas abatement systems. As of 2022, Edwards has more than 7,000 employees and 28 manufacturing and repair facilities around the world are working to provide customized services.
Edwards entered Korea in 1984, when the country did not have robust vacuum technology. In 1992, Edwards Korea was founded, and it has been leading the vacuum technology in Korea since then. With the completion of its Cheonan production plant in 2011, state-of-the-art production system and technology from the UK headquarters were transferred to Korea, where now about 1,200 Edwards employees are working for greater innovation.
Edwards Korea, above all else, strives to achieve higher customer satisfaction by mass-production of error-free products through the development of innovative technologies tailored for its customers. In addition, as an environmentally conscious company, we continue to work on energy savings while maintaining the world's best technology in the vacuum pump field.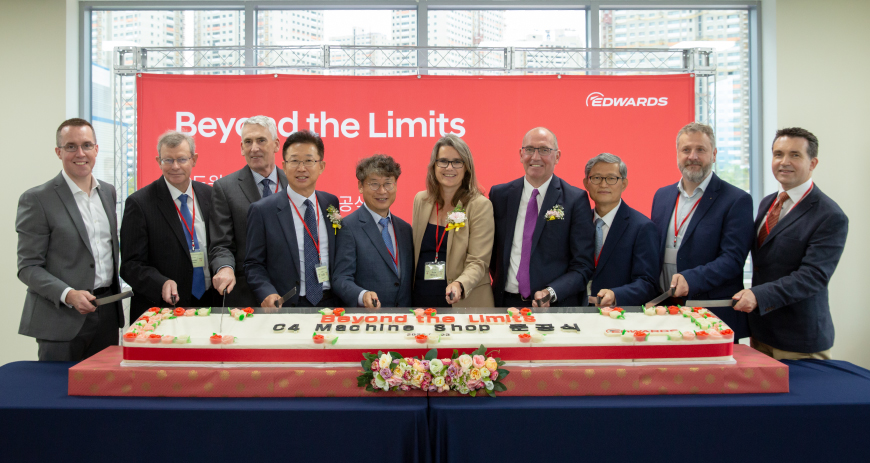 Why did the company establish a branch here, and why is Korea an important market for Edwards?
Around 2010, as major semiconductor and display customers set up production bases in Asia and expanded their investments, we also decided to move our production plant located in Shoreham, England to Asia. At that time, the trend of many global companies was to relocate their production bases to China to build a supply chain but to provide faster and closer support closer to industry-leading semiconductor display customers such as Samsung, SK Hynix, and LG Display, we decided to relocate the plant to Korea. Since then, customer investment has increased due to the growth of the semiconductor and display market.
What are some characteristics of Korea's manufacturing sector that are helpful for your company in running its business here?
Korea is famous for getting things done quickly, allowing the country to achieve rapid development, improvement, and growth. Based on this, I believe that we have an environment where we can achieve more effective business operations than anywhere else. As mentioned earlier, Korea is also a place where market changes occur faster than anywhere else with industry-leading leaders such as Samsung, SK Hynix, and LG Display.
What are some advantages of doing business in Korea?
Above all, I think it is a great advantage that the companies that lead the global semiconductor display market are based in Korea, so that we can provide faster and closer support closer to them. This advantage has become a stepping-stone for us to provide a one-stop solution by developing customized technology, producing high-efficiency products, and achieving 100% customer satisfaction.
In addition, there are many advantages to running a business in Korea. Above all, the country's abundant technological prowess, human infrastructure, strong supply chain, innovation, and the continuous support of local governments are great for operation.
What kinds of opportunities do global trends like the transition into greener and digital economies, as well as new policy schemes regarding ESG and sustainability offer for your company in Korea?
Edwards Korea, a group company of Atlas Copco, complies with the Safety, Health, and Environment (SHE) principle in the company's operations. SHE is also our slogan, showing our firm's dedication to conducting environmentally and socially responsible management in line with its reputation as the world's No.1 in vacuum and gas abatement technology.
We are working to minimize our environmental impact by achieving goals such as reducing carbon emissions by 46% by 2030 and reducing waste and wastewater continuously. To protect the environment, we are making extensive efforts together with our employees to increase the ratio of eco-friendly products, establish energy conservation policies, recycle packaging material, improve logistics, and promote eco-friendly transportation.
Edwards Korea maintains environmentally friendly facilities while taking responsibility for the safety of its employees by operating an environment and safety department at each business site. Through these efforts, we have obtained Responsible Business Alliance (RBA) Audit Platinum Certification in 2021. In addition, to create social value through socially responsible management, we are carrying out various activities such as community service and support, and nurturing local talent.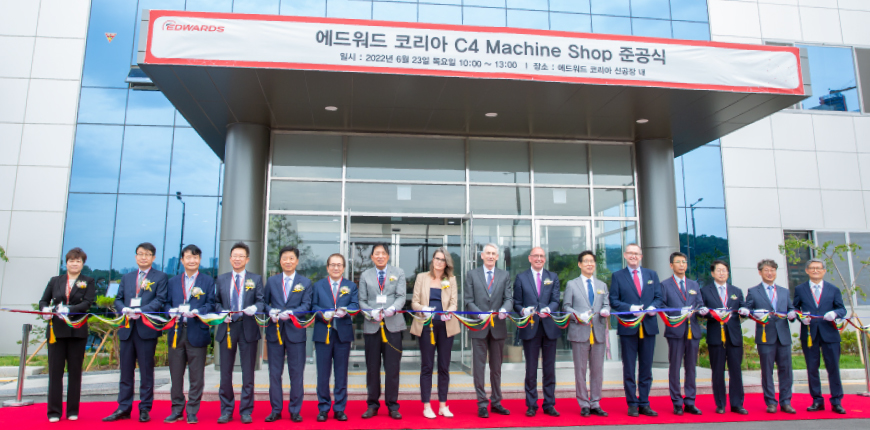 What Korean companies/agencies do you work with to strengthen your business partnerships locally?
Edwards Korea is contributing greatly to revitalizing the local economy in Korea, with domestic companies accounting for 70% of its suppliers.
We also maintain close cooperative relationships with local universities and educational development institutions to develop and nurture talents and continue to carry out various sponsorship activities. Edwards Korea continues to focus on nurturing talent because we believe that discovering talented people with high potential and giving them a chance to grow contributes significantly to our innovation.
In addition, Edwards provides opportunities to experience jobs in various countries, leveraging its strengths as a global company. As an example, our Graduate program selects talented individuals who can grow through Edwards' professional education and development. After completing a certain training domestically, these individuals will also undergo intensive dispatch training at our company's overseas sites. The program attracts many applicants each year and receives significant positive feedback from employees who have completed the program. As such, Edwards is not simply cultivating domestic talent but is actively utilizing its strengths as a global company. Based on the knowledge the company has learned and acquired, we are making efforts to nurture talents who can lead the future economic development of Korea.
What are Edwards' future goals for Korea and Asia as a whole?
Edwards Korea operates the largest production facility in Korea, the center of the global semiconductor industry, and is already showing its influence not only in Asia but also in the global market. In addition, we are making continuous investments to respond to global semiconductor demand. In June 2022, we built a new production facility in Asan City, Chungcheongnam-do, which we expect to increase existing capacity by more than 100%, allowing us to respond more quickly and flexibly to customer needs. In addition, a new production facility for gas processing equipment and integrated system manufacturing is scheduled to be completed in Asan-si, Chungcheongnam-do by the third quarter of 2023. In addition, in order to reduce our environmental impact and achieve carbon neutrality in the semiconductor manufacturing processes, we will adopt a Science-Based Target, register in the K-RE100, and use 100% renewable energy in our production plants.
Edwards Korea aims to lead the global market beyond Asia by focusing on developing innovative products through Edwards' 100-year tradition, outstanding technology, continuous investment, and key talent.
By Grace Park
Executive Consultant
Investment Public Relations Team / Invest Korea
Korea Trade-Investment Promotion Agency (KOTRA)