Home
Why KOREA
Feature Stories
Chair, Australian Chamber of Commerce in Korea (AustCham Korea) : One-on-One with Ross Gregory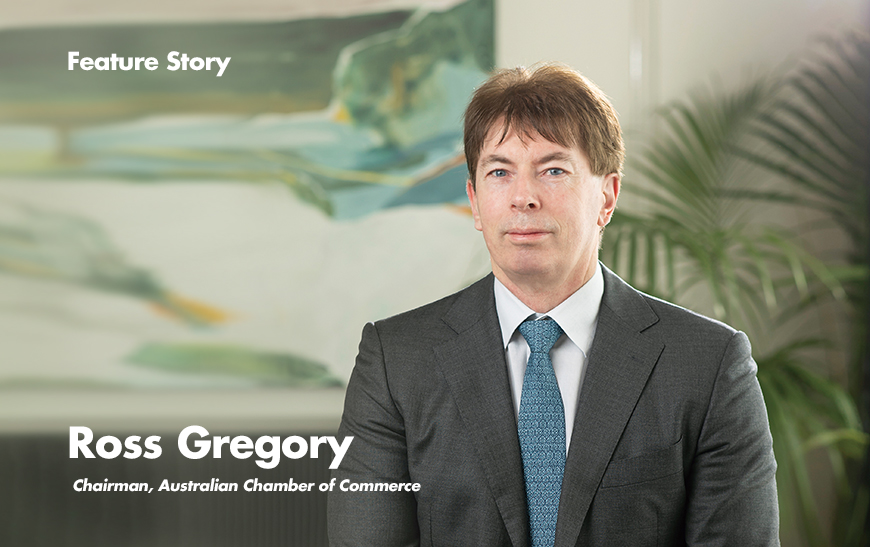 In April 2022, Ross Gregory was unanimously elected Chair by the Board of Directors at the Australian Chamber of Commerce in Korea (AustCham Korea). Since then, Mr. Gregory has been representing the Chamber's members within the Australian and Korean business circles, expressing his commitment to fostering a stronger and more diverse business community. Fluent in Korean, Mr. Gregory earned his Bachelor of Science and Master of Laws from the University of Melbourne and an MBA from Melbourne Business School, along with a Diploma in Korean Language Studies from Yonsei University.

Also, as a commercial lawyer, Mr. Gregory has broad experience in banking and corporate transactions, whilst also being a former Executive Director at Macquarie Group and CEO of Macquarie Securities Korea. He has also been involved in several consumer-facing small businesses in Korea and advocates the importance of the SME sector. Mr. Gregory is now focusing on encouraging the development of new distinct supply chains between Korean and Australian firms participating in the lithium-ion battery and critical minerals industries.

In this month's issue of Invest Korea, we sat down with Mr. Gregory to get his insight on the special relationship between Australia and South Korea and the business opportunities it brings.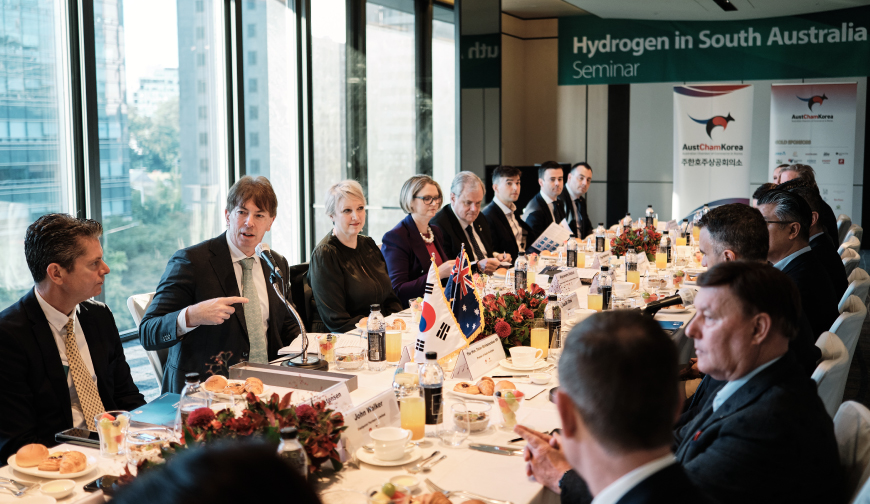 Please tell us a little bit about yourself. What is your story and how has your career experience led you to where you're at now?
I was originally a corporate lawyer in Australia and Hong Kong working for international law firms. Having travelled to Korea early, I took a great interest in the Peninsula and I was fortunate to study Korean at Yonsei University under an Australian Government language scholarship. I returned to Korea as an employee of Macquarie Group. We initially had a business alliance with Woori Bank and then I helped set up Macquarie Securities Korea and ran a derivatives business for several years as Representative Director. Subsequently I was involved in small businesses in F&B, beer brewing and fitness and I consulted to Macquarie on renewables and ESS. I now focus on promoting the Korea-Australia relationship in AustCham Korea with a special interest in energy transition.
Can you tell us about AustCham Korea and its history in Korea? What is AustCham Korea's main mission/projects in the Korean business landscape?
Formed over 20 years ago, AustCham Korea is the peak body representing Australian business interests in Korea. Representing over 100 companies across numerous sectors, the Chamber's mission is to foster a vibrant Australia-Korea business community through business development, information sharing and networking.
With a focus on providing representation, market access and information, the Chamber hosts more than 50 events and initiatives annually, including monthly business forums, roundtable discussions, marketing promotions, ministerial receptions, social networking functions and a Corporate Social Responsibility program.
The Chamber works closely with the Australian Embassy, Austrade, State and Territories Representative Offices and the Australia Korea Business Council as part of a unified Team Australia approach on the ground.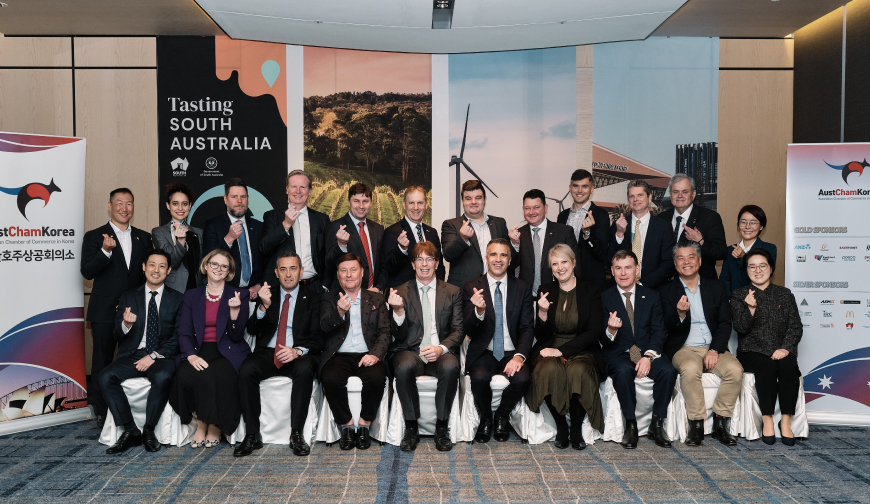 Why is Korea an important market for Australian companies?
Korea is Australia's third largest export market, led by the Korea's dependence on imported energy, resources and agriculture. Korea is Australia's fourth largest two-way trading partner. Korea was recently elevated by the Australian Government to Comprehensive Strategic Partner status given the strong bilateral relationship underpinned by shared strategic interests, complementary economies and strong people-to-people links.
Australia and Korea signed a free trade agreement (FTA) in 2014, which lowered trade barriers thus fostering greater two-way trade and investment.
Additionally, the two countries are natural partners given Australia's upstream resource and renewable energy abundance and Korea's advanced manufacturing capabilities. There is significant scope for enhanced business activity including joint venture midstream cooperation in the energy transition and electrification movement.
What are the advantages of doing business in Korea?
There are many reasons for Korea and Australia to deepen their strategic trading relationship:
Demography
: Korea is an important strategic gateway for Australian companies seeking to expand their operations in the Asia Pacific region. Due to its highly developed industrial economy and GDP growth, Korea provides Australian business access to a large and growing market driven by advanced manufacturing practices, rising living standards, growing urbanization and a highly educated workforce.
Innovation
: Korea is known for its strong levels of technology R&D, across sectors such as information communications technology (ICT), biotechnology, semi-conductors, electronics and renewable energy. Australia also has excellent business incubators within its universities including across biotech and energy technology but often start-ups lack support from a large industrial user. This presents excellent opportunities for cross-market collaboration and commercialization of developed technologies.
Cultural similarities
: Australia and Korea share a strong work ethic and a focus on trust in business dealings. Each country is a democracy with a rule of law and attendant low country risk. Strategically, the countries are allies with deep rooted friendship ties.
Government support
: The Korean government actively promotes foreign investment and provides various incentives and support programs for foreign companies operating in Korea. Similarly, the Australian Government welcomes investment from Korea and Australia is home to a large population of Korean immigrants.
What do Korea and Australia have in common? Are there any areas of shared interest or growth opportunities that both countries can mutually benefit from through cooperation?
Economic ties
:
Bilateral trade between the two countries exceeds USD 35 billion. Australia primarily exports coal, iron ore and LNG to Korea, while importing manufactured goods such as cars and electronics.
From AUD 12.8 billion in 2011 to AUD 29.8 billion in 2021, Korea's foreign direct investment (FDI) in Australia has steadily increased.
In 2021, Korea and Australia entered into an MOU to collaborate on critical mineral supply chains, carbon-neutral technology, and clean hydrogen economies.
Australia is the world's largest producer of lithium and has significant deposits of other battery minerals such as nickel and cobalt. It is the world's second largest rare earths producer. Australia can feed the voracious appetites of Korean cathode, anode, cell and EV OEMs for raw materials, especially in light of diversification being induced under the US Inflation Reduction Act. With favorable conditions for hydrogen production, Australia can provide the necessary ammonia and other hydrogen derivatives to Korea for comingling gas and coal-fired power stations that must reduce emissions.
Defence and strategic ties
:
In September 2021, Australia participated in its fifth 2+2 Foreign and Defence Ministers' Meeting with Korea, making it the only country besides the USA, to hold such a meeting. The Australian and Korean Foreign Ministers and Defence Ministers met physically in Seoul to acknowledge the agreement between then Prime Minister Morrison and then President Moon to elevate the bilateral relationship to a Comprehensive Strategic Partnership and agreed to explore new institutional foundations to enhance defense cooperation.
Recently Hanwha was awarded a contract from Australia to produce AS9 self-propelled howitzer and AS10 Armored Ammunition Resupply vehicles in Geelong, where Hanwha will make significant investments.
US Alliance
:
Both countries are allies of the United States and have signed FTAs with the US. This in itself paves the way for unfettered bilateral trade.
You also have a wealth of experience in the private sector, particularly in the critical minerals and energy sectors. What kinds of opportunities do global net zero goals, as well as new policy schemes regarding ESG and sustainability offer for Australian companies in Korea?
Areas of obvious opportunity to further cooperate between Australia and Korea to reduce emissions are in the EV hydrogen space. I would like to see Australia and Korea meet in the middle and establish mid-stream processing joint ventures close to raw material sources in Australia, reducing the unnecessary transportation of waste material and upskilling Australia in modern manufacturing while providing Korea with security of supply at better cost. Korea leads the worlds in high energy density lithium-ion cell manufacturing and Australia can supply the materials needed for this production. Korea has large gigafactory exposures in the USA and Europe, each of which has incentives for raw materials and extraction to come from countries such as Australia.
In light of the new Australian Safeguard Mechanism for greenhouse gas emitters and Korean emission standards and hydrogen trading rules, there is significant impetus for Australia to become a major exporter of hydrogen and ammonia to Korea with significant project investment form Korean off-takers and EPC firms.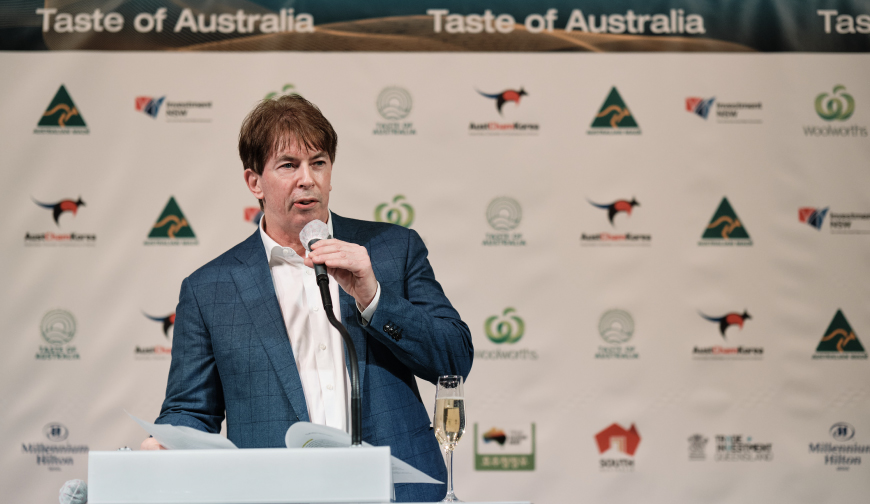 What Korean companies/agencies do you work with to strengthen your business partnerships locally?
AustCham Korea proudly represents many Korean and multinational companies within its membership, many of which have a significant presence within the Australian-Korea business landscape.
A good example of this is the Chamber's relationship with POSCO Holdings, Australia's single largest trade customer. POSCO and Australia share a long-lasting and important relationship. POSCO is a significant off-taker of iron ore and coal from Australian suppliers for its world leading steel business. POSCO has invested heavily in Australian iron ore and nickel projects and is currently involved in mapping out an HBI green steel manufacturing footprint in Australia using green hydrogen produced from large-scale renewable energy sources. POSCO plans to invest USD 40 billion in Australia by 2040 in this endeavor. POSCO also has a downstream joint venture with Pilbara Minerals in lithium.
Advocating on behalf of its members, AustCham Korea works closely with Korean government agencies, including the Ministry of Industry and Energy (MOTIE), Trade and Investment Promotion Agency (KOTRA) and the Foreign Investment Ombudsman.
As mentioned, the Chamber also works hand-in-glove with Australian agencies to ensure there is consistency of representation for its members.
What are your future hopes and goals for Korea-Australia cooperation in the areas of trade and investment?
I expect to see enhanced breadth of trade and investment across not only resources but agriculture, biotech, financial services, education and defense.
With both nations committed to ambitious emissions reductions targets, largest growth sectors are likely to be in critical minerals, renewable energy and hydrogen production.
Korea's 2019 Hydrogen Economy Roadmap and Hydrogen Economy Promotion and Hydrogen Safety Management Act have paved the way for Korea to establish a new hydrogen economy. Meanwhile, Australia seeks to become a clean energy superpower, capitalizing on its abundant renewable energy resources and established energy export infrastructure. Consequently, Korean companies are turning to Australia not only for hydrogen but also for new green products like clean ammonia and steel intermediates that can decarbonize difficult-to-abate Korean industries and create new manufacturing jobs in Australia.
At the same time, Australia looks to Korea for world-leading technologies such as fuel cells and capital to support project development. With successful partnerships already established in coal, iron ore, refined petroleum, and LNG, businesses and governments in Korea and Australia are working towards a similar collaboration in the hydrogen and renewable energy sectors, leveraging the complementarity of their economies.
By Grace Park
Executive Consultant
Investment Public Relations Team / Invest Korea
Korea Trade-Investment Promotion Agency (KOTRA)