The Current ESG Focus in Korea
Home
Investment Guide
Government Policy Trends
ESG Policy in Korea
The Current ESG Focus in Korea
ESG stands for environmental, social, and governance representing the three key pillars of corporate management needed to achieve sustainability* with a focus on environmental management, social responsibilities, and sound and transparent governance. *Sustainability is defined as using economic, social and environmental resources in a harmonized and balanced way without wasting or deteriorating in quality those resources to be used by future generations to meet the needs of the present (The Sustainable Development Act enacted on May 26, 2020)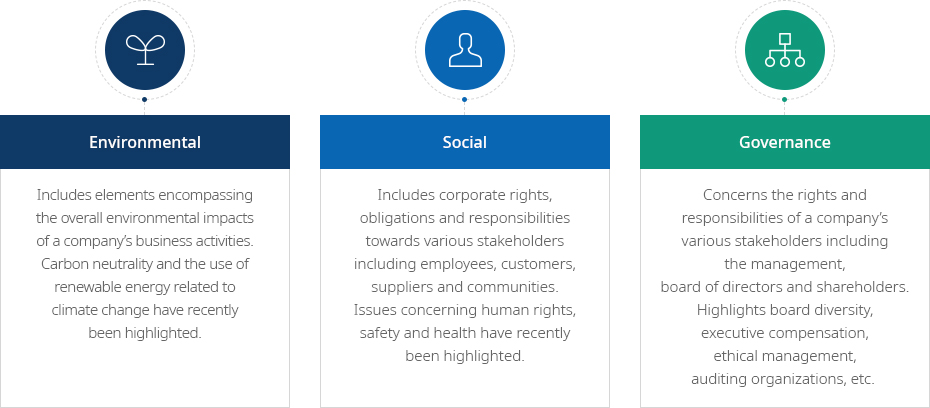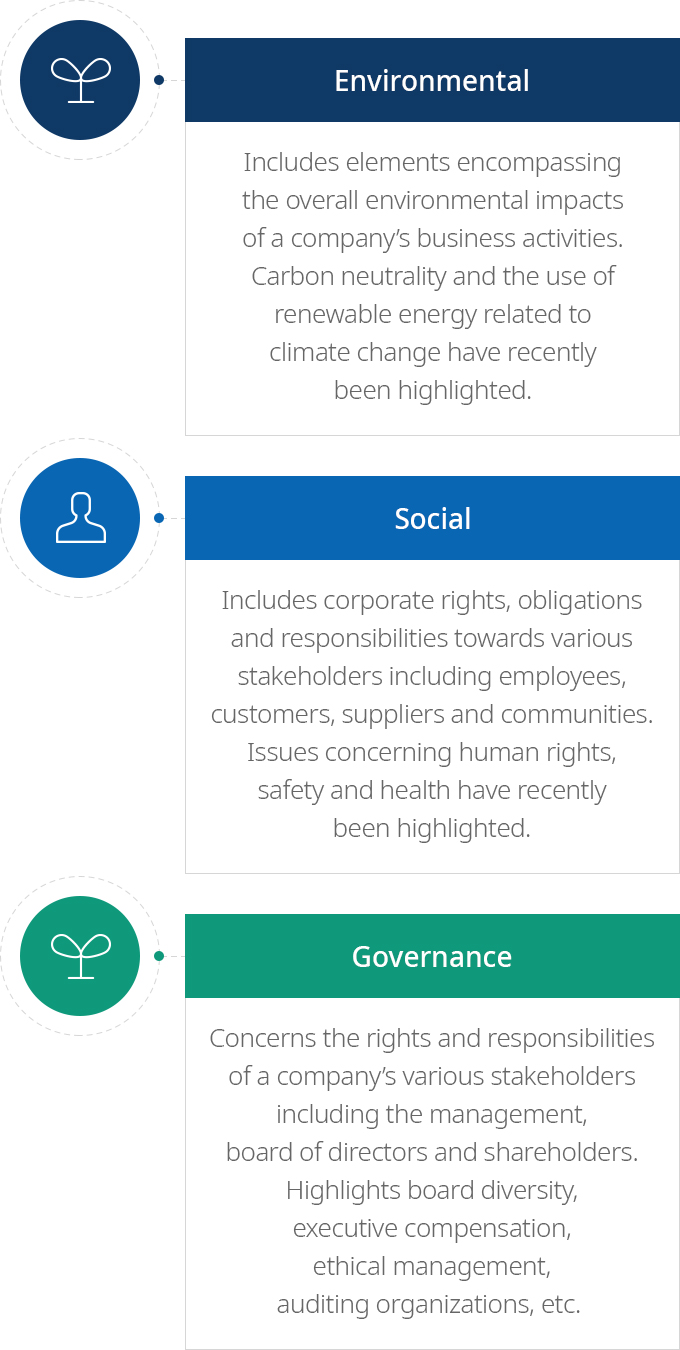 Environmental - Includes elements encompassing the overall environmental impacts of a company's business activities. Carbon neutrality and the use of renewable energy related to climate change have recently been highlighted.
Social - Includes corporate rights, obligations and responsibilities towards various stakeholders including employees, customers, suppliers and communities. Issues concerning human rights, safety and health have recently been highlighted.
Governance - Concerns the rights and responsibilities of a company's various stakeholders including the management, board of directors and shareholders. Highlights board diversity, executive compensation, ethical management, auditing organizations, etc.
The Korean government established the ESG Infrastructure Expansion Plan in August 2021 and announced the following to enable the private sector to systematically respond to the spreading global discussions on ESG
1

Promoting the public disclosure of ESG management

2

Strengthening the ESG-related capabilities of SMEs

3

ESG management of public institutions

4

Promoting ESG bonds and funds

5

Autonomous regulation system of the market

6

ESG investment of the public sector

7

Building the ESG information platform
Moreover, the Korean government is working to establish the K-ESG Guidelines and the K-Taxonomy, build the ESG investment platform, and provide additional training and consulting to SMEs.
Companies are encouraged to disclose their sustainable management reports and corporate governance reports starting with listed companies.
Companies can voluntarily provide their sustainable management reports, and companies with an asset surpassing KRW 1 trillion are mandated to disclose their corporate governance reports annually.
Korea's major listed companies including Samsung and SK are disclosing their ESG reports, and as of 2021, eighty companies have released their sustainability reports in Korea.
Since the National Pension Service's declaration to expand ESG investments (in November 2019), major investing institutions have rapidly increased their ESG investments.
The National Pension Service is actively leading the effort by expanding ESG investments (with a target of meeting 50% of AUM in 2022) and establishing the Integrated ESG Strategy Guidelines (in November 2021).
Major financial companies are actively promoting ESG investment by setting ESG investment targets, installing dedicated teams, and joining the UN Principles for Responsible Investment (PRI) (participants increased from eight companies in 2020 to twelve companies in 2021).
For example, Shinhan Financial Group installed an ESG team, and Hanwha Asset Management launched the ESG Active Fund.
Korea's ESG investments have risen sharply* since 2020.
※ ESG ETFs (trillion won): ('18) 0.3 → ('21) 1.6, ESG bonds (trillion won): ('18) 1.25 → ('21) 86.8
ESG management has been garnering interest with large corporations leading such efforts
Major corporations including Samsung and SK established ESG management strategies to actively pursue ESG management in their supply chain management and others.
ESG business plans were established for all of Samsung's affiliates, and Hyundai Motors aims to manufacture 670,000 battery and hydrogen EVs by 2025.
The rise of ESG as a new blue ocean has vitalized Korea's ESG evaluation and consulting markets.
Sustinvest and Daishin Economic Research Institute are Korea's leading ESG management evaluation agencies, and law firms and accounting firms are involved in ESG consulting projects.