Business Hub of Northeast Asia
Home
Why KOREA
Business Hub of Northeast Asia
The Center of East Asia, Logistics Hub Korea
Korea possesses optimal logistics infrastructure connecting it with major countries and cities around the world.
Located between China and Japan, it is the center of aviation and maritime logistics connecting the Asia-Pacific region as well as Eurasia and the Americas.
Furthermore, it has the potential to establish a land-based route penetrating the Eurasian continent.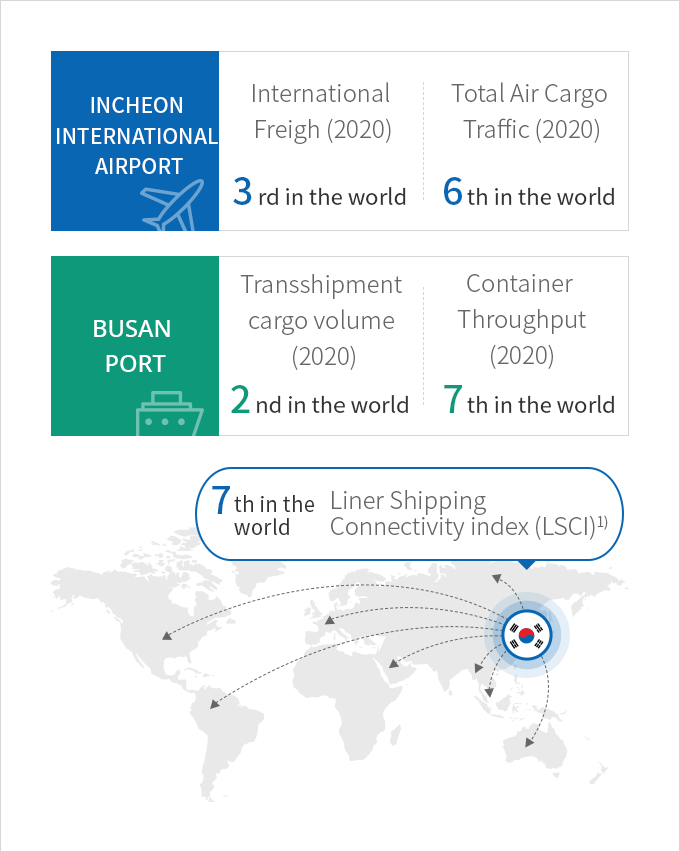 (3rd place) Liner Shipping Connectivity Index
Incheon International Airport

International Air Cargo Transport (2019) 3th
Total Air Cargo Volume (2019) 5th

Busan Port

Transshipment Ratio (2019) 2th
Cargo Volume (2019) 4th

※ 1) LSCI is a UNCTAD's indicator which shows a country's maritime shipping network from the year 2006 until now. The index evaluates data based upon six components which include the number of shipping liners servicing in a country, the number of vessels deployed from/to other ports on a monthly basis and the total container- carrying capacity etc.
※ Source: UNCTAD (2019)
Export Powerhouse Led by the Manufacturing Industry
Korea is the 7th largest exporter in the world. Exports from Korea are led by the manufacturing industry, and major items of export include semiconductors, automobiles, automobile parts, oil products, and displays. Since the worldwide outbreak of COVID-19, exports of consumer goods, medicine, and medical supplies have surged. Korea International Trade Association (KITA) said pharmaceutical exports as of September in 2020 stood at over USD746 million, a 93.6% jump year-over-year. The figure surpassed USD 700 billion mark for the first time.
※ Source: KITA (2019)
The Center of East Asia and Global Trade Hub, Korea
As of now (Jan 2020), Korea has signed 16 agreements, covering 56 countries which include major economies like the EU, the US., China and the UK. Korea hereby has formed FTA networks accounting for nearly 77% of global GDP, securing the third largest trading bloc in the world.
With its geographical advantage, Korea is a gateway to the global markets that links most of the largest economies.
※ Source: MOTIE, KITA
Korea's FTA Network
Korea's FTA Network : Status,Country

| Status | Country |
| --- | --- |
| In Effect | Chile, Singapore, EFTA, ASEAN, India, EU, Peru, US, Turkey, Australia, Canada, China, New Zealand, Vietnam, Columbia, 5 countries in Central America, UK |
| Signed / Concluded | RCEP, Indonesia, Israel, Cambodia |
| Under Negotiation | Korea-China-Japan, MERCOSUR, Philippines, Russia, Malaysia, Korea-Ecuador SECA, Uzbekistan STEP |
| Resumed / On the Agenda / Under Reviews | PA, EAEU |
※ Source: www.fta.go.kr, (as of June, 2021)