Business Hub of Northeast Asia
Home
Why KOREA
Business Hub of Northeast Asia
Center of East Asia, Logistics Hub Korea
Korea possesses optimal logistics infrastructure connecting it with major countries and cities around the world. Located between China and Japan, it is the center of aviation and maritime logistics connecting the Asia-Pacific region as well as Eurasia and the Americas. Furthermore, it has the potential to establish a land-based route penetrating the Eurasian continent.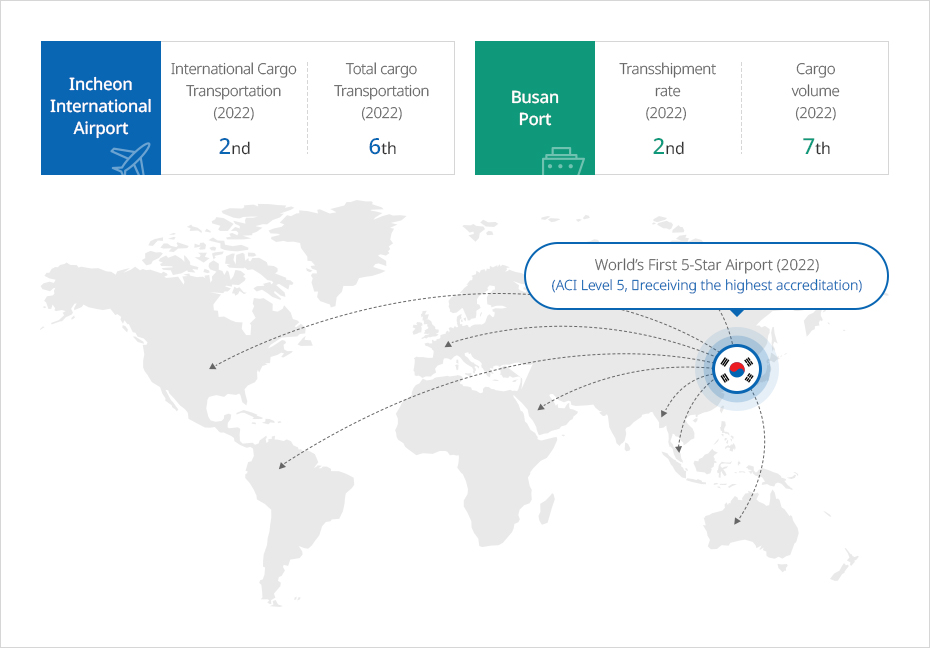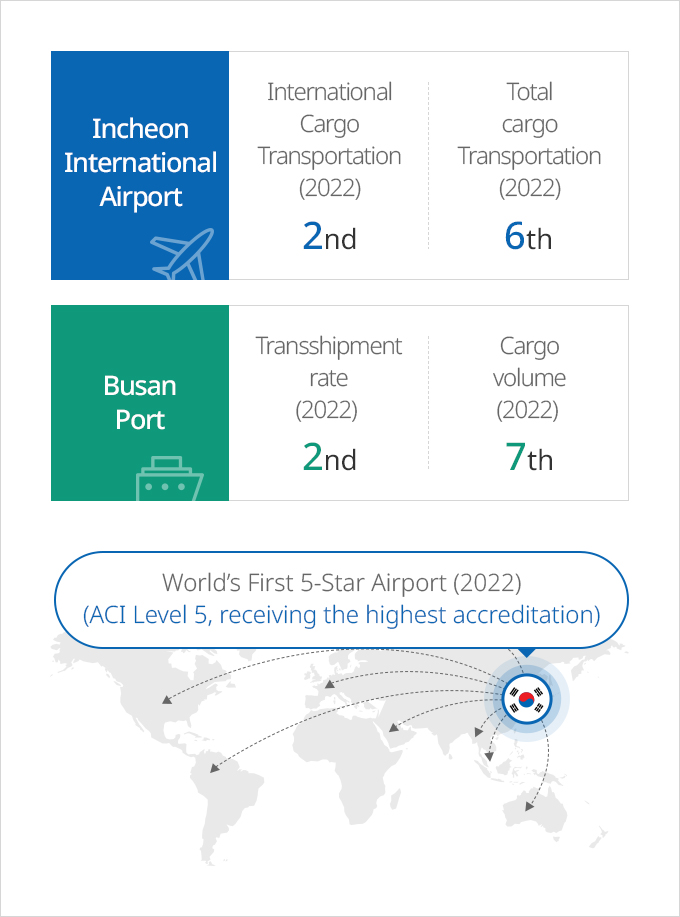 World's First 5-Star Airport (2022) (ACI Level 5, receiving the highest accreditation)
Incheon International Airport

International Cargo Transportation (2022) 2nd
Total cargo Transportation (2022) 6th

Busan port

Transshipment rate (2022) 2nd
Cargo volume (2022) 7th

※ Incheon International Airport - [Source : Airports Council International (ACI) (2022)]
※ Busan Port - [Source : Busan Port Authority (2022)]
Korea, a Gateway to Entering the Markets of Asia and the World
Korea has signed 21 free trade agreements (FTAs), covering 59 countries (as of February 2023) including major economies like the EU, the US, and China, while continuing to pursue FTAs with emerging countries. With its geographical advantage, Korea is a gateway to the global markets that links most of the largest economies.
※ Source: www.fta.go.kr (July 2022)
Korea's FTA Network
Korea's FTA Network : Status, Country

| Status | Country |
| --- | --- |
| In Effect (21 FTAs) | Chile, Singapore, EFTA1), ASEAN2), India, EU3), the U.S., Türkiye, Australia, Canada, China, New Zealand, Vietnam, Columbia, 5 countries in Central America4), UK, RECP5), Israel, Cambodia, Indonesia |
| Signed | Philippines |
| Under Negotiation | Korea-China-Japan, MERCOSUR6), Russia, Malaysia, Ecuador, Uzbekistan, Korea-ASEAN FTA expansion , Korea-India CEPA upgrading, Korea-Chile FTA upgrading, Korea-China FTA under follow-up negotiation on service & investment, Korea-Central America FTA under accession negotiation with Guatemala , GCC7) |
| Resumed/ On the Agenda/ Under Review | Mexico, PA8), UK |
1) EFTA (European Free Trade Association) (4 countries) : Switzerland, Norway, Iceland, Liechtenstein 2)ASEAN (10 countries) : Brunei, Cambodia, Indonesia, Laos, Malaysia, Myanmar, the Philippines, Singapore, Vietnam and Thailand 3) EU (27 countries) : Austria, Belgium, Bulgaria, Croatia, Republic of Cyprus, Czech Republic, Denmark, Estonia, Finland, France, Germany, Greece, Hungary, Ireland, Italy, Latvia, Lithuania, Luxembourg, Malta, Netherlands, Poland, Portugal, Romania, Slovakia, Slovenia, Spain and Sweden 4) the Central America (5 countries) : Panama, Costa Rica, Honduras, El Salvador, Nicaragua 5) RCEP(Regional Comprehensive Economic Partnership) (14 countries except ROK) : Korea, 10 ASEAN member states, China, Japan, Australia, New Zealand 6) MERCOSUR(the Southern Common Market) (4 countries) : Argentina, Brazil, Paraguay and Uruguay7) GCC (Gulf Cooperation Council) (6countries) : Saudi Arabia, Kuwait, the United Arab Emirates, Qatar, Bahrain, and Oman. 8) PA(Pacific Alliance) (4 countries) : Chile, Colombia, Mexico and Peru.
* Source: www.fta.go.kr (as of Feb. 2023)